Roy Harper – Man And Myth (2013)
Roy Harper – Man And Myth (2013)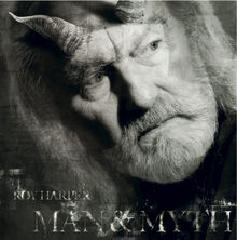 01 – The Enemy
02 – Time is Temporary
03 – January Man
04 – The Stranger
05 – Cloud Cuckooland
06 – Heaven Is Here
07 – The Exile

Personnel
    Roy Harper – guitar and vocals
    Jonathan Wilson - banjo, guitar, mandolin, bass and backing vocals
    John Fitzgerald - bouzouki,Oud,Bass, Guitar engineering
    Pete Townsend – electric guitar
    Tony Franklin - bass guitar
    Jake Blanton - bass guitar
    Richard Gowen - drums and percussion
    Omar Velasco - clavinet and mellotron
    Jason Borger - keyboard
    James King - alto saxophone
    Bill Shanley - guitar
    Neal Morgan – percussion

The musical legend returns with his first album since 2000. Has he still got it?
Harper was inspired to start writing his first album in 13 years when he found some of his contemporaries were only just discovering him and 'the kids' were asking what he did.
So last year's 70th birthday celebrations at the Royal Festival Hall (where he was joined by fans Jimmy Page, Joanna Newsom and Jonathan Wilson), were a good way to prove he still had 'it'.
Wilson, also a fan of songs as long as a novel, features heavily on more than half of the album's seven labyrinthine tracks - Heaven Is Here lasts quarter of an hour - while The Who's Pete Townsend offers reliably solid lead guitar on Cloud Cuckooland, a searing attack on celebrity and corporate culture.
The album flits from pastoral folk (Time Is Temporary's finger-picked guitar and softly evocative violins) to folk-rock anthems.
Playing with ideas of self-perception and reality, the innate faults of society, ageing, love and premature loss, it's a wonder the songs don't buckle under his intellectual reflections on life. A weighty record in many ways. ---Stephen Moore, london24.com
download:   4shared yandex mediafire
Zmieniony (Poniedziałek, 26 Czerwiec 2017 20:32)