Eric Clapton (4)
Eric Clapton
1. Sao Paulo 2011 (Rmvb)
250 MB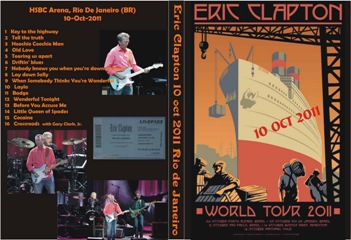 1- Hoochie Coochie Man
2- Tell the truth
3- Badge
4- Old Love
5 - Driftin' blues
6 - Before You Accuse Me
7 - Key to the highway
8 - Wonderful Tonight

Line-Up;
Guitar, Vocals – Eric Clapton
Bass Guitar – Willie Weeks
Keyboards – Chris Stainton
Drums – Steve Gadd
Backing Vocals – Sharon White
Backing Vocals – Michelle John
Keyboards – Tim Carmon

October 12, 2011 - Sao Paulo, Brazil - Morumbi Stadium

Eric Clapton and His Band performed in Sao Paulo for 45,000 on 12 October at Morumbi Stadium, ten years after his last performance in the city (11 October 2001). Taking the stage at 9PM, he dedicated the show to the Formula 1 driver, Felipe Massa, who races for Scuderia Ferrari. During the concert, Eric used two different Stratocasters - the "Port Authorithy of New York - New Jersey Stratocaster" (one of three guitars created by the Fender custom shop to commemorate the events and heros of 9/11 at the World Trade Center) and a Daphne Blue Eric Clapton Signature Model.
One fan told Where's Eric, "It was amazing! I've never seen nothing like this before. The setlist was wonderful. He is a genious!" Another said, "Eric Clapton and His Band were impeccable with great solos and vocals. Congratulations for whole member of the band! I really appreciate all off you. Gary Clark Jr. joined the for the encore when everybody there could see a real duel of giants performed between two great guitarists of different generations." The stand outs were "Old Love," (with a particularly long and inspired solo), "Layla," and "Cocaine" according to those who were there. --- whereseric.com
download:  uploading yandex gett mixturecloud
2. Friends in Concert (AVI)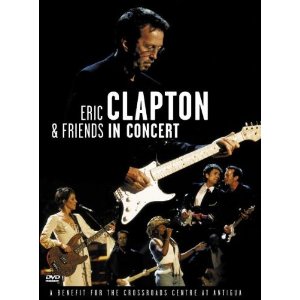 Set:
Driftin
River of Tears
Going Down Slow
Crossroads
Layla
Little Wing
Hoochie Coochie Man
Wonderful Tonight
Tears For Heaven
Change The World
Old Love
Sunshine of Your Love
My Favorite Mistake
Difficult Kind
Be Happy (Medley)
You Bring Me Joy
Not Gon' Cry
Don't Think Twice, It's All Right

Line Up:
Eric Clapton – guitar, vocals
Abdy Fairwheather Low – guitar
Nathan East – bass, vocals
Steve Gadd – drums
Tim Carmon – keyboards
Dave Delhomme – keyboars
David Sanborn – saxophone
Tessa Niles – vocals
Katie Kissoon – vocals

A Benefit for The Crossroads Center At Antigua

It's been quite a road for Eric Clapton: from blues purist to rock guitar god, from country-pop balladeer to classic rock icon, and on to his current status as all-around legend, playing everything from straight blues to neo-soul. Those different aspects are all on display in this concert, taped at New York's Madison Square Garden to raise funds for the guitarist's drug and alcohol rehab center in the Caribbean. Of course, we get a healthy dose of Clapton the frontman during the nearly two-hour show, from the predictable "Layla" and "Tears in Heaven" to "River of Tears," perhaps the best song from his 1998 Pilgrim album (heard here in a more gospel-tinged arrangement). But it is as a collaborator or accompanist that he really shines, whether he's adding some tasty slide guitar to Sheryl Crow's "Different Kind," generating some real heat with saxophonist David Sanborn during a fiery "Little Wing," or harmonizing and trading guitar licks with Bob Dylan during a good-timey "Crossroads." Sure, Eric Clapton backing up Mary J. Blige may seem a little strange, but by the time he encores with a rousing "Sunshine of Your Love," it's clear that a good time was had by all. --Sam Graham
download:  yandex 4shared 1fichier
3. Live at Montreux 1986 (Avi)
820 MB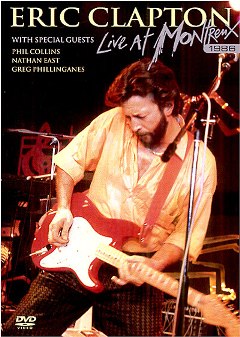 1. Crossroads - Robert Johnson
2. The White Room - Peter Brown, Jack Bruce
3. I Shot the Sheriff - Bob Marley
4. I Wanna Make Love to You - Jerry Lynn Williams
5. Miss You - Eric Clapton, Bobby Colomby, Greg Phillinganes
6. Same Old Blues - Eric Clapton
7. Tearing Us Apart - Eric Clapton, Greg Phillinganes
8. Holy Mother - Stephen Bishop, Eric Clapton
9. Behind the Mask - Chris J. Mosdell, Ryuichi Sakamoto
10 . Badge - Eric Clapton, George Harrison
11 . Let it Rain - Bonnie Bramlett, Eric Clapton
12 . In the Air Tonight - Phil Collins
13 . Cocaine - J.J. Cale
14 . Layla - Eric Clapton, Jim Gordon
15 . Sunshine of Your Love - Pete Brown, Jack Bruce, Eric Clapton
16 . Further on Up the Road - Joe Medwick, Don Robey

Line-Up:
Eric Clapton - guitars, vocals
Nathan East - bass, (vocals on "Same Old Blues")
Greg Phillinganes - piano, keyboards, hand synth., (vocals on "Behind the Mask")
Phil Collins - drums, electronic drums, (vocals on "In the Air Tonight")

Clapton's career since his return in the 80's has been an interesting musical journey throught his musical influcences from blues to rock to pop. He flirted with Pop during the early 80's and slowly began moving towards the blues again with his album Journeynan. This video is from the end of his pop period and it shows some fine playing from Calpton and the rest of the band. The performance is true to the era as some of the arragements are 80's influenced (as well as tye clothes!).
After all these years of hearing Clapton perform with blues/rock drummers like Steve Gadd it is interesting on hearing him with Phil Collins on drums. His drumming is quite recognizable and it provided a different back beat for Clapton to perform to. Collins druming was pop oriented and helped Clapton explore some new territories. The rest of the band kept playing with Clapton during the 80's and 90's - specially Nathan East on Bass. Overall, the performance is, as expected, very good and it is nice addition to Clapton's video collection. --- Luis C. Diaz (Mason, Ohio)
download:  yandex 4shared 1fichier
4. The New York City ARMS Concert (Flv)
830 MB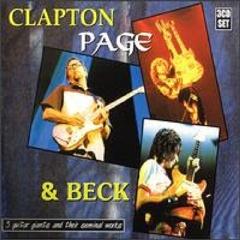 00:16 Cocaine (With Ron Wood)
5:38 Don't Talk To Me (Joe Cocker)
9:50 Watching The River Flow (Joe Cocker)
13:36 Worried Life Blues (Joe Cocker,with special guest Ian Stewart) 
Ian Stewart is considered the 6th Rolling Stone.
17:56 You Are So Beauitful
22:06 Seven Days (with Ron Wood)
27:15 Feeling Alright (with Ron Wood)
31:17 Star Cycle
36:28 The Pump
41:43 Definitely Maybe
46:52 Blue Wind
53:46 People Get Ready (Tributed to John Lennon, Andy Fairweather Low on vocals)
59:17 Going Down
1:07:07 Preludes http://en.wikipedia.org/wiki/Preludes_(Chopin) (Just drag it to the time link)
Fredric Chopin http://en.wikipedia.org/wiki/Fr%C3%A9d%C3%A9ric_Chopin
1:09:55 Who's To Blame with Paul Rodgers (Just drag it to the time link)
1:14:30 City Sirens with Paul Rodgers (Just drag it to the time link)
1:18:02 Boogie Mama with Paul Rodgers on guitar (Just drag it to the time link)
1:22:45 Midnight Moonlight with Paul Rodges (Just drag it to the time link)
1:33:55 Stairway To Heaven

The Greatest Unknown Concert Of All time !!! 3 Guitar Gods(Eric Clapton,Jeff Beck,Jimmy Page), 4 Rolling Stones (Ronnie Wood,Bill Wyman,Charlie Watts,Ian Stewart) and 4 great vocalist's .Eric Clapton, Joe Cocker,Andy Fairweather Low and Paul Rodgers. 4 great Drummers,Charlie Watts,Kenny Jones,Simon Phillips,Ray Cooper. 3 great keyboardists,Chris Stainton,Jan Hammer,James Hooker. The Producer was Bill Graham and the engineer was Glyn Johns. The concert was dedicated to Small Faces bassist Ronnie Lane.
download:
4shared: part1 part2 part3 part4
Zmieniony (Czwartek, 02 Maj 2013 15:05)