Antoine Forqueray - The Bliss and Pain of Baroque (2005)
Antoine Forqueray - The Bliss and Pain of Baroque (2005)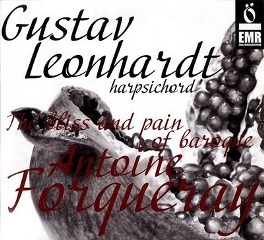 01 - La Superbe, ou La Forqueray (F. Couperin)
02 - Allemande, La LaBorde
03 - La Forqueray
04 - La Cottin
05 - La Bellmont
06 - La Portugaise
07 - La Couperin
08 - La Marella
09 - Sarabande, La D'Aubonne          play
10 - La Bournoville                   play
11 - La Sainscy
12 - La Buisson, Chaconne
13 - La Montigny
14 - La Sylva
15 - La Forqueray (J. Duphly)

Gustav Leonhardt - harpsichord

Antoine Forqueray (ur. w1672 w Paryżu, zm. w 1745 w Mantes) - francuski kompozytor późnego baroku, królewski kapelmistrz, a także drugi obok Marin Marais najważniejszy francuski gambista na dworze Ludwika XIV.
Większość dzieł Forqueray'a nie została wydana. Syn wydał część z nich jako Pièces de Viole w 1747 roku. Styl Forqueray'a był wzorowany na energicznym stylu włoskim, zamiast na delikatnym i introwertycznym, typowo francuskim, w którym celował Marin Marais, z tego powodu mówiono w Wersalu, że Marais grał jak "anioł" (comme un ange), a Forqueray jak "diabeł" (comme une diable)
Antoine Forqueray (September 1671 – 28 June 1745) was a French composer and virtuoso of the viola da gamba.
Forqueray, born in Paris, was the first in a line of composers who included his brother Michel (1681–1757) and his sons Jean-Baptiste (1699–1782) and Nicolas Gilles (1703–1761). Forqueray was named musicien ordinaire of La chambre du Roy of Louis XIV in 1689 and played at court. Until 1710, he was accompanied by his wife on the harpsichord in his recitals. In 1730, he retired to Mantes-la-Jolie, where he died in 1745. His son published his works for the viola de gamba in 1747 (two years after his father's death) together with a version for harpsichord. Marin Marais and Antoine Forqueray were considered by their contemporaries as the two greatest virtuosi of the viola da gamba.
download: uploaded anonfiles yandex 4shared solidfiles mediafire mega filecloudio
Zmieniony (Czwartek, 14 Listopad 2013 16:27)