Shorty Rogers & His Giants - Bossa Nova (1962)
Shorty Rogers & His Giants - Bossa Nova (1962)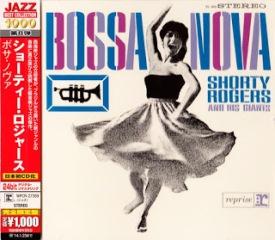 1.Samba Do Lorinho (Lorito's Samba)
2.Chega De Saudade (No More Sadness)
3.Samba Triste (Melancholy Samba)
4.Samba De Uma Nota So (One Note Samba)
5.Pao De Assucar (Sugar Loaf)
6.Samba Do Empashgi (Empashgi's Samba)
7.O Amor E A Rosa (Love Is A Rose)
8.So Voce (Only You)
9.Chora Tua Tristeza (Cry Your Sadness)
10.So Um Amor (Only One Love)
11.O Menino Desce O Morro (Little Boy Brown)

Alto Saxophone – Bud Shank, Paul Horn 
Bass – Joe Mondragon 
Drums – Milt Holland, Shelly Manne 
Flute – Bud Shank, Paul Horn 
Guitar – Laurindo Almeida 
Percussion – Chico Guerrero, Emil Richards 
Piano – Pete Jolly 
Sleeve Notes – Laurindo Almeida 
Trombone – Kenneth Shroyer, Richard Leith 
Vibraphone – Larry Bunker
Trumpet – Joe Burnett, Oliver Mitchell, Shorty Rogers

Like Stan Kenton, Shorty Rogers led a big band that featured some of the greatest names in West Coast jazz. No less than Shelley Manne, Jimmy Giuffre, and Bob Shank appeared on early classics like The Big Shorty Rogers Express and Portrait of Shorty. However, Rogers' band always seemed like a lot more fun to be in than Kenton's, since Rogers exhibited a goofy sense of experimentation and a knack for writing peppy horn charts that exhibited a great deal of hyper energy.
Rogers eventually made concept albums his forte, and albums like The Swingin' Nutcracker and Courts the Count matched great songs with clever arranging, usually successfully. Once Rogers took his band to the Atlantic label, however, it appeared that all the good players were gone—as were the marketable ideas. Bossa Nova must have appeared fresh at the time—it was recorded in 1962, a year before the Brazilian music craze—but now seems buried in a pack of like-minded albums. Rogers did have the presence of mind to recruit a guitarist and a few percussionists to give the music an authentic flavor, and the music is earnestly played. However, bossa nova works best with a less rambunctious approach.
Rogers never seemed capable of approaching anything delicately, and he overwhelms the melodies with brassy riffs. Not bad, but when you're tempted to reach for a big band or a bossa nova record, Bossa Nova won't come to mind in either case.
As on Bossa Nova, vibraphonist Larry Bunker is given more solo space than usual for a Rogers project. Rogers, never a great instrumentalist to begin with, treats each solo like a tightrope walk. Unfortunately, those eager to seek out more of Rogers work will have a hard task before them; precious little of Rogers' work is currently available domestically. It's a pity to think that some unsuspecting buyer might think this is the best Rogers had to offer. ---David Rickert, allaboutjazz.com
download (mp3 @320 kbs):
yandex 4shared mega mediafire uloz.to cloudmailru uplea