Roomful Of Blues - Essential Recordings - Jump Blues Classics (2009)
Roomful Of Blues - Essential Recordings - Jump Blues Classics (2009)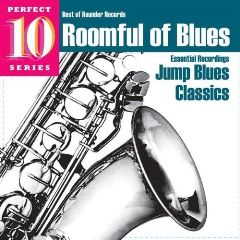 01. Lillie Mae 
02. Lost Mind 
03. Dander Zone 
04. I Tried 
05. Smack Dab In the Middle 
06. I Smell Trouble 
07. The Comeback 
08. Blind Love 
09. I'm Just Your Fool 
10. Mister Dolar

Personnel: 
Sugar Ray Norcia (vocals, harmonica); 
Mac Odom (vocals); 
Chris Vachon (guitar); 
Rich Lataille (alto saxophone, tenor saxophone); 
Greg Piccolo (tenor saxophone); 
Doug James , Kevin May (baritone saxophone); 
Bob Enos (trumpet); 
Carl Querfurth (trombone); 
John Wolf (tenor trombone, bass trombone); 
Albert Weisman, Matt McCabe (piano); 
John Rossi (drums). 
R&B little big band Roomful of Blues has been one of the most enduring institutions in American music, and a showcase for some of the best blues talent in the world. On this collection, Roomful showcases a repertoire that perhaps no other band can play so well: the classic, horn-driven R&B of the 1950s. These swinging, in-the-pocket performances are the essence of Roomful's jump blues sound. ---concordmusicgroup.com
download:   uploaded anonfiles mega 4shared mixturecloud yandex mediafire ziddu
Zmieniony (Piątek, 21 Czerwiec 2013 23:43)