Frankie Lymon & The Teenagers - Essential Recordings 1955-1961 (1997)
Frankie Lymon & The Teenagers - Essential Recordings 1955-1961 (1997)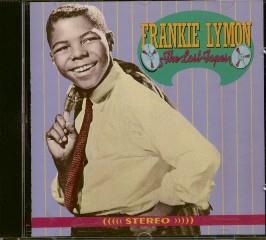 1-1 	Why Do Fools Fall In Love 	
1-2 	Please Be Mine 	
1-3 	I Want You To Be My Girl 	
1-4 	I'm Not A Know-It-All 	
1-5 	I Promise To Remember 	
1-6 	Who Can Explain? 	
1-7 	The ABC's Of Love 	
1-8 	Share 	
1-9 	I'm Not A Juvenile Delinquent 	
1-10 	Baby, Baby 	
1-11 	Teenage Love 	
1-12 	Paper Castles 	
1-13 	Love Is A Clown 	
1-14 	Am I Fooling Myself Again? 	
1-15 	Together 	
1-16 	You 	
1-17 	Out In The Cold Again 	
1-18 	Miracle In The Rain 	
1-19 	Little White Lies 	
1-20 	It Would Be So Nice 	
1-21 	Fortunate Fellow 	
1-22 	Love Put Me Out Of My Head 	
1-23 	Begin The Beguine 	
1-24 	Goody Goody 	
1-25 	Creation Of Love 	
1-26 	Flip Flop 	
1-27 	Everything To Me 	
1-28 	So Goes My Love 	
1-29 	My Girl 	
1-30 	Little Girl 	
1-31 	Thumb Thumb 	
1-32 	Footsteps 	
2-1 	Portable On My Shoulder 	
2-2 	Mama Don't Allow It 	
2-3 	My Broken Heart 	
2-4 	Mama Wanna Rock 	
2-5 	Waitin' In School 	
2-6 	Wake Up Little Susie 	
2-7 	Silhouettes 	
2-8 	The Next Time You See Me 	
2-9 	Send For Me 	
2-10 	It Hurts To Be In Love 	
2-11 	Jailhouse Rock 	
2-12 	Diana 	
2-13 	Buzz, Buzz, Buzz 	
2-14 	Searchin' 	
2-15 	Short Fat Fannie 	
2-16 	Little Bitty Pretty One 	
2-17 	Melinda 	
2-18 	The Only Way To Love 	
2-19 	No Matter What You've Done 	
2-20 	Up Jumped A Rabbit 	
2-21 	What A Little Moonlight Can Do 	
2-22 	Before I Fall Asleep 	
2-23 	Goody Good Girl 	
2-24 	I'm Not Too Young To Dream 	
2-25 	Tonight's The Night 	
2-26 	Crying 	
2-27 	A Little Bit Wiser Now 	
2-28 	Can You Tell Me 	
2-29 	Change Partners 	
2-30 	So Young 	
2-31 	I Put The Bomp (In The Bomp Bomp Bomp)

Frankie Lymon (vocals); 
Kenny Bobo, Louie Lymon, Billy Lobrano, Delecates, Freddie Houston (vocals); 
Herman Santiago, Jimmy Merchant (tenor); 
Joe Negroni (baritone); 
Sherman Garnes (bass voice); 
Jerome Day, A. Ryerson, Al Casamenti, Jimmy Shirley, Skeeter Best (guitar); 
Freddie Mitchell, Powell, Jimmy Wright, Al Sears, Sol Schlinger, Buddy Lucas (saxophone); 
Jimmy Phipps , Moe Wechsler, Freddie Johnson (piano); 
Gene Brooks, Jack Marshall, Panama Francis (drums); 
Sol Gubin (percussion). 
This two-CD compilation stands midway between Rhino's perfectly good Teenagers collection and Bear Family's monster box of every extant note of music that Lymon and company ever left behind. It's mid-priced, which is an advantage, and it has very detailed notes that explain the origins of a number of songs whose histories haven't always been clear, but it may be more Frankie Lymon than most of us need. But it is fun -- the first 14 songs on disc one include the entire Teenagers album, a staple of rock & roll collections (and the Roulette catalog) for decades, an album that Barry Lazell's notes remind us made it to number 19 on the charts, a major sales success for a '50s rock & roll album. The first 23 songs of 32 on disc one are the quintet's complete recordings "together," in the order in which they were done -- they reveal a thriving enterprise, a vocal group that could do relatively little wrong within the context of their era, most of their material solid romantic doo wop-style vocal rock. The new remasterings reveal more detail than Rhino's late-'80s work, and have a brighter sound, but they're not quite ideal, revealing some flaws (especially harshness) in the surviving masters ("Share") that detract from the listening experience. The tracks dating from after that first album, such as "Together" and "You," show the group and their management searching for a more sophisticated, romantic sound, with greater emphasis on Lymon's singing and the rest of the quintet pushed increasingly into the background -- and their final track together, Cole Porter's "Begin the Beguine," had Lymon singing as part of the quintet, rather than as lead. The rest of the collection is a bit more problematic, interspersing most of Lymon's solo work with the eight recordings left behind by the Teenagers, working with a succession of post-Lymon successors. These are pretty lively tracks, although they lack a defined and attractive vocal personality like Lymon's out in front. It might have been more sensible to devote the remainder of disc one to the Teenagers and pile Lymon's material all together on disc two, because the Lymon material is stylistically more unified, even as it declines from an initial high ("Goody Goody") -- it's obvious listening to this material that Lymon's managers were trying to advance his career toward a harder rock & roll sound, covering numbers like "Jailhouse Rock" and "Silhouettes," but as he grew older his voice lost its distinctiveness. The material is pleasant and well-produced, but not terribly exciting and simply not interesting. Lazell's notes are informative, and the booklet re-creates various period trade ads for the group's releases. Still, most fans will likely opt for the Rhino CD, although this release does make the Bear Family and Collectables collections less desirable. ---Bruce Eder, AllMusic Review
Frankie Lymon (09/30/1942-02/18/1968) and the Teenagers were a New York doo wop group consisting of Joe Negroni, Herman Santiago, Jimmy Merchant, and Sherman Garnes, but centered around the extraordinary talents of their lead singer, 13-year-old Frankie Lymon. Lymon was credited with their first big hit, "Why Do Fools Fall in Love" (in the early '90s, a federal judge ruled after a lengthy trial that Lymon hadn't written "Why Do Fools Fall in Love" -- another member of the Teenagers had). His wise-beyond-his-years Vocals and performing abilities not only made the Teenagers a group several notches above the competition but made Lymon the first black teenage pop star. Though only together for a brief 18-month period, Lymon & the Teenagers exerted an enormous influence, spawning several "kid" Vocals groups and providing initial inspiration to Berry Gordy to model his entire Motown production approach around Lymon's original Vocals style. Inexplicably, the group split into two factions at the height of their success, and neither had a hit again. Lymon died from a drug overdose at age 26. Diana Ross, Smokey Robinson, Len Barry, and his principal protégé, Michael Jackson (whose early recordings with the Jackson 5 are virtual re-creations of the early Lymon sound, merely updated) all show the influence of Frankie Lymon & the Teenagers' groundbreaking work. ---rocky-52.net
download (mp3 @128 kbs):
yandex 4shared mediafire uloz.to cloudmailru gett
Zmieniony (Piątek, 09 Marzec 2018 23:36)