Classic Rock & Roll (2016) CD3
Classic Rock & Roll (2016) CD3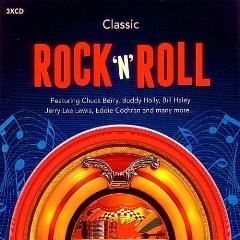 45. Eddie Cochran - Summertime Blues 01:56
46. Chuck Berry - You Never Can Tell 02:41
47. Frankie Valli & The Four Seasons - Big Girls Don't Cry 02:24
48. Buddy Holly - Everyday 02:07
49. The Flamingos - I Only Have Eyes For You (Dames) 03:17
50. Danny & The Juniors - At The Hop 02:31
51. The Del-Vikings - Come Go With Me 02:40
52. The Crew Cuts - Sh-Boom 02:46
53. The Coasters - Yakety Yak 01:50
54. The Drifters - Saturday Night At The Movies 02:29
55. The Cascades - Rhythm Of The Rain 02:32
56. Bo Diddley - Road Runner 02:46
57. Johnny Burnette & The Rock 'N' Roll Trio - The Train Kept A Rollin' 02:15
58. The Bobby Fuller Four - I Fought The Law 02:17
59. Little Eva - The Locomotion 02:22
60. Clyde Mcphatter & The Drifters - Such A Night 02:26
61. The Mudlarks - Lollipop 01:57
62. The Regents - Barbara Ann 02:22
63. Lavern Baker - See See Rider 02:28
64. The Marcels - Blue Moon 02:15
65. Ray Charles - What I'd Say (Part I) 03:10
66. The Everly Brothers - Wake Up Little Susie 02: 01

In its purest form, Rock & Roll has three chords, a strong, insistent back beat, and a catchy melody. Early rock & roll drew from a variety of sources, primarily blues, R&B, and country, but also gospel, traditional pop, jazz, and folk. All of these influences combined in a simple, blues-based song structure that was fast, danceable, and catchy. The first wave of rock & rollers -- Chuck Berry, Elvis Presley, Little Richard, Jerry Lee Lewis, Buddy Holly, Bo Diddley, Bill Haley, Gene Vincent, the Everly Brothers, and Carl Perkins, among many others -- set the template for rock & roll that was followed over the next four decades. During each decade, a number of artists replicated the sound of the first rockers, while some expanded that definition and others completely exploded the constrictions of the genre.
From the British Invasion, folk-rock, psychedelia, and through hard rock, heavy metal, glam rock, and punk, most subgenres of rock & roll initially demonstrated an allegiance to the basic structure of rock & roll. Once these permutations emerged, traditional rock & roll faded away from the pop charts, yet there were always artists that kept the flame alive. Some, like the Rolling Stones and the Faces, adhered to the basic rules of traditional rock & roll but played the music fast and loose. Others, like proto-punk rockers the Velvet Underground, the New York Dolls, and the Stooges, kept the basic song structure, but played it with more menace. Still others, like Dave Edmunds and Graham Parker, became rock & roll traditionalists, writing and recording music that never wavered from the sound of the late '50s and early '60s.
Although the term "rock & roll" came to refer to a number of different music styles in the decades following its inception, the essential form of the music never changed.
download (mp3 @320 kbs):
yandex mediafire zalivalka cloudmailru ge.tt
Zmieniony (Sobota, 30 Grudzień 2017 16:05)