Magnum – Escape From Shadow Garden (2014)
Magnum – Escape From Shadow Garden (2014)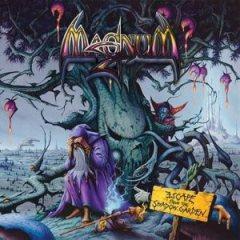 1. Magnum – Live Til' You Die [06:28]
2. Magnum – Unwritten Sacrifice [05:28]
3. Magnum – Falling For The Big Plan [05:58]
4. Magnum – Crying In The Rain [05:45]
5. Magnum – Too Many Clowns [04:35]
6. Magnum – Midnight Angel [07:18]
7. Magnum – The Art Of Compromise [05:00]
8. Magnum – Don't Fall Asleep [05:58]
9. Magnum – Wisdom's Had Its Day [04:43]
10. Magnum – Burning River [04:43]
11. Magnum – The Valley Of Tears [06:39]

Bob Catley — Vocals
Tony Clarkin — Guitar & Vocals
Mark Stanway — Keyboards
Al Barrow — Bass Guitar
Harry James — Drums & Percussion

The Birmingham-based Magnum belongs in the particular league of privileged bands, after the last few decades they're a band who does not need to prove anything anymore, and simply live up to their well-deserved reputation. For the audience enamored with their trademark Pomp Rock style and at least familiar with their 2012 On The 13th Day album, its follow-up – their newest and soon-to-be-released Escape From The Shadow Garden – will be a perfect continuation of this musical journey.
Starting off with the epic six minutes long opener, "Live 'Til You Die," Magnum blends their progressive and melodic rock influences together, a homage to their classic 1980s records. Similarly powerful is the significant part of the tracks on Escape From The Shadow Garden, "Falling For The Big Plan" is one of the highlights among them, with its well-crafted chorus and captivating, catchy melody.
The others are more modern-sounding "Crying In The Rain" and "Too Many Clowns," both incredibly dynamic with the big marching drum sound of the former and a crunchy, aggressive guitar riff of the latter. There is also "Burning River", which is a fine rocker with a distinguishable 1980's feel to it, as well as some modern touches here and there, and "The Art Of Compromise", initially a ballad-esque slow-down which soon evolves into a powerful keyboard-driven (and much 1980s-alike) track in vein of classic Magnum songs, such as "Sometime Love."
Interesting is "Midnight Angel" with its acoustic intro, pounding keyboard sound and no monotony in spite of length (thanks to the surprising change of pace throughout the whole track). Apart from these, there is a place for charming, yet incredibly powerful ballads on the album as well ("Unwritten Sacrifice," "Wisdom Had Its Day," "Don't Fall Asleep" and the final "The Valley Of Tears").
Magnum's Escape From The Shadow Garden follows a critically-acclaimed and well-received predecessor, the album thought by many to be one of the band's better if not best – and nevertheless remains a strong rival in this competition. It features a classic, keyboard-driven Pomp Rock sound, and yet at the same time, with its dense production, sounds fresh enough for a contemporary listener. Bob Catley's vocals are as good as ever, shining throughout the whole record – especially in the soaring power ballads – and being completed by the brilliant instrumental performances. Another great album of 2014, and highly recommended not only for Magnum die-hard fans. --- Alexandra Mrozowska, hardrockhaven.net
download (mp3 @320 kbs):
yandex mediafire mega ulozto cloudmailru gett
Zmieniony (Niedziela, 24 Czerwiec 2018 21:23)