Blackmore's Night - Dancer and the Moon (2013)
Blackmore's Night - Dancer and the Moon (2013)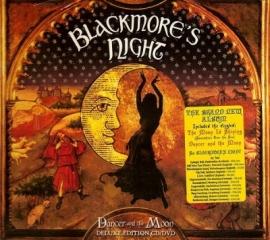 1. I Think It's Going To Rain Today (Randy Newman cover) (3:54)
2. Troika (3:30)
3. The Last Leaf (4:05)
4. Lady In Black (Uriah Heep cover) (5:48)
5. Minstrels In The Hall [instrumental] (2:38)
6. The Temple Of The King (Rainbow cover) (4:26)
7. Dancer And The Moon (4:55)
8. Galliard (2:00)
9. The Ashgrove (2:21)
10. Somewhere Over The Sea (The Moon Is Shining) (4:07)
11. The Moon Is Shining (Somewhere Over The Sea) (6:19)
12. The Spinner's Tale (3:30)
13. Carry On... Jon [instrumental] (5:37)

Personnel:

Ritchie Blackmore - Acoustic And Electric Guitars, Nickelharpe,Mandola, Hurdy Gurdy, Tambourine
Candice Night - Lead Vocals, Harmony Vocals, All Renaissance And Medieval Woodwinds

Bard David Of Larchmont - Keyboards And Background Vocals
Lady Kelly Dewinter - Harmony Vocals, French Horn
Earl Grey Of Chimay - Bass And Rhythm Guitar
The Scarlet Fiddler - Violin
Troubador Of Aberdeen- Percussion

For those Deep Purple and Rainbow fans who've struggled to come to grips with Ritchie Blackmore's turn toward ren-faire folkism with Blackmore's Night, Dancer and the Moon might just provide the perfect entry point.
Oh, Blackmore hasn't rethought trading in his molten electric guitar for the odd mandola or hurdy gurdy, and he's still collaborating with wife Candice Night rather than Jon Lord or Ronnie James Dio. But the latter two are directly referenced on this new Frontiers Records release, completing an emotional circle — if not necessarily reanimating Blackmore's old sound.
Of course, elsewhere on Dancer and the Moon, Blackmore's Night finds inspiration from typically archaic forms — including old Welsh tunes ("The Ashgrove"), a Czech folk melody ("The Moon is Shining [Somewhere Over the Sea]), and a song from Richard the Third ("The Spinner's Tale"). But Blackmore opens with a reworking of Randy Newman's "I Think It's Going to Rain Today," originally featured in the Bette Midler film "Beaches," and later a quiet and direct take on Uriah Heep's "Lady in Black," from 1971′s Salisbury.
Taken all together, it makes for perhaps the most accessible Blackmore's Night offering yet.
Now, their covering Rainbow — this time, it's the Dio co-written "Temple of the King" from the band's 1975 debut — isn't exactly a new thing. Blackmore's Night had earlier reimagined a trio of other such tunes, including "Self Portrait" for 1999′s Under a Violet Moon, "Street of Dreams" on 2006′s The Village Lanterne and "Rainbow Eyes" for 2008′s Secret Voyage. But "Temple" represents Blackmore's first return to that time since Dio passed in 2010 after a bout with stomach cancer, and there is an added sense of emotional depth this time.
Similarly, he's covered mainstream songs, from Bob Dylan to Elvis Presley to, mostly recently, the Kinks — adding "Celluloid Heroes" to the 2010 Blackmore's Night release Autumn Sky. But these new Newman and Ken Hensley remakes have a joy, a loose sensibility, that hasn't always been part of this group's sometimes too-studied sound.
Maybe it's the birth of their two children since 2010. Maybe it's the loss of Dio and, more recently, of Lord — for whom Blackmore offers a searing rumination on the closing "Carry On … John." But Dancer and the Moon has a presence, an emotional availability, that wasn't consistently there before. --- Nick DeRiso, somethingelsereviews.com
download (mp3 @320 kbs):
Zmieniony (Czwartek, 16 Listopad 2017 21:50)