Ray Wilson - Chasing Rainbows (2013)
Ray Wilson - Chasing Rainbows (2013)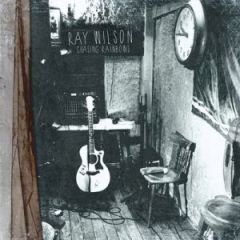 01.Take It Slow
02.Easier That Way
03.Follow The Lie
04.Shouting In My Sleep
05.Wait For Better Days
06.She Don't Feel So Loved
07.Rhianne
08.She's A Queen
09.Whatever Happened
10.I See It All
11.The Life Of Someone
12.No Dreams Are Made Of This

Line-Up:
Ray Wilson - Vocals, Acoustic Guitars
Ali Ferguson - Guitars, Backing Vocals
Steve Wilson - Acoustic Guitars, Backing Vocals
Lawrie MacMillan - Bass, Backing Vocals
Darek Tarczewski - Piano, Keyboards
Alicja Chrzaszcz - Violin
Barbara Szelagiewicz - Violin
Ashley MacMillan - Drums, Percussion

Time has been kind to Ray Wilson, who had the misfortune of replacing Phil Collins in Genesis for its final studio album. Calling All Stations, if not undergoing a complete critical reevaluation, is at least becoming better understood. Heck, Steve Hackett has even invited Wilson to join him as part of the 1970s-era guitarist's Genesis Revisited tour. In keeping, Chasing Rainbows, Wilson's first studio effort since 2008′s Propaganda Man, couldn't arrive at a better time.
"Real life," he sings in the opener on Chasing Rainbows, "isn't always what you want, isn't always what you need." Nobody knows that better than Wilson, a singer with the dark confidentiality of solo-era Peter Gabriel who might have made a more lasting impression in Genesis, if he'd been afforded a fighting chance. Instead, he was given a brand name and this patchy group of songs that likely wouldn't have connected no matter who manned the mic. Couple that with the outsized expectations of following a pop superstar like Collins, and Wilson's tenure was probably doomed from the first. Chasing Rainbows, of course, labors under no such expectations — and, not perhaps coincidentally, the album soars.
New textures, both turbulent and sanguine, follow Wilson's decision to add strings to the project. Violinists Alicja Chrzaszcz and Barbara Szelagiewicz, also part of Wilson's regular touring band, imbue heartfelt melodic-rock gems like "Take It Slow" and "She Don't Feel So Loved" with deeper emotional undercurrents — then add twilit poignancy to the prog-inspired balladry of "Rhianne" and "No Dreams Are Made of This," the former of which features vocals by lead guitarist Ali Ferguson.
Elsewhere, Wilson adds saxophone to "Follow the Lie," something as far away as possible from his own band Stiltskin's straight-ahead rock sound. In fact, the song that might have sounded the most like Stiltskin, "Whatever Happened," finds partner Uwe Metzler playing mandolin — giving the tune a totally fresh rootsy feel.
Whatever the musical setting, however, Wilson focuses on a series of stirring, spiritual themes, creating moments of stratospheric uplift on "Easier That Way" (though he starts by deliciously taking on fat cat bankers), "Follow the Lie" (from which the album gets its title), and "Wait for Better Days." Rewind a couple of decades, and the warm embrace of "She Don't Feel So Loved" most assuredly would have battled for chart supremacy with Steve Perry's Journey, David Foster-era Chicago and, well, yes — Phil Collins. The comparison comes easier, and rings truer, when Ray Wilson is featured on an album with material as stong as Chasing Rainbows. ---Nick DeRiso, somethingelsereviews.com
"Chasing Rainbows" to najnowsza płyta studyjna Raya Wilsona znanego ze współpracy z takimi zespołami jak Genesis czy Stilskin.
Urodzony w Szkocji wokalista, gitarzysta, kompozytor zastąpił Phila Collinsa w zespole Genesis w latach 1996-1999. Jako frontman grupy współtworzył album "Calling All Stations", który trafił na czwarte miejsce w historii sprzedaży zespołu. Konsekwencją wydania płyty była ogólnoświatowa trasa "Calling All Stations Tour". W marcu 2010 roku zespół Genesis został przyjęty do "Rock'n Roll Hall of Fame", jako jeden z najważniejszych i wpływowych zespołów wszech czasów. W 2013 roku Ray Wilson nawiązał współpracę z Polskim Radiem, czego pierwszym efektem jest płyta "Chasing Rainbows", zawierająca 12 utworów utrzymanych w typowym brzmieniu brytyjskiego rocka. Bez wątpienia jest to najbardziej dojrzała muzycznie płyta artysty w jego dotychczasowym dorobku. ---empik.com
download (mp3 @320 kbs):
yandex 4shared mediafire ulozto gett
Zmieniony (Sobota, 24 Listopad 2018 23:04)