Hoelderlin - Clowns & Clouds (1976)
Hoelderlin - Clowns & Clouds (1976)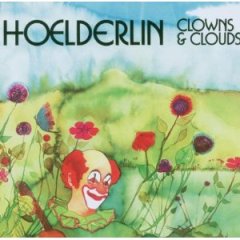 1. Mad House (C.Grumbkow/J.Grumbkow) - 6:47
2. Your Eyes (J.Grumbkow) - 6:10		play
3. Circus (C.Grumbkow/J.Grumbkow) - 10:05 including:
  a) Tango Mili
  b) Marching
  c) Sensations
4. Streaming (H.Bäär) - 7:10
5. Phasing (J.Grumbkow/H.Bäär) - 12:08

Personnel:
- Hans Bäär - bass, guitars
- Michael Bruchmann - drums, percussion
- Christian Grumbkow - lead guitar
- Joachim Grumbkow - keyboards, cello, vocals
- Joachim Käseberg - live sound
- Christoph "Nops" Noppeney - viola, acoustic guitar, vocals
- Jörg-Peter Siebert - saxophones, flutes, percussion

Another very nice number from Germany. "Clown & Clouds" is an album where listener can find a sort of cosmic symphonic rock where main influences are GENESIS, CAMEL and GROBSCHNITT.
HÖELDERLIN characteristics are the nice vocal arrangements, very good playing (specially percussion treatment) and the use of saxophone, flutes and strings (cello, viola) beside the traditional instruments. Compositions are well done, going from symphonic tunes to some jazzy and cosmic sounds.
Quality remains along all tracks, but two longest are outstanding. "Circus" (a three parts mini suite) is excellent, symphonic rock as its best in the GENESIS vein, while "Phasing" has a long atmospheric instrumental start that becomes in a cosmic rock piece, very interesting.
Those who like the German classic spacey sound plus GENESIS and CAMEL hints, will surely enjoy this album. Recommended. ---Marcelo, progarchives.com
download (mp3 @320 kbs):
yandex download mediafire uloz.to gett
Zmieniony (Niedziela, 15 Kwiecień 2018 09:01)