Suzi Quatro - StarCollection 4CD (2010)
Suzi Quatro - Star Collection 4CD (2010)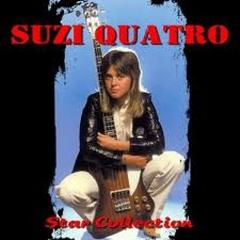 CD1
01. I'll Walk Through the Fire With You [0:04:24.54]
02. Main Attraction [0:03:13.69]
03. Strange Encounters [0:03:06.00]
04. Skin Tight Skin [0:04:17.35]
05. Stumblin' In (with Chris Norman) [0:03:59.31]
06. Tear Me Apart [0:03:00.17]
07. Fantasy In Stereo [0:03:09.43]
08. Four Letter Words [0:03:22.57]					play
09. 15 Minutes Of Fame [0:03:48.64]
10. Can The Can [0:03:33.21]
11. Heart Of Stone [0:04:05.18]
12. 48 Crash [0:03:52.27]
13. If You Can't Give Me Love [0:03:55.64]
14. Official Suburbian Superman [0:03:01.37]
15. There She Goes [0:02:48.45]
16. Hard Headed [0:04:02.11]
17. Primitive Love [0:04:10.46]
18. Wiser Than You [0:03:57.37]
19. Glycerine Queen [0:03:44.74]
20. Dont Change my Luck [0:03:44.24]
21. The Race Is On [0:04:04.02]

CD2
01. Lipstick [0:04:10.28]
02. Transparent [0:03:15.36]
03. Can I Be Your Girl [0:03:54.05]
04. I Bit Off More Than I Could Chew [0:03:44.02]
05. Shakin' All Over [0:03:30.35]
06. She's In Love With You [0:03:23.44]
07. Sometimes Love is Letting Go [0:04:33.52]
08. The Honky Tonk Downstairs [0:03:01.07]
09. Dancing In The Wind [0:04:50.18]
10. Glad All Over [0:02:50.24]					play
11. I've Never Been In Love [0:02:56.08]
12. Non Citizen [0:03:19.29]
13. Rock'n'Roll Hoochie Coo [0:03:26.68]
14. Half As Much As Me [0:04:13.46]
15. I Don't Do Gentle [0:04:23.54]
16. Love Is Ready [0:03:31.69]
17. No Choice [0:05:29.20]
18. All Shook Up [0:03:47.39]
19. I Wanna Be Your Man [0:03:17.33]
20. The Wild One [0:02:52.30]
21. Too Big [0:03:21.18]

CD3
01. Born Making Noise [0:04:44.16]
02. What's It Like To Be Loved [0:03:15.21]
03. Lonely Is The Hardest [0:03:48.26]
04. Move It [0:03:36.54]
05. New Day Woman [0:03:33.10]
06. Oh Baby [0:03:51.65]
07. Rockin' In The Free World [0:04:56.69]
08. Starlight Lady [0:03:28.39]
09. Sticks And Stones [0:03:35.33]
10. Two Miles Out Of Georgia [0:03:26.63]		play
11. Wake Up Little Susie [0:02:50.31]
12. Devil Gate Drive [0:03:48.02]
13. Free The Butterfly [0:04:53.47]
14. Get Back Mamma [0:05:55.33]
15. Lay Me Down [0:03:35.01]
16. Good Girl [0:03:32.65]
17. You Are My Lover [0:02:48.54]
18. Remote Control [0:03:18.51]
19. Pardon Me [0:03:28.35]
20. Secret Hideaway [0:03:42.45]
21. Wish Upon Me [0:02:57.44]

CD4
01. Mama's Boy [0:03:07.54]
02. Starry Night [0:03:45.00]
03. Hollywood [0:02:53.21]
04. I'm A Rocker [0:03:11.20]
05. Cheap Shot [0:03:35.68]
06. Don't Break My Heart [0:02:55.47]
07. Comes The Night [0:03:54.70]
08. Wasted Moments [0:04:59.09]
09. Duality [0:04:58.09]
10. Everything I Ever Wanted [0:03:18.25]
11. Heartbreak Hotel [0:03:51.43]					play
12. You Can Make Me Want You [0:03:32.46]
13. Hit The Road Jack [0:03:57.29]
14. Back To The Drive [0:04:30.08]
15. Fever [0:03:37.30]
16. Just Like Momma [0:03:34.05]
17. Keep A-Knockin' [0:03:13.60]
18. Love Hurts [0:02:21.28]
19. Your Mama Won't Like Me [0:03:57.29]
20. Mind Demons [0:02:24.44]
21. Savage Silk [0:03:35.12]
22. She Knows [0:03:09.20]

Suzi Quattro (właśc. Susan Kay Quatrocchio) urodziła się w katolickiej rodzinie w 1950 roku w Detroit. Jej ojciec z pochodzenia Włoch w wolnym czasie zajmował się muzyką. Jej matka była z pochodzenia Węgierką. Suzi zaczęła swoją karierą muzyczną wraz z zespołem Pleasure Seekers,a potem Cradle gdzie grała ze swoimi siostrami Patti, Nancy i Arlene. W 1971 roku przeprowadziła się do Wielkiej Brytanii po tym jak odkrył ją w Detroit producent muzyczny Mickie Most. Jej pierwszy singiel "Rolling stone" był klapą wszędzie tylko nie w Portugalii gdzie zajął pierwsze miejsce na liście przebojów. Drugi singiel "Can the can" podbił listy przebojów w całej Europie i Australii. Dwa pierwsze albumy równiez odniosły olbrzymi sukces. Nigdy nie udało jej się podbić Stanów Zjednoczonych. Tam znana jest głównie z roli Leather Tuscadero w serialu Happy Days.
Suzie Quatro, b. 3 June 1950, Detroit, Michigan, USA. From patting bongos at the age of seven in her father's jazz band, she graduated to go-go dancing in a pop series on local television. With an older sister, Patti (later of Fanny) she formed the all-female Suzi Soul And The Pleasure Seekers in 1964 for engagements that included a tour of army bases in Vietnam. In 1971, her comeliness and skills as bass guitarist, singer and chief show-off in Cradle were noted by Mickie Most, who persuaded her to record Chinn And Chapman songs for his Rak Records label in England. Backed initially by Britons Alastair McKenzie (keyboards), Dave Neal (drums) and her future husband, ex-Nashville Teens member Len Tuckey (guitar), a second Rak single, 1973's "Can The Can", topped hit parades throughout the world at the zenith of the glam rock craze - of which rowdy Suzi, androgynous in her glistening biker leathers, became an icon. Her sound hinged mostly on a hard rock chug beneath lyrics in which scansion overruled meaning ("the 48 crash/is a silken sash bash"). The team's winning streak with the likes of "48 Crash", "Daytona Demon" and "Devil Gate Drive" - a second UK number 1 - faltered when "Your Mama Won't Like Me" stuck outside the Top 30, signalling two virtually hitless years before a more mellow policy brought a return to the Top 10 with "If You Can't Give Me Love".
Quatro's chart fortunes in Britain lurched from "She's In Love With You' at number 11 to 1982"s "Heart Of Stone" at a lowly 68. "Stumblin' In" - a 1978 duet with Smokie's Chris Norman - was her biggest US Hot 100 strike (number 8) but barely touched the UK Top 40. By the late 80s, her output had reduced to pot-shots, including teaming up with Reg Presley of the Troggs for a disco revival of "Wild Thing". More satisfying than tilting for hit records, however, was her development as a singing actress, albeit in character as "Leather Tuscadero" in seven episodes of Happy Days during 1977. Cameos in UK television shows Minder and Dempsey And Makepeace followed, before Quatro landed the role of the quick-drawing heroine in the 1986 London production of Irving Berlin's Annie Get Your Gun. Quatro went on to write and star in Tallulah Who?, a stage musical about the actress Tallulah Bankhead. By the late 90s she was concentrating on touring and recording once more and carving a career in the UK as a broadcaster on BBC radio. ---bettyloumusic.com
Suzi Q urodziła 3 czerwca 1950 roku w amerykańskim Detroit, od 1970 roku mieszka jedną nogą w Anglii, a od 1993 roku drugą w Niemczech (jej drugi mąż jest Niemcem). Wokalistka znana jest z takich przebojów, jak "Can The Can", "48 Crash", "Daytona Demon", "Devil Gate Driver", "If You Can't Give Me Love", "The Race Is On" czy "I've Never Been In Love".
Swoją karierę kompozytorki, tekściarza i piosenkarki połączyła z grą w filmach - zagrała m.in. w "Happy Days" (bardzo popularny w USA), "Minder" 1980 r. (brytyjska komedia dramatyczna), "Dempsey and Makepeace" 1985 r. (popularny także u nas serial kryminalny), "Annie Get Your Gun" 1986 r. (bardzo znany musical), "Bob the Builder" 2006 r. (dubbing w bajce dla dzieci), a także "Midsomer Murders", "Absolutely Fabulous", "Rock School" czy "Trust Me - I Am a Beaty Therapist".
W 2005 roku ukazał się dokument, podsumowujący dotychczasowe osiągnięcia i życie prywatne Suzi, zatytułowany "Neked Under Leather". W 2006 roku wyszła kolejna płyta, "Back To The Drive", a w 2007 roku ukazała się autobiografia "Unzipped".
Suzi Quarto nadal koncertuje, bierze udział w wielu show telewizyjnych, koncertach charytatywnych, od kilku lat prowadzi własną audycję muzyczną w Radio BBC2 (do końca roku zawieszona z powodu pracy nad nową płytą i przygotowaniami do jej wydania), podczas wrześniowego (2009 r.) tournee po Australii brała udział w australijskim "Idolu" jako mentor. Do chwili obecnej sprzedała ponad 50 mln płyt. ---rockmetal.pl
download (mp3 @320 kbs):
yandex mediafire ulozto bayfiles
Zmieniony (Sobota, 26 Styczeń 2019 23:52)