Scorpions – Deadly Sting – The Merkury Years (1997)
Scorpions – Deadly Sting – The Merkury Years (1997)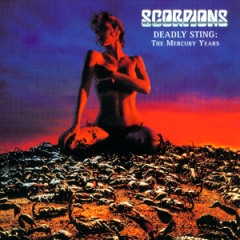 CD1 
  01. Loving You sunday morning
  02. Lovedrive
  03. Holiday
  04. Make It real
  05. The zoo
  06. Blackout
  07. Can't live without You          play
  08. No one like You                 play
  09. China white
  10. Dynamite
  11. Bad boys running wild
  12. Rock You like a Hurricane
  13. Coming home
  14. Big city nights
  15. Still loving You
  16. Coast to coast (live)

CD2
  01. Don't stop at the top
  02. Rhythm of love
  03. Passion rules the game
  04. Walking on the edge
  05. Believe in love
  06. I Can't explain                play
  07. Tease me please me
  08. Don't believe her
  09. Wind of change
  10. Hit between the eyes
  11. Send me an angel
  12. Alien nation
  13. Under the same sun
  14. Woman
  15. In trance (live)
  16. Over the top
  17. Life goes around              play

Personnel: 
Klaus Meine (vocals, background vocals); 
Rudolph Schenker, Matthias Jabs (guitar, background vocals); 
Michael Schenker (guitar); 
Herman Rarebell (drums, percussion, background vocals)
Francis Buchholz (bass, background vocals).

It's quite difficult to find a young person who knows about the Scorpions. Even when their careers were peaking in the '80s, they were never widely recognized, existing always as more of an underground band. The lack of hit singles produced by the group is by no means a judgment of its talent, however, as Deadly Sting: The Mercury Years proves. Some may find the fact that Mercury made the compilation a double-disc set surprising -- again due to the band's small following -- but the album is far better than the single-disc collection Best of Rockers 'n' Ballads. Following chronologically from 1979 to 1993 (thus covering the years in which the band enjoyed its most success), Deadly Sting rips through the favorites "Loving You Sunday Morning," "The Zoo," "Blackout," "No One Like You," "Big City Nights," "Still Loving You," "Rock You Like a Hurricane," "Rhythm of Love," "Wind of Change," and "Don't Believe Her," finally concluding with two unreleased recordings from 1995. Though these tracks are far cries from the songs that proceeded them, that doesn't stop Deadly Sting: The Mercury Years from being the most essential album from one of the most under-rated hair bands of all time. ---Barry Weber, AllMusic Review
download (mp3 @320 kbs):
yandex mediafire ulozto bayfiles
Zmieniony (Poniedziałek, 07 Styczeń 2019 17:05)