Radiohead – The King Of Limbs (2011)
Radiohead – The King Of Limbs (2011)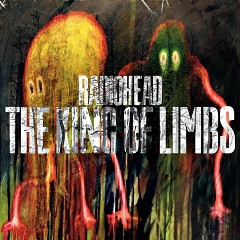 1. "Bloom" – 5:14
2. "Morning Mr Magpie" – 4:40
3. "Little By Little" – 4:27		play
4. "Feral" – 3:12					play
5. "Lotus Flower" – 5:00
6. "Codex" – 4:46
7. "Give Up The Ghost" – 4:50
8. "Separator" – 5:20

Musicians:
Colin Greenwood, bass; 
Jonny Greenwood, guitar, keyboards; 
Ed O'Brien, guitar, vocals; 
Phil Selway, drums; 
Thorn E. Yorke, vocals, guitar.

Radiohead's sense of timing is quite something. Just when it looks like Arcade Fire, on a high after victory at the Grammy and Brit awards, are set to become The Biggest Band In The World, the Oxford five-piece confirm that their eighth album isn't only done, but yours for a few bucks in mere seconds – no need to get dressed, let alone leave the house. When it looks like teenage hip hop crew Odd Future are going to send Twitter into meltdown on the back of an alarming video, these old-timers position their own promo clip online, sit back and watch social networks collapse under the weight of a million thumbs-in-a-frenzy sorts expressing their adoration.
Their grasp of timing, in an arrangements-versus-attentions sense, is equally remarkable. Just as 2007's In Rainbows shaved several minutes from the run-time of the preceding Hail to the Thief, so The King of Limbs cuts the(ir) full-length form down to a concise eight tracks and 37 minutes. It's the band's shortest-ever album, perfectly tuned to the listener of the 21st century – perhaps more likely to listen to music on the way in or out of work, on a commute, than at their leisure with a nice glass of red. Of course, the digital distribution of the band's previous LP was so successful that this set was sure to follow a similar release pattern – something tangible will follow in March – but this is a remarkably neat-and-tidy package. Perhaps it wasn't sequenced with succinctness in mind; but that it does its job in a short space of time is important.
Because if The King of Limbs dragged its… limbs… for too much longer, the impression left might be very different. For five tracks this album unfolds in a manner very similar to In Rainbows' memorable array of electro-chirrups and synth-sweeps, all glitches and groans where, a decade previous, Radiohead were very much A Guitar Band. The staggering, off-kilter step of opener Bloom might not click with those holding a candle for The Return of the Gallagher a week from this record's release, but to anyone with even half an ear tuned to In Rainbows it'll seem very (although not over-) familiar indeed. Morning Mr Magpie plucks its way into a Foals-ian spin, the masters seemingly taking on board a few tips from their hometown pupils. Lotus Flower – the source of #thomdance Twitter activity once its video was unveiled – is another piece that looks backwards rather than projecting into bold, new sonic territories. It flails and flaps, but in a manner entirely in keeping with its makers' predilection for the metronomic – to the wrong ears, it's five minutes of the same beat, utterly unremarkable.
But that's the beauty of Radiohead – they've never, certainly not since the breakthrough days of Creep, been a band for the people. They're too idiosyncratic for that, and even though there are moments aplenty here that suggest the band hasn't furthered their vision, subtle differences to a tested formula ensure The King of Limbs is another great album from Britain's most consistently brilliant band. And come Codex, it truly strikes the listener dumb. Like Motion Picture Soundtrack, Street Spirit, Sail to the Moon, Nude – insert your own favourite slow-paced Radiohead numb-er here – it's a piece of rarefied beauty. Thom says something about dragonflies, something else about nobody getting hurt; the words blur and blend, though, as beneath them the simplest, most strikingly gorgeous piano motif bores its way into the heart. And it's here, not any of your limited-character blogging or video-sharing sites, that Radiohead trump all comers, again. ---Mike Diver, BBC Review
Po bardziej konwencjonalnym, rockowym "In Rainbows", muzycy postanowili wrócić do dziwniejszych brzmień. "The King of Limbs" to album mocno elektroniczny, mocno zrytmizowany, wypełniony utworami dalekimi od piosenkowych, schematycznych form. Gitary, jeśli w ogóle się w nich pojawiają, to na dalszym planie, wtopione w elektroniczne brzmienia. Efekt jest dość intrygujący, ale po pewnym czasie ten krótki album - znalazło się na nim osiem utworów o łącznym czasie trwanie nieprzekraczającym czterdziestu minut - zaczyna razić brakiem świeżości i wyrazistych kompozycji, a także nieco wysiloną dziwnością. Utwory w rodzaju "Bloom" i instrumentalnego "Feral" przyciągają uwagę jedynie ciekawym brzmieniem, bo melodycznie są kompletnie nijakie. W przeszłości te wszystkie dziwaczne eksperymenty zwykle szyły w parze z dobrymi melodiami. Tutaj udaje się to właściwie tylko w "Morning Mr Magpie", "Little by Little" i "Lotus Flower" - choć ten ostatni tylko do momentu, gdy Thom Yorke przechodzi w irytujący falset, a melodia zanadto się rozmywa. Męczące są także partie wokalne w "Give Up the Ghost" i "Separator". Paradoksalnie, najbardziej udanym utworem jest ten najbardziej konwencjonalny, czyli "Codex" - po prostu zgrabna, nastrojowa ballada z fortepianem. Podobnie, jak w przypadku "In Rainbows", materiał z "The King of Limbs" ciekawiej prezentuje się w wersji "From the Basement" - wideo przestawiające zespół grający na żywo, ale bez udziału publiczności, zostało wydane samodzielnie na DVD i Blu-rayu. Oprócz ciekawszych wersji wszystkich ośmiu albumowych utworów (z większym udziałem tradycyjnych instrumentów, ale wcale nie mniejszą rolą elektroniki, ponadto z lepszym brzmieniem, uwypuklającym linie basu), repertuar obejmuje dwie dodatkowe kompozycje: dość konwencjonalną balladę "The Daily Mail" i mocno elektroniczny, rytmiczny "Staircase", który okazuje się jednym z najlepszych momentów występu. Studyjne wersje tych utworów zostały wydane na niealbumowym singlu - jednym z dwóch wydanych w 2011 roku (na drugim znalazły się dwa inne odrzuty: "Supercollider" i "The Butcher"). Studyjny "The King of Limbs" pozostawia niestety sporo do życzenia. Szkoda, że muzycy nie chcą / nie potrafią zabrzmieć i zagrać w studiu tak, jak na koncertach - swobodniej, bardziej dynamicznie, z lepiej wyważonymi proporcami między poszczególnymi instrumentami i wokalem. Nagrywanie na żywo, zamiast trwającego wiele miesięcy dopracowywania, zdecydowanie wyszłoby im na dobre. A już na pewno wyszłoby na dobre słuchaczom. --- Paweł Pałasz, pablosreviews.blogspot.com
download (mp3 @320 kbs):
Zmieniony (Środa, 21 Listopad 2018 13:58)