Queen – Deep Cuts 1973-1982 (2011)
Queen – Deep Cuts 1973-1982 (2011)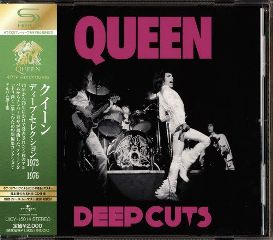 CD1
01. Ogre Battle (04:15) 
02. Stone Cold Crazy (02:15) 
03. My Fairy King (04:09) 
04. I'm In Love With My Car (03:06) 
05. Keep Yourself Alive (03:48) 
06. Long Away (03:33) 
07. The Millionaire Waltz (04:55) 
08. '39 (03:33) 
09. Tenement Funster (02:47) 
10. Flick Of The Wrist (03:17) 
11. Lily Of The Valley (01:46) 		play
12. Good Company (03:25) 
13. The March Of The Black Queen (06:40) 
14. In The Lap Of The Gods... revisited (03:47) 




Cd2
01. Mustapha (03:02) 
02. Sheer Heart Attack (03:28) 
03. Spread Your Wings (04:34) 
04. Sleeping On The Sidewalk (03:08) 		play
05. It's Late (06:28) 
06. Rock It (Prime Jive) (04:33) 
07. Dead On Time (03:25) 
08. Sail Away Sweet Sister (03:34) 
09. Dragon Attack (04:21) 
10. Action This Day (03:35) 
11. Put Out The Fire (03:20) 
12. Staying Power (04:12) 
13. Jealousy (03:15) 
14. Battle Theme (02:20)

Backing Vocals – Brian May, Freddie Mercury, Roger Taylor
Bass Guitar – John Deacon
Drums, Percussion – Roger Taylor
Guitar – Brian May
Lead Vocals – Freddie Mercury
Piano – Freddie Mercury 

Queen release the album'Deep Cuts' on March 14th 2011, a bespoke collection of hidden gems from the band's first five albums, specially chosen by Roger Taylor and Brian May in consultation with life-long fan, Taylor Hawkins from the Foo Fighters.
'Deep Cuts Volume One' is designed as a companion piece to the first five Queen albums which are being re-issued by Island Records on March 14th as part of the bands 40th anniversary celebrations.
Designed to dig a little deeper than their multi-million selling 'Greatest Hits' compilations ('Greatest Hits', by the way, is officially the biggest selling British album of all time with sales of an incredible 5.7 million copies so far in the UK alone), 'Deep Cuts Volume One 1973-1976' showcases a less well-known side of the early Queen story and reveals some brilliant tracks to listeners looking to delve into the band's founding years' work for the first time. The first five Queen albums – Queen, Queen II, Sheer Heart Attack, A Night At The Opera and A Day At The Races - are a testament not only to the band's skills as songwriters and musicians, but also to their determination to push the creative and technological envelopes to their absolute limits.
Challenging the traditional practises of the studios of the time, pioneering new methods of recording and refusing to use synthesisers, the band's unique sound was born out of their incredible individual talents and ingenuity. Breaking the mould with multiple vocal harmonies, multi-layered guitar harmonies, cross rhythms and multiple repeats, Queen would layer so many tracks onto recording tape as to render it literally translucent, their 15 hour studio sessions now the stuff of legend within the studio community.
For Queen, the studio was a place of boundless possibilities. From the raw energy and heavy rock of Queen I to the polished splendour of A Day At The Races, they continued to challenge and innovate. Listening to 'Deep Cuts' in the 21st century, you can hear how Queen revolutionised both rock music itself and the way rock music was made.
The booklet notes for 'Deeper Cuts' were especially commissioned by Roger Taylor and Brian May from comedy actor and writer Rhys Thomas, an unlikely but unquestionable Queen fan and expert. Thomas publicly showed his vast knowledge of the band appearing on the New Year special edition of Celebrity Mastermind where, answering questions of the subject of his favourite band, Queen, he achieved the distinction of scoring the highest number of correct answers in the history of the television series.
Kompilacyjny album grupy Queen, "Deep Cuts", ukazuje formację jako ambitny, rockowy zespół. Prowadzona przez Freddy'ego Mercury'ego grupa wraz z wykonawcami takimi jak Led Zeppelin czy David Bowie, zdefiniowała brzmienie brytyjskiego rocka lat 70-tych, pozostając jednocześnie jednym z najbardziej ekscytujących, błyskotliwych i bezpretensjonalnych zespołów wszech czasów.
Pierwsza z serii "Deep Cuts" zawiera utwory wybrane z pięciu pierwszych albumów Queen. Wyboru kompozycji na krążek dokonali gitarzysta Brian May, perkusista Roger Taylor oraz Taylor Hawkins z Foo Fighters, który napisał komentarz do wydawnictwa. Płyta udowadnia, że Queen nigdy nie był zespołem nastawionym na "produkcję" przebojowych singli (co w świetle tego, ze ich kompilacyjny album "Greatest Hits" jest najlepiej sprzedającą się płytą w historii brytyjskiej fonografii może wydawać się dziwne) i jest cennym uzupełnieniem dotychczasowych kompilacyjnych wydawnictw zespołu.
Na "Deep Cuts" wybrano najlepsze, najbardziej ambitne kompozycje z wczesnego okresu działalności Queen: prekursorskie względem thrash metalu "Ogre Battle" (z "Queen II"), szaleńcze "Stone Cold Crazy" (z "Sheer Heart Attack"), epickie, rozbudowane "The March Of The Black Queen" (ponownie z "Queen II") czy po prostu "zaskakujące" "'39" i "I'm In Love With My Car" (obie z "A Night At The Opera").
download (mp3 @320 kbs):
Zmieniony (Wtorek, 20 Listopad 2018 15:26)