Queen - Singles Collection 1973-2007 (2008)
Queen - Singles Collection 1973-2007 (2008)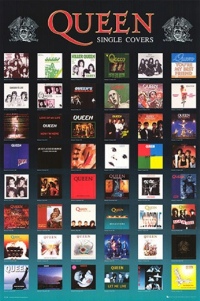 Japan CD Single Box (1992. EMI TODP2251-2262)

1974 - Killer Queen 
1974 - Seven Seas of Rhye 
1975 - Bohemian Rhapsody 
1976 - Somebody to Love 
1977 - Queen's First EP 
1977 - We Are The Champions 
1979 - Crazy Little Thing Called Love 
1980 - Another One Bites The Dust 
1981 - Under Pressure 
1984 - A Kind Of Magic 
1984 - I Want To Break Free 
1984 - Radio Ga-Ga 

Singles Collection (2008. EMI Records Ltd.)

1973 - Keep Yourself Alive 
1974 - Killer Queen 
1974 - Seven Seas Of Rhye 
1975 - Bohemian Rhapsody & I'm In Love With My Car 
1975 - Now I'm Here 
1976 - Somebody To Love 
1976 - You're My Best Friend 
1977 - Queen's First EP 
1977 - Tie Your Mother Down 
1977 - We Are The Champions 
1978 - Bicycle Race 
1978 - Spread Your Wings 
1979 - Don't Stop Me Now 

The remaining singles:

1975 - Bohemian Rhapsody & These Are Days Of Our Lives (1991. EMI Records Ltd.)
1986 - Who Wants To Live Forever 
1989 - Breakthru 
1989 - I Want It All 
1989 - Scandal 
1989 - The Invisible Man 
1991 - Another One Bites The Dust 
1991 - Headlond (1991. Japan CD5 EMI TOCP-6801) 
1991 - Headlong (1991. CD QUEEN 18) 
1991 - I'm Going Slightly Mad 
1991 - Innuendo 
1991 - The Show Must Go On 
1995 - A Winter's Tale (Christmas Version) 
1995 - Heaven For Everyone (Single UK Part 2 CD5 Parlophone CDQUEEN21) 
1995 - Let Me Live (Single UK Part 1 CD5 Parlophone CDQUEENS24) 
1995 - Let Me Live (Single UK Part 2 CD5 Parlophone CDQUEEN24) 
1995 - Too Much Love Will Kill You 
1996 - You Don't Fool Me (The Remixes)
1996 - You Don't Fool Me 
1997 - No-One But You (Single Holland CD5 in jewel case) 
1999 - Under Pressure (disc 1) 
1999 - Under Pressure (disc 2) 
2000 - Princes Of The Universe 
2003 - Flash 
2007 - Say It's Not True 

Queen were an English rock band originally consisting of four members: vocalist Freddie Mercury, guitarist Brian May, bass guitarist John Deacon, and drummer Roger Taylor.
The band formed in London in 1970 after May and Taylor's former band Smile split after having released an album and single. Freddie replaced lead vocalist Tim Staffell, after the latter's departure from the original trio.
There was much deliberation as to what the band's name would be. May and Taylor had settled upon the Grand Dance, derived from a C.S. Lewis Trilogy of books Out Of The Silent Planet.
Ultimately, the band went with Queen, a name that was entirely Freddie's. Originally Roger and, especially, Brian did not like the name, though Mercury would eventually persuade them both that it was "right" for the band.
"Years ago I thought up the name Queen… It's just a name, but it's very regal, and it sounds splendid. It's a strong name, very universal and immediate. It had a lot of visual potential and was open to all sorts of interpretations. I was certainly aware of the gay connotations, but that was just one facet of it. " - Freddie Mercury.
Queen went through several bass players before a young electronics major by the name of John Deacon arrived on the scene in January of 1971. ---last.fm
Queen — brytyjski zespół rockowy utworzony w 1970 roku w Londynie. Jego frontmanem (bo nie liderem) był Freddie Mercury. On sam wielokrotnie zaprzeczał temu, że jest ikoną zespołu i podkreślał często, że wszyscy członkowie Queen są równi, wkładają tyle samo pracy i wysiłku w istnienie zespołu i mają takie same zasługi. Uważany za jeden z najwybitniejszych zespołów w historii rocka.
Zaliczenie grupy do jakiegokolwiek stylu jest trudne ze względu na wyjątkowość brzmienia. Najczęściej muzykę charakteryzuje się jako melodyjny rock, część kompozycji charakteryzuje hard rock, a także glamour rock. W wielu utworach grupy daje się zauważyć wpływy rocka progresywnego.
Grupa Queen wypracowała łatwo rozpoznawalne brzmienie, oparte na melodyjnej grze gitary elektrycznej, ostro grającej sekcji rytmicznej oraz bardzo charakterystycznym i technicznie poprawnym śpiewie. Nie stroniła również od muzycznej groteski. Muzyczne i pozamuzyczne ekstrawagancje (takie jak przyjęcia na kilkaset osób czy kobiece przebrania w teledyskach), muzyczna integralność, pełne profesjonalizmu koncerty, a przede wszystkim utwory, pod wszelkimi względami dopięte na ostatni guzik przyczyniły się do popularności zespołu.
Nie można mówić o całkowitym rozpadzie zespołu zaraz po śmierci lidera, choć de facto zespół jako Queen nie istniał bez osoby Freddiego. Po śmierci Mercurego (w 1991 roku) wydano jeszcze jedną płytę, zatytułowaną "Made in Heaven" z roku 1995, zawierającą partie wokalne nagrane jeszcze przed śmiercią wokalisty. ---last.fm
download (mp3 @VBR kbs):
Zmieniony (Poniedziałek, 19 Listopad 2018 13:04)