The Prodigy ‎– No Tourists (2018)
The Prodigy ‎– No Tourists (2018)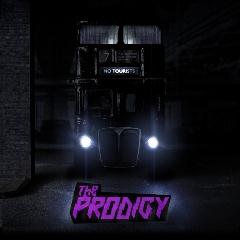 1 	Need Some1 	2:43
2 	Light Up The Sky 	3:20
3 	We Live Forever 	3:43
4 	No Tourists 	4:18
5 	Fight Fire With Fire	3:29
6 	Timebomb Zone 	3:24
7 	Champions Of London 	4:49
8 	Boom Boom Tap 	4:05
9 	Resonate 	3:50
10 	Give Me A Signal 	4:01

Brother Culture - Vocals 
Olly Burden - Guitar
Barns Courtney - Vocals 
Leo Crabtree - Drums 
Keef Flint - Vocals
Ho99o9 - Vocals 
Maxim - Vocals
Andy Milonakis - Vocal Samples 

The Essex ravers' brilliant seventh album takes various touchstones from their 28-year career and gleefully beats you over the head with them. It is – dare we say it? – touched with genius
There's a telling detail buried in the album artwork of 'No Tourists', The Prodigy's seething seventh album, which shows no signs of the Essex ravers mellowing out. It's in the destination sign of a London bus that lurks in the shadows: "Four Aces, Dalston". That was the tiny venue in which frenetic rapper Maxim, anarchic punk vocalist Keith Flint and brooding songwriter Liam Howlett played their first show back in 1990, for the princely sum of £100.
28 years later, and 'No Tourists' – somewhat counter-intuitively – finds them sounding more violent and fearsome than ever. The album's not quite a return to Prodigy's early days – there's so much more menace here than borderline-novelty singles such as 1991's 'Charly' ever possessed – but it does take touchstones from their previous records and beat you over head with them. This is the kind of record you can only make nearly three decades at the frontline of dance music.
The deranged, head-spinning synth of 'We Live Forever' comes laced with a scything vocal sample that recalls the one that dipped and dived throughout 1992's bashment-influenced 'Out Of Space', while the garrotting guitar line that punctuates 'Light Up The Sky' nods to 1997 rap-rock banger 'Breathe', taken from classic crossover album 'The Fat Of The Land'. This is not nostalgia; it's The Prodigy utilising every weapon in their arsenal to commit their sonic assault.
As Flint alluded to in their recent NME interview, Prodigy's music is mainly about massive beats and shouted, minimalist vocals – it's pretty simple, really – but here that simplicity is (dare we say it?) touched with genius. Howlett, the group's songwriter, is an indisputable master of his craft and demonstrates stunning prowess across these 10 tracks. It's the smartest dumb record you'll hear this year. The layers of vocals, howling synths and clattering beats on 'We Live Forever', the marching build-up and the pitiless drop – this is the stuff of crazed nightmares. --- Jordan Bassett, nme.com
Siódmy studyjny album weteranów sceny tanecznej, pionierów big beatu i popularyzatorów rave'u, którzy wraz z Chemical Brothers i Fatboy Slimem dominowali na listach w pierwszej połowie lat 90. Do tej pory kapela sprzedała na świecie ponad 20 mln płyt i singli.
"No Tourists" wyprodukował oczywiście mózg zespołu, Liam Howlett, a całość nagrano w należącym do niego londyńskim studiu. Album promowało dynamiczne nagranie "Need Some1", do którego powstał znakomity teledysk.
Jak podkreśla Liam, duży wkład w powstanie 10 premierowych kompozycji mieli też pozostali członkowie The Prodigy, Maxim i Keef Flint. Utwory pisano głównie z myślą o tym, aby doskonale brzmiały na koncertach. ---empik.com
download (mp3 @320 kbs):
yandex mediafire ulozto gett bayfiles