Jimi Hendrix & The Isley Brothers - In the Beginnin (1964)
Jimi Hendrix & The Isley Brothers - In the Beginnin (1964)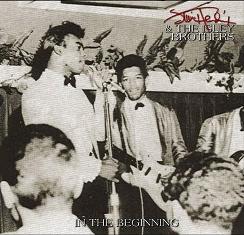 01.Move Over And Let Me Dance - part 1
02.Have You Ever Be Disappointed - parts 1 & 2
03.Testify - parts 1 & 2 (alternate take)
04.Move Over And Let me Dance - part 2
05.Wild Little Tiger
06.The Last Girl
07.Simon Says
08.Looking For A Love
09.Testify - parts 1 & 2
10.Move Over And Let Me Dance
11.Have You Ever Be Disappointed
12.The Last Girl
13.Looking For A Love
14.My Little Girl
15.Open Up Her Eyes
16.Love Is A Wonderful Thing
17.Footprints In The Snow
18.Who's That Lady
19.The Basement
20.My Little Girl - alternate version

    * Lead vocals by Ronald Isley
    * Spoken vocals by Rudolph Isley
    * Background vocals by O'Kelly Isley, Jr. and Rudolph Isley
    * Guitars Jimi Hendrix

The Isley Brothers started their career in the early 1950s by performing gospel songs in local churches in Cincinnati, Ohio. At the time the group consisted of Ronald Isley (b. 21 May 1941), Rudolph Isley (b. 1 April 1941), O'Kelly Isley (b. 25 December 1937 d. 31 march 1986) and Vernon Isley (b. ? d. 1955 or 54).
In 1957 or 1956 Ronald, Rudolph & O'Kelly re-located to New York City and started their career as recording artists.
Hendrix joined the Isley Brothers sometime in early 1964, resulting in "Testify" by the Isley Brothers being recorded in an unknown studio in New York City. This track is usually listed as either being recorded in March 1964 or 21 May 1964 at Atlantic Studios. Neither of these dates (or the location) is correct. The master tape is listed in the tape logs as being "purchased" by Atlantic, so they bought the master tape when it had been already recorded.The master tape numbers allocated for Testify (7920 & 7921) suggest 20 or 21 May as the date when it was added to the library when compared to numbers assigned to masters recorded on those dates, "March ?" is listed as a speculative actual recording date in the logs, so the actual recording date is unknown.
"Testify" was the first release on the Isley Brother's T-Neck label (and the only one until the label was resurrected in 1969) which was distributed by Atlantic Record Sales, so very likely the master tape was brought to Atlantic for mastering and/or pressing of the single after a distribution deal had been closed.
Around the time of the recording of "Testify" Jimi played live with the Isley Brothers, for how long exactly is unclear as no firm dates are known, and only two photos from this period exist, taken before and during a gig at an unknown location. Sometime during spring / summer 1964 Hendrix left the Isley Brothers when in Nashville.
There he joined a package tour featuring Sam Cooke in September, and did not take part in The Isley Brothers recording of the 45 "The Last Girl / Looking For A Love". These tracks have long been thought to feature Hendrix, and it's also been thought that he toured with the Isley Brothers in September / October 1964, but this is not correct. A short explanation why:
- The two postcards Hendrix send to his father, stamped 28 September 1964 & 8 October 1964 do not mention the Isley Brothers. - The Isley Brothers toured the UK during 17 October - 23 November 1964, and it's well know that Jimi never visited the UK before he moved there in 1966, so he had left the band by that time. - In the postcard stamped 28 September Hendrix says that he's about halfway through a 35-day tour, which means that he would have started on the tour around 10th of September. The Isley Brothers were recording "The Last Girl / Looking For A Love" in New York on the 23rd of September, not touring. - Sam Cooke was touring with Jackie Wilson and The Valentinos in September / October 1964. - Hendrix has said in interviews that he toured with Sam Cooke & Jackie Wilson, this has been confirmed at least by Bobby Womack (then a member of the Valentinos), "Gorgeous" George Odell & B.B.King who were on the same tour. - Jimi mentions in the postcard send in October that his home address is Atlanta, the Isley Brothers were based in New York. Atlanta is close to Nashville where Hendrix said in interviews that he quit the Isley Brothers, and joined a Sam Cooke tour. - Jimi has said in interviews that after he left the Sam Cooke tour he travelled BACK to Atlanta, and joined Little Richard there. In a postcard stamped 25 January 1965 Hendrix says "I received your letter while I was in Atlanta. I'm playing with Little Richard now". --- earlyhendrix.com
download (mp3 @320 kbs):
Zmieniony (Niedziela, 06 Maj 2018 15:35)