JDownloader
JDownloader
30 MB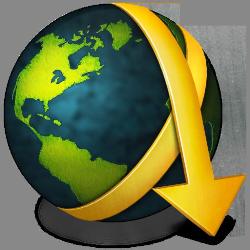 JDownloader skutecznie przyspiesza ściąganie wskazanych przez nas plików. Program radzi sobie z linkami w formie zaszyfrowanej, które stosuje coraz więcej portali aby uniemożliwić korzystanie z programów takich jak JDownloader. Aplikacja ta umożliwia pobieranie wielu plików równocześnie. JDownloader oferuje też wsparcie dla popularnych serwisów służących do udostępniania plików. To w połączeniu z obsługą kodów Captcha sprawi, że będziemy mogli bez problemu korzystać z funkcjonalności serwisów takich jak Rapidshare czy Megaupload. JDownloader posiada ciekawą funkcję polegającą na automatycznym rozpoczęciu pobierania jeśli na stronie internetowej, którą otworzyliśmy będzie link do jakiegoś pliku. Przydatna może się też okazać możliwość automatycznego rozpakowywania ściągniętego archiwum.
JDownloader wymaga pakietu Java Runtime Enviroment (jre/jdk) w wersji 1.5 lub nowszej.
JDownloader accelerates your downloads from two different perspectives: first, as a transference manager because it will be in charge of using the maximum bandwidth permitted for your computer. Second, it will not take a minute after the waiting time between one file and another. It is as if you were stuck to your PC, fully attentive to the waiting time to finish. You will be surprised. JDownloader is very easy to use, even an inexperienced user can learn to manage it in a matter of minutes. This is due to the fact that the only action you have to perform is to copy and paste the links from websites into the download program. It is really a child's game.
JDownloader is developed in JAVA, which is a very light and versatile programming language. You will not only save system resources, but you can also use them for other tasks or works you are doing in that moment. Therefore, you can listen to music, watch a movie or even play at the same time you perform the downloads.
download:   uploaded 4shared ziddu divshare mediafire
Zmieniony (Środa, 16 Styczeń 2013 22:10)