Bruno Mars - Unorthodox Jukebox (2012)
Bruno Mars - Unorthodox Jukebox (2012)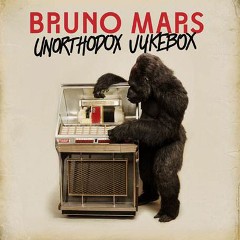 1 	Young Girls 	3:49
2 	Locked Out Of Heaven 	3:54
3 	Gorilla 	4:05
4 	Treasure 	2:56
5 	Moonshine 	3:49
6 	When I Was Your Man 	3:34
7 	Natalie 	4:45
8 	Show Me 	3:28
9 	Money Make Her Smile 	3:14
10 	If I Knew 	2:13

Bass – Nick Movshon
DJ Mix [DJ Shit] – Mark Ronson
Drums – Homer Steinweiss, Steve Jordan
Drums [Additional], Keyboards [Additional], Effects [Additional FX] – Emile Haynie
Guitar – Bruno Mars, Sharrod Barnes
Guitar, Backing Vocals – Andrew Wyatt
Guitar, Bass, Percussion [Beats] – Mark Ronson
Keyboards – Jeff Bhasker, Bruno Mars
Percussion [Beats] – Mark Ronson
Piano – Bruno Mars
Producer – Dwayne "Supa Dups" Chin-quee (tracks: 8), Emile Haynie (tracks: 1, 2, 3),
 Jeff Bhasker (tracks: 1, 2, 3, 5), Mark Ronson (tracks: 2, 3, 5), The Smeezingtons (tracks: 1-10) 
Vocals - Bruno Mars

Pretty much the biggest pop star in the world right now whose name isn't Adele, Bruno Mars is ubiquitous and prolific with it.
Both with and without his songwriting/production crew The Smeezingtons, Mars has had a hand in hits by Cee Lo Green, Sugababes, Justin Bieber, Adam Lambert and Alicia Keys, and has scored a clutch of UK and US number ones under his own steam – all in just a couple of years on the scene. Either he's the new Smokey Robinson or he's spreading himself so thin he'll be a chirpy pop gauze by 2013.
Well, he's not quite see-through yet. It's soon plain that Unorthodox Jukebox lacks the immediacy of 2010's Doo-Wops & Hooligans – there's no Marry You here, and certainly no global chart-topper like Just the Way You Are.
But it's appealing, generally engaging and all shot through with the confidence of a man who must feel he's got the hit parade Midas touch. Bar the odd misstep, he probably won't have a rude awakening.
Those stumbles are Show Me's wan facsimile of Musical Youth's Pass the Dutchie (one of 2012's more unlikely influences) and the sugary early 80s funk of Treasure, which is lathered in so much slap bass it starts to sting.
Speaking of Sting – ouch – his spectre is all over first single Locked Out of Heaven, in the clipped Message in a Bottle chords and Mars' yelping, staccato delivery. But that's about the only time Mars allows his own identity to be subsumed.
Otherwise, he's equally cosy fronting saucy semi-rock belter Gorilla – "You get your legs up in the sky with the devil in your eyes" – and sprinting on the spot to the unhinged electro-soul of the Diplo-produced Money Makes Her Smile.
The latter's some respite from maudlin "My baby wronged me" / "I wronged my baby" stuff in Natalie and When I Was Your Man, but there's room for both in Mars' repertoire. Rock, soul, RnB and starry-eyed pop – he's across it all. ---Matthew Horton, BBC Review
Pierwszy album Bruna Doo-Wops & Hooligans odniósł nie tylko spory sukces komercyjny, ale zyskał także przychylne recenzje krytyków. Często w takich przypadkach, wydając drugą płytę, trudno jest zachować zadowalający obie strony poziom. Mars znalazł jednak sposób na utrzymanie równowagi w tej kwestii jeszcze przez jakiś czas.
Na Unorthodox Jukebox Bruno kontynuuje założenia, które sprawdziły się na poprzedniej płycie. W chaotycznym repertuarze po raz kolejny znalazły się: typowy utwór z wpływami reggae ("Show Me"), ballady prostodusznego romantyka ("When I Was Your Man", "Young Girls") oraz nieskomplikowane popowe kawałki ("Money Make Her Smile", "Natalie").
Mars nie byłby jednak sobą, gdyby nie zaprezentował nam przebojowych numerów, których inspiracji należy szukać nawet o kilka dekad wcześniej. Wokalista czaruje i urzeka damską część publiczności słodkim głosem w piosence na wzór hymnów z lat 60. – "If I Knew", hołduje zespołowi The Police w singlowym "Locked Out of Heaven" oraz odświeża funkowo-dyskotekowego ducha dawnych potańcówek w wibrującym "Treasure". Stara szkoła swobodnie miesza się tutaj z nową. Łatwo wpadające w ucho, oparte na żywych instrumentach podkłady tworzą idealne radiowe, ale niebanalne, hity.
Unorthodox Jukebox to bezpieczna kopia poprzedniej płyty, która sprawi, że Bruno nie będzie musiał martwić się o swój los przez najbliższych kilka miesięcy. Pytanie tylko – co potem? Obawiam się, że przy następnym wydawnictwie fani mogą wymagać czegoś więcej niż jedynie poprawności. ---Eye Ma, soulbowl.pl
download (mp3 @320 kbs):
yandex mediafire ulozto gett bayfiles