George Baker Selection - Paloma Blanca (1975)
George Baker Selection - Paloma Blanca (1975)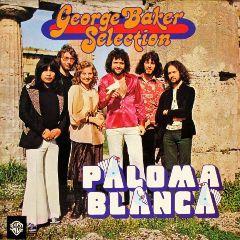 01. Dreamboat - 4:31
02. Rose Marie (Oscar Hammerstein II, Otto Harbach, Rudolf Friml) - 3:01
03. I've Been Away Too Long - 4:34
04. Sing A Song Of Love - 3:25
05. Don't Break This Heart (Of Mine) - 2:45
06. Jane - 3:48
07. Darling - 4:00
08. Love Me Like I Love You - 3:49
09. Alone - 3:25
10. Padre - 3:14
11. Paloma Blanca - 3:48
12. Some Words - 3:25

All tracks written by Johannes Bouwens except where noted.

Personnel:
- George Baker (Johannes Bouwens) - lead vocals, guitar, keyboards, producer
- Lida Jonkman-Bont - female vocals
- George Thé - guitar
- Jaques Greuter (Jacobus Anthonius Greuter) - keyboards, flute
- Martin Schoen - bass
- Jan Hop - drums
+
- Dick Bakker – arranger

George Baker (born Johannes Bouwens, 8 December 1944) is a Dutch singer and songwriter best known for his global hit Paloma Blanca. He was the lead singer of the pop musical ensemble, George Baker Selection. He is now a solo artist.
In 1967, Bouwens joined the band Soul Invention, which later changed its name to "George Baker Selection." Their first album, Little Green Bag (1970), gave them their first hit. Their debut single, "Little Green Bag" reached the #16 position on the Cash Box magazine chart and #21 in the Billboard Top 100 in the United States. This disc sold over one million copies globally, and received a gold disc. By 1972 the band had sold over 5 million records.
Their fifth album Paloma Blanca was released in 1975, and the single "Paloma Blanca" reached #1 in the charts in several countries. In 1978 the George Baker Selection split up because "the pressure had become too much." The band has sold over 20 million records worldwide. George Baker formed a new George Baker Selection in 1985, which stayed together until 1989. The band has released twelve albums and several compilation albums.
The band experienced a brief return to the international charts in 1992, when the song "Little Green Bag" was used in the title sequence of the film Reservoir Dogs, and a Chilean soap opera. After the George Baker Selection split up in 1978, Baker performed as a solo artist until 1985, when he briefly returned with a new George Baker Selection. Since 1989 he has once again worked solo. In 2005 he released a remix of the song "Una Paloma Blanca" for the film Too Fat Too Furious. As a solo artist, he has released nine albums, and is currently managed by Jaap Buijs. --- thebay.co.uk
George Baker naprawdę nazywa się Johannes "Hans" Bouwens i urodził się 8 grudnia 1944 roku w Holandii. Początkowo występował z zespołem George Baker Selection, ale późnej wybrał solową karierę.
W roku 1967 młody Baker rozpoczynał muzyczną karierę dołączając do grupy Soul Invention. Niedługo potem formacja zmieniła nazwę na George Baker Selection i wydała debiutancki singiel "Green Bag". Piosenka znalazła się na pierwszym albumie grupy pod tym samym tytułem, który do 1972 roku sprzedał się w ponad 5 milionach kopii. Kolejnym singlem z wydawnictwa była piosenka "Dear Ann". Jednak największy sukces zespołu to piąta płyta "Una Paloma Blanca" wydana w 1975 roku. Tytułowy utwór z tego krążka królował na listach przebojów całego świata.
Trzy lata później grupa się rozpadła, a Baker rozpoczął solową karierę. Jednak w 1985 roku stworzył kolejną formację pod tą samą nazwą. Przez cztery lata nowy skład George Baker Selection wydał dwanaście albumów i kilka składanek z największymi przebojami.
Jednak i tym razem zespół się rozpadł, a artysta wrócił do solowego śpiewania. Do tej pory wydał dziesięć albumów, a w 2005 roku ukazał się remiks piosenki "Una Paloma Blanca". ---rfm.fm
download:  mega 4shared yandex mediafire
Zmieniony (Sobota, 21 Styczeń 2017 12:33)