The Best Of Peter, Paul And Mary (1973)
The Best Of Peter, Paul And Mary (1973)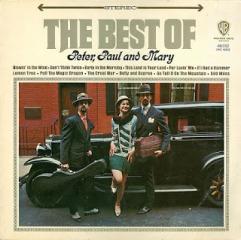 Side One
01 - Blowin' In The Wind.
02 - Don't Think Twice.
03 - Early In The Morning.
04 - This Land Is Your Land.
05 - For Lovin' Me
06 - If I Had A Hammer.

Side Two
01 - Lemon Tree.
02 - Puff, The Magic Dragon.
03 - The Cruel War.
04 - Betty And Dupree.
05 - Go Tell It One The Mountain.
06 - 500 Miles.

A collection of the best songs by Peter, Paul, and Mary, this vinyl album was released in 1973 and is very rare.

Peter, Paul and Mary were an American folk-singing trio who ultimately became one of the biggest acts of the 1960s. The trio was composed of Peter Yarrow, Paul Stookey, and Mary Travers.
Manager Albert Grossman created Peter, Paul and Mary in 1961, after auditioning several singers in the New York folk scene. After rehearsing them out of town in Miami, Grossman booked them into The Bitter End, a coffee house and popular folk music venue in New York City's Greenwich Village.
They recorded their first album, "Peter, Paul and Mary," the following year. It included "500 Miles," "Lemon Tree" and the Pete Seeger hit tunes "If I Had a Hammer (The Hammer Song)" and "Where Have All the Flowers Gone?" The album was listed in the Billboard Magazine Top Ten for 10 months, including seven weeks in the #1 position. It remained a main catalog-seller for decades to come, eventually selling over two million copies, earning double platinum certification from the RIAA in the United States alone.
By 1963, Peter, Paul and Mary had recorded three albums. All three were in the Top Ten the week of President Kennedy's assassination. In 1963 the group also released "Puff the Magic Dragon," with music by Yarrow and words based on a poem that had been written by a fellow student at Cornell, Leonard Lipton. Despite urban myths that insist the song is filled with drug references, it is actually about the lost innocence of childhood. In January 1964 they appeared on the Jack Benny television program, performing the Bob Dylan song "Blowin' In the Wind."
That year the group performed "If I Had a Hammer" at the 1963 March on Washington, best remembered for Reverend Martin Luther King, Jr.'s "I Have a Dream" speech. One of their biggest hit singles was the aforementioned Bob Dylan song "Blowin' in the Wind." They also sang other Bob Dylan songs, such as, "The Times They Are a-Changin'," "Don't Think Twice, It's All Right" and "When the Ship Comes In," perhaps their most memorable piece. Their manager, Albert Grossman, was also Dylan's manager. Their success with Dylan's "Don't Think Twice, It's All Right" aided Dylan's "The Freewheelin' Bob Dylan" album into the Top 30, having been released four months earlier.
"Leaving On A Jet Plane" became their only #1 hit (as well as their final Top 40 Pop hit) in December 1969, and was written by the group's friend John Denver. It was the group's only million-selling gold certified single. The track first appeared on their million-selling platinum certified "Album 1700" in 1967, which also contained their #9 hit, "I Dig Rock and Roll Music." "Day Is Done," a #21 hit in June 1969, was the last Hot 100 song the trio recorded.
The trio broke up in 1970 to pursue solo careers, but found little of the success which they had experienced as a group, although Stookey's "The Wedding Song (There is Love)" was a hit and has become a wedding standard since its 1971 release.
In 1978, they reunited for a concert to protest against nuclear energy, and continued to record albums together and tour, playing around 45 shows a year, until the 2009 death of Mary Travers. The trio were prolific political activists for their involvement in the peace movement and other causes. They were given the Peace Abbey Courage of Conscience award in September 1990.
The group was inducted into the Vocal Group Hall of Fame in 1999. Peter, Paul and Mary received the Sammy Cahn Lifetime Achievement Award from Songwriters Hall of Fame in 2006. In 2009 they were inducted into the Hit Parade Hall of Fame. --- starpulse.com
download:  yandex 4shared mediafire mega zalivalka
Zmieniony (Wtorek, 30 Maj 2017 16:10)