Vicky Leandros - Vicky Leandros (1972)
Vicky Leandros - Vicky Leandros (1972)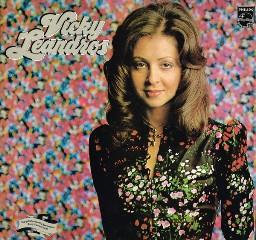 A1 	Après Toi 	
A2 	This Time I Know 	
A3 	Mouth Organ Boy 	
A4 	Joe McKenzie 	
A5 	When Oh When 	
A6 	Lay Down 	
B1 	Country Freedom 	
B2 	Perhaps He Was More Than A Friend 	
B3 	Take A Little Time 	
B4 	You Answered A Prayer 	
B5 	I Live For Now

Vicky Leandros - vocals
Orchester Arno Flor (Orchestra)

Vassiliki, Baroness von Ruffin (born Vassiliki Papathanasiou, , 23 August 1949,. Other years are also provided: 1952 – or 1948 – Bertelsmann Lexica.), known by her stage name Vicky Leandros, is a Greek singer with a long international career. She is the daughter of singer, musician, and composer, Leandros Papathanasiou (also known as Leo Leandros as well as Mario Panas). In 1972, she achieved worldwide fame after winning the Eurovision Song Contest with the song, "Après Toi", while representing the country of Luxembourg.
Leandros has received innumerable awards including gold and platinum records from all around the world for discs that have sold in excess of 150 million copies.
She has worked with many composers and producers such as Kim Fowley, Leo Leandros, Brad Shapiro and Michel Legrand and also with conductors such as Herbert von Karajan and Claude Denjean. She has been awarded with the "Bronze Rose of Montreux", "Goldene Europa", "Record Award of USA", and "Song Statue of Japan".
Many variations of Leandros's albums were released around the world and a huge amount of compilations which still continue to be released on a regular basis. In Japan a few albums also contain some songs mainly in Japanese or English which were not released elsewhere though the majority of tracks were recorded in Europe and featured also in various languages on albums already listed here. ---fampeople.com
download (mp3 @320 kbs):