Mariah Carey - Merry Christmas II You (2010)
Mariah Carey - Merry Christmas II You (2010)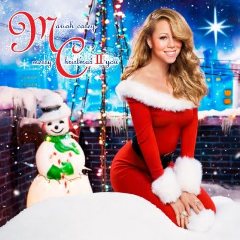 01 – Santa Claus Is Coming To Town (Intro) 
02 – Oh Santa! 
03 – O Little Town Of Bethlehem Little Drummer Boy Medley 
04 – Christmas Time Is In The Air Again 
05 – The First Noel Born Is The King (Interlude) 
06 – When Christmas Comes 
07 – Here Comes Santa Claus (Right Down Santa Claus Lane) Housetop Celebration 
08 – Charlie Brown Christmas 
09 – O Come All Ye Faithful Hallelujah Chorus (feat. Patricia Carey) 
10 – O Holy Night – Live From WPC In South Central Los Angeles   play
11 – One Child                     play
12 – All I Want For Christmas Is You – Extra Festive 
13 – Auld Lang Syne – The New Year's Anthem

It's utterly unavoidable at this time of year. Be you in the car or the shopping centre, at work or play, in Britain or Bermuda: someone, close by, will be playing All I Want for Christmas Is You. Mariah Carey's contribution to the festive season's slew of ubiquitous-for-two-months singles was originally released back in 1994 – today, it's her biggest-selling single in the UK, and regularly appears in charts the world over come the year's end. To some ears it's a contemporary classic that simply can't get old; to others, its presence on the radio is a sign that it's time to switch to the iPod over tuning in to any commercial station, for fear of more of the same.
If you're the kind of jolly listener who falls into the former camp, and Carey's enduring hit is more than music to your ears, it's a brilliant beacon of festivity every bit as vital to the stirring of cheer as a cola-coloured Santa and double-A batteries, you are in luck: here is a brand-new long-player full of similarly styled fare. All I Want… is given a new lick of paint – it's an "extra festive" version, but beyond beefier production and newly tracked vocals it's hard to hear how it qualifies as having extra anything over the original – and a selection of traditional numbers are given treatments Carey's many fans will find appealing. Mercifully for those who aren't wholly taken with her, those soar-away vocals are kept largely in check, the high-pitched squeal which has ruined several songs in her back catalogue relatively reined in. Indeed, she exercises admirable restraint at times, and the songs benefit from it – before it's slathered in cheesy beats, Auld Lang Syne is surprisingly tender, and 13th century hymn O Come All Ye Faithful is treated with respect.
There are four new tracks here, amongst the well-performed favourites. Of them, Oh Santa! is a boisterous RnB bopper that makes perfect sense as this set's lead single – it's not in the same league as All I Want…, but it's sure to warrant revisiting 12 months down the line. Christmas Time Is in the Air Again and When Christmas Comes are less instant, but perfectly formed nonetheless, each an unfussy number that complements the surrounding content well. One Child is bogged down in sentiment, but any unpleasantness in the mouth is soon washed clean by the arrival of that hit.
It's not particularly clever, but it is expectedly big: if you're a Carey fan with a stocking that needs filling this year, this'll perk you up better than any alternative speech or sherry trifle could. ---Mike Diver, BBC Review
Po wydanym w 1994 roku Merry Christmas Mariah Carey stała się prawdziwą królową kolęd. Album zdobył niebywałą popularność. Do dziś sprzedał się w ilości przekraczającej 15 milionów egzemplarzy. Przyniósł też przebój All I Want for Christmas Is You, który do dziś należy do najbardziej sukcesywnych świątecznych utworów. Po dokładnie szesnastu latach Mariah wydała jego kontynuację. Po raz drugi życzy Merry Christmas II You (us).
Od czasów Merry Christmas oblicze muzyki zmieniło się nie do poznania. Być może, gdyby Carey debiutowała teraz, nie zostałaby doceniona. Mieszanka pop, R&B oraz soulu przez nią prezentowana przeszłaby zapewne niezauważalnie. Dlatego i ta artystka przeszła metamorfozę. Niestety – jej krążki z ostatniego dziesięciolecia (m.in. lipne Glitter czy nudne Memoirs of an Imperfect Angel) do pięt tym starszym nie dorastają. Na szczęście Merry Christmas II You to powrót do ciepłych ballad, które przyniosły wokalistce największą popularność. ---Filip Wiącek, allaboutmusic.pl
download (mp3 @192 kbs):
yandex 4shared mega mediafire uloz.to cloudmailru uptobox ge.tt
Zmieniony (Czwartek, 13 Kwiecień 2017 16:52)