Mariah Carey - A Memories Of An Inperfect Angel (2009)
Mariah Carey - A Memories Of An Inperfect Angel (2009)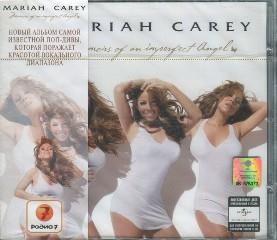 1 	Betcha Gon' Know (The Prologue) 	
2 	Obsessed 	
3 	H.A.T.E.U. 	
4 	Candy Bling 	
5 	Ribbon 	
6 	Inseparable 	
7 	Standing O 	
8 	It's A Wrap 	
9 	Up Out My Face 	
10 	Up Out My Face (The Reprise) 	
11 	More Than Just Friends 	
12 	The Impossible 	
13 	The Impossible (The Reprise) 	
14 	Angel (The Prelude) 	
15 	Angels Cry 	
16 	Languishing (The Interlude) 	
17 	I Want To Know What Love Is 
	
18 	Obsessed (Cahill Radio Mix)
19 	Obsessed (Seamus Haji & Paul Emanuel Radio Edit)
20 	Obsessed (Jump Smokers Radio Edit)
21 	Obsessed (Friscia And Lamboy Radio Mix)

Mariah Carey's enduring success – the lead single from this twelfth studio album, the Eminem-baiting Obsessed, was the singer's fortieth hit on the Billboard Hot 100 – may have something to do with how she seems to get younger with each release. Though nearing 40, the New Yorker appears fresher of face and curvier of frame with each sleeve, and Memoirs… features the singer flaunting a degree of flesh not seen since studio album number seven, 1999's Rainbow.
Without meaning to set off on the wrong foot – looks first, music second – the imagery associated with Carey is of vital importance in her marketing. Arguably without a great album to her name since 1997's Butterfly, on which the RnB star fully realised her hip hop ambitions through collaborations with Puff Daddy, Missy Elliott and Q-Tip, focus has increasingly been placed on her private life – hence the did-they-or-didn't-they-and-does-anyone-care nonsense over her apparent knee-trembler with Marshall Mathers III in the run-up to this release – and her private parts, with Memoirs… flaunting its box-ticking methodology: girls buy it for the syrupy ballads and middle-finger rebuttals of a partner's too-little-too-late affections, and guys pick it up for, well, other reasons.
That's a terrible generalisation, but then again these are terribly middle-of-the-road songs that need the most obvious colour to liven proceedings up. They leap from stereo speakers like salmon on their nth trip back up river, knowing perfectly well what they're doing, where they're going and how to get there, doing nothing to disguise the fact that they've done it all before. Memoirs… plays out like an auto-pilot effort, but coming only a year after Carey's last album, the fairly well received E=MC², perhaps the listener shouldn't be surprised by the dearth of invention on show, and the filler feel of so many of these tracks. But then again: if there's no album ready, don't release an album.
Lyrically it's confused, our protagonist alternating between spurned lover with attitude and a big-eyed I'd-do-anything-for-you type; the production team of The-Dream and Tricky Stewart offer no arrangements even nearing memorable; and the record's myriad interlude-style interjections only serve to prolong what's already an over-long non-event release. Her voice is great, but we've known that since day one. The most interesting aspect of the whole album is, sadly, the cover: more thought has probably gone into that than any of these pastiches of past achievements. --- Mike Diver, BBC Review
download (mp3 @320 kbs):
yandex mediafire uloz.to mega 4shared cloudmailru gett