George Michael – Older (1996)
George Michael – Older (1996)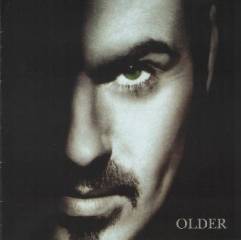 01-George Michael - Jesus To A Child
02-George Michael - Fastlove
03-George Michael - Older
04-George Michael - Spinning The Wheel
05-George Michael - It Doesn't Really Matter
06-George Michael - The Strangest Thing
07-George Michael - To Be Forgiven
08-George Michael - Move On
09-George Michael - Star People
10-George Michael - You Have Been Loved
11-George Michael - Free

George Michael – lead vocal, bass, keyboards, drums, percussion, programming, arranger, producer
Hugh Burns – guitars
Danny Jacob – guitars
Alan Ross – guitars
John Themis – guitars
David Austin – keyboards
Chris Cameron – keyboards, strings
David Clews – keyboards
Jon Douglas – keyboards, producer 2, 4), arranger (4)
Stuart Brooks – trumpet, flugelhorn
John Thirkell – trumpet, flugelhorn
Chris Davis – saxophone
Andy Hamilton – saxophone
Phillip Smith – saxophone
Fayyaz Virji – trombone
Steve Sidwell – trumpet

Older is the album that many observers initially believed Listen Without Prejudice, Vol. 1 to be -- a relentlessly serious affair, George Michael's bid for artistic credibility. It's an album that makes Listen Without Prejudice sound like Faith. Michael has dispensed with the catchy, frothy dance-pop numbers that brought him fame, concentrating on stately, pretentious ballads -- even "Fastlove," the album's one dance track, lacks the carefree spark of his earlier work. Although Michael's skills as a pop craftsman still shine through -- several songs are well-constructed ballads that rank with his best material -- his earnestness sinks the album. It is one thing to be mature and another to be boring. Too often, Michael mistakes slight melodies for mature craftsmanship and Older never quite recovers. When melodies do pop up, he doesn't deliver them with enough force to make an impact, and the album slowly disappears as a result. --- Stephen Thomas Erlewine, AllMusic Review
Somehow, 31 years after Wham!'s first appearance on the charts, George Michael is still charting new music. (Distressing, isn't it, the thought of having Lady Gaga on the charts for 31 years.) His staying power rivals that of Michael Jackson and Paul McCartney – and while one may struggle to find work that merits such comparisons on, say, Fantastic, there's little doubt that the writer of Older deserved some serious millions (it sold a meager 6x platinum wholesale in the UK) and just a couple decades of our time. The US wasn't nearly as interested in Experimental George, which is fine, because what does America know.
Remember that big jazz revival of 1996? Neither does anyone else, didn't happen. With Older, Michael found an industrial dance/soul/jazz niche no one had bothered to explore and planted himself there.
Older is dark in every discernible way, prompted by the death of Michael's partner Anselmo Feleppa in 1993. The content of the album is plotted around that event, but because Michael wasn't out at the time, few in music criticism or among his fans knew the cause for such gloominess. And what gloominess it is – if Faith is the walk to the cliff, Older is the leap off. Colossal ballads "Jesus to a Child" and "You Have Been Loved" clearly reference Feleppa's death. Industrial jazz masterpiece "Spinning the Wheel" addresses the fear of contracting HIV, while "The Strangest Thing" and "To Be Forgiven" describe a deep, unsettling vulnerability. And just in case we weren't sure Michael had turned nihilistic, there's a song actually called "It Doesn't Really Matter." He goes to great lengths to prove himself hopeful, as on "Move On" and "Free," and that effort is laudable given his experience. But it's not convincing.
Stylistic consistency is possibly Older's greatest strength. 9 of 11 tracks are written in a minor key. Reverberation, Michael's preferred method for conveying very serious seriousness, is turned up on nearly every track. The pop and jazz camps each claim about half the tracks, and only two tracks could be reasonably described as up-tempo. Present are a few hip hop and house beats, and quite a lot of muted trumpet and saxophone. Michael's vocals are excellent as always, controlled and clear, but not exhibitionist; "Spinning the Wheel" is perhaps the best vocal performance of the bunch, but it's mellow as can be.
Michael's ability to translate his oversized grief into a restrained song makes this album unusually skillful and authentic. An outstanding achievement. ---swisely.wordpress.com
download (mp3 @320 kbs):
yandex 4shared mega mediafire zalivalka cloudmailru uplea ge.tt