Wlodzimierz Wysocki - Monolog 1980 (2002)
Vladimir Visotsky – Monologue 1980 (2002)
Владимир Высоцкий – Монолог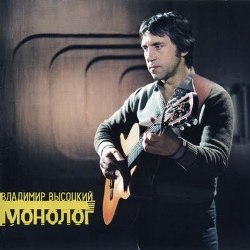 01. Predislovie
02. Popurri iz pesen:
- Pesnja o druge 
- Zdes' vam ne ravnina
- Prowanie s gorami
03. My vrawaem Zemlju 
04. Pochemu aborigeny s#eli Kuka, ili Odna nauchnaja zagadka
05. JA ne ljublju
06. Pozhary
07. Utrennjaja gimnastika 
08. Parus
09. SHtorm
10. Pesenka ni pro chto, ili CHto sluchilos' v Afrike
11. Pis'mo v redakciju teleperedachi "Ochevidnoe - neverojatnoe" iz sumasshedshego doma - s Kanatchikovoj dachi
12. Pesnja o Zemle 
13. Ballada o Ljubvi.

1. Песня о друге 
2. Здесь вам не равнина 
3. Мы вращаем Землю 
4. Почему аборигены съели Кука, или одна научная загадка 
5. Я не люблю 
6. Пожары 
7. Утренняя гимнастика 
8. Парус 
9. Шторм 
10. Песенка ни про что, или Что случилось в Африке 
11. Письмо в редакцию телепередачи "Очевидное-невероятное" из сумасшедшего дома - с Канатчиковой дачи 
12. Песня о Земле 
13. Баллада о Любви 

Vladimir Semyonovich Vysotsky (Russian: Влади́мир Семёнович Высо́цкий, Vladimir Semyonovich Vysotskyj) (25 January 1938 – 25 July 1980 ) was an iconic Soviet-Russian singer, songwriter, poet, and actor of partly Jewish descent whose career had an immense and enduring effect on Russian culture. Although best known as a singer-songwriter, he was also a prominent stage and screen actor. The multifaceted talent of Vladimir Vysotsky is often described by the word "bard" (бард), a term that carried a special meaning in the Soviet Union.
Vysotsky was never enthusiastic about this term, however. He thought of himself mainly as an actor and writer rather than a singer, and once remarked, "I do not belong to what people call bards or minstrels or whatever." Though his work was largely ignored by the official Soviet cultural establishment, he achieved remarkable fame during his lifetime, and to this day exerts significant influence on many of Russia's popular musicians and actors who wish to emulate his iconic status. --- enotes.com
22 января 1980 года была запись Высоцкого в программе "Кинопанорама", фрагменты которой были впервые показаны в январе 1981 года, а целиком передача вышла 23 января 1987 года. В этой передаче Высоцкий (помимо интересного рассказа о себе, друзьях и творчестве) исполнял только под гитару: попурри из фильма "Вертикаль", песни "Мы вращаем Землю", "Почему аборигены съели Кука, или Одна научная загадка", "Я не люблю", "Пожары", "Утренняя гимнастика", "Парус", "Песенка ни про что, или Что случилось в Африке", "Письмо в редакцию телепередачи "Очевидное-Невероятное" из сумасшедшего дома - с Канатчиковой дачи", "Песня о Земле" и "Баллада о Любви". Предлагаю всю передачу в виде одного mp3-файла - неразрезанного, потому что резать монолог Высоцкого я не буду... Качество записи - отличное, ремастированное.
download (mp3 @320 kbs):
yandex 4shared mega mediafire uloz.to cloudmailru gett
Zmieniony (Poniedziałek, 04 Wrzesień 2017 12:27)