Helen Shapiro - The Ultimate Helen Shapiro (2003)
Helen Shapiro - The Ultimate Helen Shapiro (2003)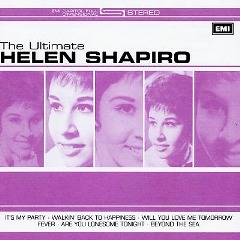 1. Helen Shapiro - It's My Party (2:27)
2. Helen Shapiro - Lipstick On Your Collar (2:19)
3. Helen Shapiro - He's A Rebel (2:18)
4. Helen Shapiro - Walkin' Back To Happiness (2:32)
5. Helen Shapiro - Will You Love Me Tomorrow (3:22)
6. Helen Shapiro - A Teenager In Love (2:19)
7. Helen Shapiro - Fever (2:26)
8. Helen Shapiro - I Don't Care (2:33)
9. Helen Shapiro - Are You Lonesome Tonight (2:48)        play
10. Helen Shapiro - Beyond The Sea (La Mer) (3:30)
11. Helen Shapiro - Don't Treat Me Like A Child (2:34)
12. Helen Shapiro - It Might As Well Rain Until September (2:22)
13. Helen Shapiro - Move Over Darling (2:34)
14. Helen Shapiro - Please Mr Postman (2:39)
15. Helen Shapiro - Tell Me What He Said (2:48)
16. Helen Shapiro - You Don't Know (2:42)
17. Helen Shapiro - Walk On By (2:50)
18. Helen Shapiro - St Louis Blues (4:46)
19. Helen Shapiro - Basin Street Blues (3:35)
20. Helen Shapiro - Blues In The Night (4:04)
21. Helen Shapiro - My Guy (2:52)
22. Helen Shapiro - Woe Is Me (2:03)
23. Helen Shapiro - Look Who It Is (2:14)
24. Helen Shapiro - Little Miss Lonely (2:56)              play
25. Helen Shapiro - Keep Away From Other Girls (2:26)
26. Helen Shapiro - Let's Talk About Love (1:57)
27. 27 Queen For Tonight
28. 28 It's In His Kiss

Helen eventually became a jazz singer of some repute but she is mostly remembered for her early sixties pop music, which she recorded as a teenager. Her first four UK hits were also her biggest, with two of them (You don't know, Walking back to happiness) going all the way to number one and the other two (Don't treat me like a child, Tell me what he said) making the top three. After that, she had just one more top ten hit (Little Miss Lonely) and six minor hits, ending with a cover of Fever (Peggy Lee). This collection contains all of Helen's UK hits including the minor hits.
Most of the other tracks here are covers of songs made famous by others, although it is worth noting that Helen was the first singer to record It's my party, the song that eventually became Lesley Gore's biggest hit. A trio of bluesy songs (St Louis blues, Basin street blues, Blues in the night) offer a clue to Helen's later career as a jazz singer.
The remaining songs include covers of Lipstick on your collar (Connie Francis), He's a rebel (Crystals), Will you love me tomorrow (Shirelles), Teenager in love (Dion and the Belmonts), Are you lonesome tonight (Elvis Presley), Beyond the sea (Bobby Darin), It might as well rain until September (Carole King), Move over darling (Doris Day), Please Mr Postman (Marvelettes), My guy (Mary Wells) and It's in his kiss (Betty Everett - this song was later a hit for Linda Lewis in the seventies and Cher in the eighties).
download (mp3 @256 kbs):
yandex 4shared mega mediafire uloz.to cloudmailru uptobox ge.tt
Zmieniony (Sobota, 04 Luty 2017 20:32)