Thy Worshiper - Czarna Dzika Czerwień [Black Savage Red] (2014)
Thy Worshiper - Czarna Dzika Czerwień [Black Savage Red] (2014)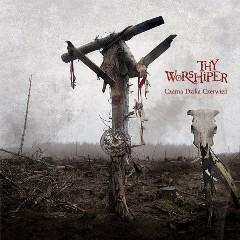 1 	Piach 	6:19
2 	Czarny 	5:20
3 	Deszcz 	6:14
4 	Drzewa 	2:36
5 	Żniwa 	5:39
6 	Wiatr 	5:30
7 	Na Pochybel 	2:37
8 	Ogień 	7:24
9 	Zima 	4:43

Tomasz Grzesik 	Djembe, Darbuka, Didgeridoo, Vocals, Churinga, Floor tom, Vocals (choirs)
Anna Malarz 	Vocals (female), Vocals (choirs)
Tomasz Woźniak 	Bass (fretless), Vocals (choirs)
Bartosz Maruszak 	Drums, Vocals (choirs)
Marcin Gąsiorowski 	Vocals, Guitars
Dariusz Kubala 	Guitars, Jew's harp, Vocals (choirs) 

Wrocławski zespół Thy Worshiper zdążył zyskać uznanie w środowisku black metal'owym dotychczasowymi produkcjami. Formacja tkwiła jednak w niejakim zawieszeniu z powodu emigracji wokalisty, Marcina Gąsiorowskiego, do Irlandii. Tam po jakimś czasie zespół uległ nieoficjalnej reaktywacji (nieoficjalnej, gdyż oficjalnie nigdy nie doszło do zawieszenia jego działalności), by w 2013 r. zaprezentować nam nowy album w odmiennym niż dotąd klimacie.
"Czarna dzika czerwień" zaskoczyła wszystkich obecnością etnicznych bębnów i okołofolkowym śpiewem Anny Malarz. Choć nie wszyscy się ze mną zgodzą, uważam że zmiana obranej stylistyki na bardzo nietypowy folk pagan metal była dla zespołu zmianą na lepsze.
Napisać, że "Czarna dzika czerwień" jest kolejnym folk metal'owym albumem, jakich wiele byłoby nieporozumieniem. To co Thy Worshiper oferuje na tym krążku jest wyjątkowe w każdym calu. Produkcja ta nie jest klasycznym połączeniem folku i metalu. Jest to bardzo nieoczywista hybryda tych składowych. Widać, że zespół nie boi się eksperymentować i ryzykować. I dobrze, bo takie ryzyko potrafi przynieść bardzo niespodziewany plon.
Mógłbym napisać czym charakteryzują się i wyróżniają poszczególne utwory, lepiej jednak potraktować je jako spójną całość. A "Czarna dzika czerwień" jest taką spójną całością. To muzyczna podróż po zupełnie nowym, wykreowanym przez zespół świecie. A z resztą! Musicie sami to usłyszeć! --- Pietja Hudziak, slowianskamoc.blogspot.com
Originally hailing from Wroclaw in Poland, Thy Worshiper is a Pagan metal six piece with influence taken from death, black and folk metal. Now the band have been away for quite some time having moved to Dublin and releasing their last album, 2005's Signum! Now though the band is back and after a new demo surfaced in 2011, this year sees the release of Czarna Dzika Czerwien [Wild Black Red] the bands third album through Pagan records.
Have you ever wondered what a metal song would sound like if Louis Armstrong did the vocals? Listen to the mournful/chant like nature of opening track Piach and you'll have some idea! And I think to myself, what a Pagan world! OK so it's not exactly like his voice but it was something that just tickled me as I was listening to the first time, second time around the distinction is much less as i doubt Louis could roar like this! OK all japing and jesting aside, also in the mix are distinctly Eastern European sounding cleaner female vocals, similar to Arkona, subtle use of symbols, guitar tones, tremolo and a fresh, impressive sense of song writing to give things a cautious, anticipation building vibe!
Thy Worshiper have a sound more technical and vibrant with diversity rather than flowing and catchy, so if you are after an easy listening experience with Pagan overtones, think again! Clearly these Poles have taken a great deal of time in creating their art and layering it with a great deal of knowledge to get the moods just right. Following that they have used their song writing skills to great effect, knowing when to lay on thickly with the heavy riffs and drumming, and when to stand back and let the percussion, chimes and vocals take the strain. Despite the obvious European Pagan angle, the chanting, beats and tribal feel to the band music also puts me in mind of the sounds created by the indigenous native Americans, clearly as more historical forms of music we're all rooted from the same instruments or many of them anyway. Thy Worshiper take those base sounds and add a more Pagan, European flavour through the vocal work and the mysterious rhythms laid out through their guitar work, fretless bass and acoustic leanings.
I'd be hesitant to call this album an extreme metal album, but the influence is certainly there through vicious growls, stronger and more powerful riffs and a solid feel of darkness that clings to the whole album. Czarna Dzika Czerwien is certainly a diverse work with contrasting moods, from the beautiful, nature inspired vocals of Anna Malarz to the wide variety of sounds and themes used, to the other end of the spectrum and the harsh, gripping vocal work of Marcin Gasiorowski. Whatever you are hoping for though from Czarna Dzika Czerwien, it's best that you listen to yourself! ---Sinmara, destructive-music.com
download (mp3 @320 kbs):