Loonypark - Perpetual (2016)
Loonypark - Perpetual (2016)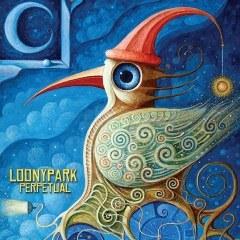 01. Something to Forget - 05:10
02. Face in the Mirror - 04:20
03. Train of Life - 05:12
04. Don't Say a Word - 04:35
05. In the Name... - 04:24
06. Catch & Release - 05:16
07. Secrets to Hide - 05:40
08. New Beginning - 05:56
09. December - 05:33

Sabina Godula - Zając - vocal;
Krzysztof Lepiarczyk - keyboards;
Piotr Grodecki - guitar, contrabass, banjo;
Piotr Lipka - bass guitar;
Grzegorz Fieber - drums
+
Sylwia Majka Maya – violin

Na początku muszę się do czegoś przyznać… nigdy nie byłem wielkim fanem Loonypark a kolejne płyty formacji nie wywoływały we mnie żadnych emocji…
…gdy jakiś czas temu, do redakcji przyszła paczuszka a w niej nowe wydawnictwo grupy Krzysztofa Lepiarczyka to w pierwszej chwili zacząłem się zastanawiać, komu w naszym zespole będzie się ono podobało…. wrzuciłem płytę do odtwarzacza, puściłem i…. okazało się, że tą osobą jestem JA!
Krążek rozpoczyna niezwykle udany "Something To Forget" utrzymany (jak i cała płyta) w duchu melodyjnego neoprogresynwego rocka. Melodia potrafi przyczepić się do słuchacza a dodatkowego smaczku dodają wysublimowane brzmienia smyczków. Podobnie jest i w kolejnym "Face In The Mirror" a już w "Train Of Life" można wyłapać elementy wynikające z fascynacji jazzem. Na szczególną uwagę zasługuje wieńczący całość "December". Utwór ten został poświęcony pamięci zmarłego w tym roku gitarzysty Riverside – Piotra Grudzińskiego. Przepiękna to kompozycja, pełna emocji i bólu… klasyczna gula w gardle murowana!
Muzyka wypełniająca "Perpetual" to gratka dla fanów wpadających w ucho melodii, przyjemnych partii instrumentów klawiszowych i ładnych gitar a do tego świetnie komponuje się z tym głos wokalistki Sabiny Goduli-Zając! Dla fanów niebanalnych dźwięków rzecz obowiązkowa! --- Piotr Michalski, rockarea.eu
Fourth release by this Polish band, after Egoist, Straw Andy and Unbroken Spirit Lives in Us. I am happy to report that, in my view, the band, which was previously going progressively downhill, has stopped (if not reversed) the trend.
I thought Egoist was a top-notch album with sufficient variation (and guitar breaks) within the tracks to maintain interest throughout - think of (a less dynamic) Landmarq or, say, Janison Edge. Having noted from the scores on the doors that Egoist is actually the least regarded album to date, however, I went back and had another listen. First time I had done so in many years, and I thought maybe my memory was playing tricks. Then I listened to the other three as well. No change - Egoist is definitely the only one where each and every track stands on its own feet.
First half of Straw Andy maintains the standard of its predecessor but there is an alarming deterioration towards the end where the band seems to be re-positioning itself squarely as middle-of-the-road rock balladeers: all heartfelt lyrics and over-dramatic wailing guitars. This is a trademark prog conceit, designed (supposedly) to add weight and depth to its surroundings, but selectivity is the key: a succession of maudlin ballads is enough to send you scurrying to the hills, to scrape your knuckles on the rocks.
Much of Unbroken Spirit Lives in Us reinforced the trend, with the title track being a particular culprit. "Nothing will change before we die" pleads Sabina on Awakening. Quite right, too - any more of this and we'll all need putting out of our collective misery before the night is over. Thankfully, the closing two-parter, The End, is hauntingly beautiful and serves wholly to restore your faith in the human condition.
And so to Perpetual. Crikey! The band has now thrown in electric violins for good measure. Still too much dramatic blancmange for my liking (eg December), and too much contrived jauntiness (eg Don't say a Word) , but at least the band has rediscovered some grit and balls...although not enough to raise the overall score above 3 stars. If you want to hear the band at its best, and to leave your knuckles undamaged, I recommend that you don't stray beyond the Egoist. --- tbstars1, progarchives.com
download (mp3 @320 kbs):
yandex 4shared mega mediafire cloudmailru uplea ge.tt