Corruption - Virgin's Milk (2005)
Corruption - Virgin's Milk (2005)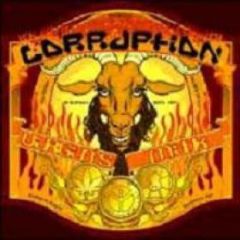 01. 99% Of Evil (04:04)
02. Hey You (04:30)
03. Murdered Magicians (03:49)
04. Lucy Fair (03:53)
05. Freaky Friday (05:41)
06. Fake Demon (03:38)
07. Invisible Cry (04:49)
08. Prophet (03:55)
09. Disbelief (04:54)
10. E.C.E.G (05:38)

Rufus – vocals
Anioł – bass
Opath – guitar
Erol – guitar
Melon – drums

Polak Potrafi! Sandomierskie Corruption znów nadciąga w piwno – trawiastych oparach, zasypując odtwarzacze fanów pustynnym piachem. Po raz piąty kapela naciera z potężnym impetem! Mamy znów do czynienia z mosiężnym i tłustym stoner rockiem, w którym pełno nawiązań do thrashu i heavy metalu. Kłaniają się takie tuzy jak Queens Of The Stone Age, Kyuss, Orange Goblin, Black Sabbath, Metallica (głownie za sprawą wokalu Rufusa) i Iron Maiden. Znajdziemy na krążku też riffy i solówki, których nie powstydziłoby się nawet Black Label Society i pan Zakk W. A wszystko to pikantnie doprawione słowiańską werwą, brzmieniowym brudem i dobrą zabawą.
"Virgin's Milk" to płyta charakterystyczna dla Corruption. Aż roi się na niej od porywających melodii, a całość podszyta jest metalicznym bluesem i motorycznym rock'n'rollem. Bas uroczo warczy w najniższych rejestrach, a perkusja przetacza się po uszach jak walec drogowy. Gitary bombardują zagrywkami i można odnieś wrażenie, że obrzucani jesteśmy granatami. Perła nie zasiadł nadaremno na krześle producenta. Nadał grupie bardziej masywnego, miażdżacego i pustynnego brzmienia. Jednocześnie nie ma tu ani sekundy zadęcia i zbędnej agresji. Jest diabelnie ostro, nonszalancko, ale klarownie. Każdy utwór to potencjalny przebój, każdy buja i porywa jak pustynna burza. Nie ważne czy to apokaliptyczny "Prophet", walcowaty "Invisible Cry", pędzący "99,9% Of Evil", czy instrumentalny "Freaky Friday". Każdy utwór to luzackie naparzanie, łatwo wpadające w ucho.
Nowi "wioślarze" wznieśli trochę świeżości, aczkolwiek wciąż jest to ta sama kapela, rozpoznawalna od pierwszych dźwięków. Wciąż jest to ta sama muzyka z jajem, sprawiająca, że pod sceną fruwają kłaki i kończyny. Może tym razem jest mniej tego specyficznego "rozporkowego" humoru i rubaszności, ale nadal Corruption potrafi rozruszać najbardziej zdrętwiałe kończyny. Może "Orasmusica" była bardziej nośna, ale nowy krążek również trzyma bardzo wysoki poziom. Kto choć raz napije się "Mleka Dziewicy", ten uzależni się na zawsze od Corruption. --- Wojciech "Ajronek" Kozicki, artrock.pl
Prolusion. Polish band CORRUPTION was formed in 1991 by the bassist and drummer whose pseudonyms you can see in the lineup above. "Virgin's Milk" is their latest studio album, apart from which their discography comprises six more studio recordings and one DVD. 'Corruption' should appear somewhere on the "worst band names" list.
Analysis. Along with Black Sabbath and Cathedral, Corruption list Entombed as one of their primary benefactors, which sounds absurd, at least judging by this album, as there is not even the lightest trace of Death Metal in the music, the vocals being far from brutal either, never growling. The Black Sabbath influence is obvious on each of the ten tracks. However Corruption don't remind me of true continuators of Black Sabbath's work (unlike the same Cathedral), some of the songs 'nursed with' "Virgin's Milk" being moulded on the style the Godfathers of Doom- and Prog-Metal (exactly) had played in at the very outset of their career, never pushing its boundaries. Furthermore, two pieces reveal few elements of Doom Metal. 99% of Evil and Murdered Magicians are for the most conventional up-tempo Hard-n-Heavy. On the former, the quintet for the most part slides somewhere between Judas Priest's Stained Class and Set Me Free by Sweet, tasting 'lighter drinks' of the idiom - such as Whitesnake - on the latter. Nothing else but a direct blending of traditional and Doom-stylized Hard Rock is what awaits the listener on Hey You, Fake Demon and Disbelief, along with plenty of repetitions, especially in the vocals, which never exceed the bounds of a verse-bridge-chorus sketchiness, as well as on most of the tracks. In the end, I must admit the Black Sabbath-inspired songs are the best, though three of these, Lucy Fair, Invisible Cry and Prophet, are just a bit less straightforward than any of the aforementioned ones. The only instrumental Freaky Friday and the longest piece ECEG are more diverse, yet, still not even approaching Black Sabbath in quality. The point is that Corruption ape the most primitive songs from Sabbath's early repertoire (the likes of Paranoid or Sweet Leaf), having left overboard such great specimens of progressive Doom Metal as Sabbath Bloody Sabbath, Spiral Architect, A National Acrobat or at least Children of the Grave, let alone those masterworks of genuine Prog-Metal that all of the legend's albums released from 1975 to 1978 are filled with (they're inimitable though: proven by Time). The absence of acoustic guitar and keyboards in their music isn't a virtue either. As to the lyrics, they're both primitive and distasteful, nobody else than Lucifer being a central personage everywhere, and not only on Lucy Fair, which is just a hymn to him.
Conclusion. Despite any resemblances with the most influential Metal band of all time (which exist exclusively on the instrumental level), Corruption in any event can't be regarded as followers of Black Sabbath, who never worshipped the devil, unlike them. In all, "Virgin's Milk" has nothing to offer more adventurous music lovers, the disc having been rated from a standpoint of Hard Rock, which is not a bad genre after all. ---progressor.net
download (mp3 @320 kbs):
yandex 4shared mega mediafire uloz.to cloudmailru gett