Riverside – Out Of Myself (2003)
Riverside – Out Of Myself (2003)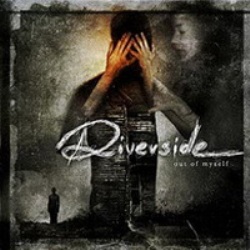 01. The Same River
02. Out Of Myself						play
03. I Believe							play
04. Reality Dream
05. Loose Heart
06. Reality Dream II (instrumentalny)
07. In Two Minds   
08. The Curtain Falls
09. OK

Personnel:
Mariusz Duda - vocals, bass, acoustic guitar
Piotr Grudziński - guitars
Piotr Kozieradzki - drums
Jacek Melnicki - keyboards

Riverside is a progressive rock band from Warsaw, Poland. It was founded in 2001 by friends Mariusz Duda, Piotr Grudziński, Piotr Kozieradzki and Jacek Melnicki, who shared a love for progressive rock and heavy metal. Riverside can be described as a stylistic blend of atmospheric rock and metal elements, resulting in a sound similar to that of Pink Floyd, Porcupine Tree, The Mars Volta, Opeth, Dream Theater, and Tool, while still maintaining an identity of their own.
In October 2002, about a year after their formation, the band performed a pair of shows in Warsaw. After the distribution of 500 copies of their demo, the band performed at a small club in Warsaw once again in early 2003. As the band continued to write more material for a full length release, there grew a dissonance between keyboardist Jacek and the other members of Riverside. Jacek wished to continue with his studio pursuits so, during the latter part of 2003, he split from the group.
The rest of the band was left to mix their first album, which was to be entitled Out of Myself. It was released in Poland in late 2003. The success of the album in Poland and the live shows that the band performed led to a release of the album on American record label Laser's Edge in September 2004, this time with cover art from Travis Smith, painter for bands such as Opeth, Anathema, and Devin Townsend. The album Out of Myself has won best debut in many magazines and websites such as Metal Hammer and Belgium Prog-Nose.
Out Of Myself jest płytą dość eklektyczną, łączącą elementy progmetalu z wpływami Pink Floyd, Anathemy czy Porcupine Tree. Na pewno można już jednak było mówić o stylu Riverside, na który składała się ostrzejsza niż u innych progrockowych kapel perkusja, przeciągłe gitarowe partie Grudzińskiego i oryginalny wokal Dudy – lubującego się we wzbogacaniu warstwy rytmicznej utworów szeptami i przydechami. Pisane przez wokalistę teksty tworzyły historię wychodzenia z życiowego kryzysu człowieka, którego przerosły trudności dnia codziennego i walka z narkotykowym nałogiem. Niedługo potem zespół wydał Out Of Myself w USA, nakładem Laser's Edge. Reakcje na debiut Riverside, zarówno w Polsce, jak i za granicą, były wręcz entuzjastyczne. --- progrock.org.pl
download (mp3 @320 kbs):
oboom yandex 4shared mega mediafire zalivalka cloudmailru uplea
Zmieniony (Sobota, 09 Styczeń 2016 17:31)