Cynthia Witthoft - Blues For Gothic Spirits (2011)
Cynthia Witthoft - Blues For Gothic Spirits (2011)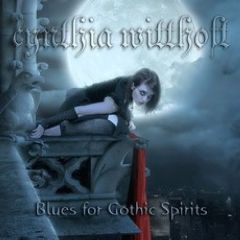 01. Here s Puss In Your Eye
02. 9-11: A Big Fabrication Blues
03. The Matrix Solution
04. The Miracle Drug
05. Water Closet Blues
06. Short Dick Without Foreskin
07. Gua Sha Therapy Blues
08. A Mouth Full of Ants
09. Blues Full Of Nicotine
10. Kitchen Blues
11. Life Six Feet Under
12. Worm Experience
13. Blues For Reddo Gaden
14. At The Bottom Of The Can
15. Tofu Dependent
16. My Dearest Love
17. You Wash, I ll Dry
18. House Of The Rising Sun
19. Jimi Jam
20. How To Tour The Prison
21. Oops, I Did It Again! 

Cynthia Witthoft [Cynthia "A." Witthoft] (born March 28, 1974) is a polish multi-instrumentist and composer, born in Warsaw, Poland but who grew up in Helsinki, Finland. This same region spawned other hardcore and metal greats.
In 1989 at age 15, she started a progressive punk band called Polish Zombies; in 1993 she began her solo career. Called "The Thief Woman", "she has a habit of take for her own use (without permission) many songs by others". She's a wonderful guitar player and nobody can understand that habit.
download (mp3 @VBR kbs):