Exodus – The Most Beautiful Day (1980)
Exodus – The Most Beautiful Day (1980)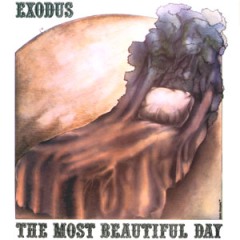 1. Ci wybrani (4:42)
2. Stary noe (4:24)
3. Zloty promien slonca (5:15)               play
4. Widok Z góry najwyzszej (5:45)
5. Ten najpiekniejszy dzien (19:20)
6. Ponury Pejzaz (6:08)
7. Uspokojenie (6:12)
8.W Kalendarzu mojego Zycia (6:08)           play

Skład:
Andrzej Puczyński - gitara, 
Wojciech Puczyński - gitara basowa, 
Władysław Komendarek - instrumenty klawiszowe, 
Paweł Birula - śpiew, gitara, 
Zbigniew Fyk - perkusja.

Pierwsza płyta zespołu, uznawana za wielu za jeden z najważniejszych rockowych albumów w Polsce. Pięć utworów, w tym jeden przeszło dwudziestominutowy - wszystkie składają się na niezwykle wciągającą i barwną opowieść. Exodus to symbol polskiego rocka progresywnego. Czołowy przedstawiciel ruchu, który przeszedł do historii jako Muzyka Młodej Generacji, a zarazem jeden z najciekawszych zespołów na polskiej scenie muzyki ambitnej. Dodatkowo na płycie cztery niepublikowane nagrania radiowe z marca 1980 roku. Władysław Komendarek popisuje się użyciem syntezatorów na wielką (jak na owe czasy PRL-u skalę) , czerpiąc inspirację zapewne z dokonań J M Jarre'a czy R, Wakeman'a. No i vocal Pawła Biruli - Jon'a Anderson'a Europy Wschodniej.
Do not get confused this Polish band with san Francisco-based thrash metal band with Metallica' Kirk Hammet. This one is a symphonic prog band established in 1976. They used to play mainly at the Warsaw student club Riviera-Remont where they had a lot of young fans. In the first half of 80-ies Exodus had a tournee in the USSR and West Germany. They recorded a few TV programs, did many radio recordings and released a few singles that were received very well. But singles don't adequately render the specific character of their music. They had the tendency for creating bigger forms of music and wanted their concerts to become para-theatrical shows.
In 1980 they released the first album "The Most Beautiful Day" where they placed a few shorter lyrical tracks and 20-minute great title suite. So, Exodus came out into picture around the same time with Marillion, IQ, Pallas and pendragon. At that time no one claimed a music like neo-progressive even though this album reminds me so (with more symphonic prog, actually).
The main attraction of this album is its Polish language being used as lyrics. It makes the music much joyful compared with if the music is in English. The first track "Ci wybrani" (4:42) serves like a hard rock music with raw drumming sounds. But the next track changes to a bit like "I Believe in Father Christmas" of ELP, especially on the way acoustic guitar is used nicely here. "Zloty promien slonca" (5:15)with its long sustain multi-layered keyboards makes a nice symphonic prog music. "Widok Z góry najwyzszej" (5:45) explores Hackettian guitar with keyboard solo. The music flows mellow with keyboard and nice melody while guitar fills dominate the rhythm section. The attention is probably on the epic "Ten najpiekniejszy dzien" which consumes 19:20 minutes of duration. This epic makes this album truly an excellent one with its energy, dynamics and multi-structure of the composition. You might find the music in a similar vein with Steve Hackett's early works like "Please Don't Touch" or "Voyage of The Acolyte" with some flavors of Genesis. Even though influences from other bands are unavoidable, but the composition is really excellent. There are many music breaks in symphonic style using long sustain keyboard work. Overall, I conclude that this is an excellent addition to any prog music collection.
download (mp3 @320 kbs):
yandex 4shared mega mediafire zalivalka cloudmailru oboom uplea
Zmieniony (Piątek, 13 Listopad 2015 17:44)