Kat – 666 [1986/2003]
Kat – 666 [1986/2003]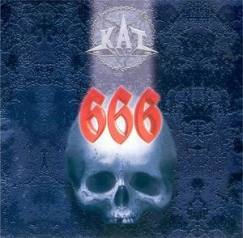 1. Metal i Piekło         play
2. Diabelski Dom - cz.I
3. Morderca               play
4. Masz Mnie Wampirze
5. Czas Zemsty
6. Noce Szatana
7. Diabelski Dom - cz. III
8. Wyrocznia
9. Czarne Zastępy
10. 666

Line-up:
Roman Kostrzewski: vocals
Ireneusz Loth: drums
Piotr Luczyk: guitar, vocals
Wojciech Mrowiec: guitar, vocals
Tomasz Jaguś: bass, vocals

29 lat temu, w 1986 roku, zespół Kat zadebiutował płytą "Metal and Hell", jej polskojęzyczna wersja zatytułowana "666" została wydana w tym samym roku i zyskała rzesze zagorzałych fanów, stając się pozycją absolutnie kultową. Teraz Kat & Roman Kostrzewski postanowili na nowo nagrać materiał z kultowego debiutu.
Przez ostatnich kilka lat płyta była niedostępna w oficjalnej sprzedaży, między innymi dlatego, latem 2014 roku Roman Kostrzewski wraz z zespołem zaszyli się w studiu, by ponownie nagrać album.
Tak sesję nagraniową wspomina Roman Kostrzewski: "Raven Studio w Skrzyszowie umożliwiało nagranie na setkę podstawy instrumentalnej a więc bębnów, basu i gitar. W przerwach od nagrań, w tych samych warunkach brzmieniowych, rejestrowaliśmy ślady wokali i solówek. W ciągu niespełna sześciu dni mieliśmy nagraną całość. Dzięki temu uniknęliśmy nakładek i wielu dni spędzonych w studiu a jednocześnie zachowaliśmy żywy charakter wykonania, który łatwo utracić przy wielodniowych sesjach". W ten z pozoru prosty sposób materiał zawarty na "666" zyskał nowe, współczesne brzmienie i klimat.
Holy shit...now this is what EVIL thrash should sound like. From the beginning feedback on "Metal i Pieklo" to the ending notes of "Czarne Zastepy," this oozes old school awesomeness and a cold, sinister feeling.
Musically, Kat plays vintage thrash, with a really strong raw touch to everything. Riffs are gloomy and catchy at the same time. There is surprisingly much melody popping up, especially when they choose to slow it down for "Czas Zemsty," which is a bit of a slow, emotional song, but not nice in any way. Cold, evil and demented.
When Kat speeds things up, like on "Morderca" and "Czarne Zastepy" they prove that they are truly comfortable playing at heightened speed. Where they really shine are on the midpaced numbers like "Diabelski Dom Cz. 3," where Piotr Luczak's riffing is catchy as hell. "Wyrocznia" is unbeleivably heavy, with those first riffs crushing your bones. The chorus on here is pure Mercyful Fate, with the creepy guitar melodies and Satanic chanting.
The production sounds like this was recorded in a warehouse, but that give the whole album an icy, eerie feeling not unlike a rawer Don't Break the Oath. This works to Kat's advantage, because I don't think that they were expert musicians at this stage, but the performance eclipses any type of error. Drums and bass are overtly straight forward, and I had to take some points off for that.
Usually I find that vocalists add very little to my enjoyment to an album, except when they do something exceptional, like Masse Broberg's truely evil vocals on Hypocrisy's Osculum Obscenum, David Vincent's early work, Attila Csihar's entire career, or King Diamond in general. The singer on here sounds downright possessed; at times harsh as hell, part Jeff Beccarra and part Paul Baloff, but sometimes he throws in some chanting or clean vocals like on "Morderca" and "Czas Zemsty." For that, I can say that the vocals really add something to the mix. Plus, Polish sounds really cool when screamed out loud.
Bottom line, if you like old thrash, you need this. Really. No gimmicks here, just fucking balls out, rip your face off trash. ---natrix, metal-archives.com
download (mp3 @320 kbs):
yandex 4shared mega mediafire zalivalka cloudmailru oboom uplea
Zmieniony (Niedziela, 17 Styczeń 2016 20:29)