Richard Bona (2)
Richard Bona
1. Martinique Jazz Festival 2010 (Flv)
490 MB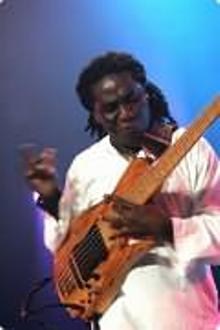 01. Kalabancoro
02. Please don't stop
03. Liberty City
04. O Sen Sen Sen
05. Djombwe
06. Tedikalo

Lineup:
Richard Bona (basse, chant), 
Etienne Stadwijk (claviers), 
Jean-Christophe Maillard (guitare), 
Ernesto Simpson (batterie), 
Gilmar Gomes (percussions), 
Lee Greenblatt (trompette), 
Andrew Hunter (trombone).

Jazz bassist Richard Bona was born and raised in the West African nation of Cameroon, going on to session dates with Joe Zawinul, Regina Carter, and Bob James as well as a two-year stint as musical director for the great Harry Belafonte. He made his debut as a headliner in 1999 with Scenes from My Life, and two years later Reverence came out. In 2003, Bona made his Verve debut with Munia: The Tale, which explored the territories of rock and jazz while keeping his West African influences, and 2005's Toto Bona Lokua was a joint effort with Lokua Kanza (from the Congo) and Gerald Toto (from Martinique). In 2006, Tiki, featuring guest artists like John Legend and Djavan, was released. --- Jason Ankeny
download:  yandex 4shared mixturecloud
2. Warsaw 2005 (Rmvb)
600 MB

01. Intro
02. Engingilaye
03. Eyando
04. Kivu
05. Unknown
06. Kalabancoro
07. Bona solo
08. Bisso baba(always together)
09. Final song
10. Te dikalo

Line-up:
Richard Bona (Bass, vocal); 
Etienne Stadwijck (Keyboards); 
Aaron Heik (Saxophone); 
Samuel Torres (Percussion); 
Ernesto Simson (Drums); 
Eizeu Barbosa (Guitar).

Bona emigrated to Germany at the age of 22 to study music in Düsseldorf, soon relocating to France, where he furthered his studies in music. Whilst in France, he regularly played in various jazz clubs, sometimes with players such as Manu Dibango, Salif Keita, Jacques Higelin and Didier Lockwood. In 1995, Richard left France and established himself in New York, where he still lives and works. There he has had stints with artists like Larry Coryell, Michael and Randy Brecker, Mike Stern, and Steve Gadd. In 1998, Richard was the Musical Director on Harry Belafonte's European Tour.
His first solo album, Scenes from My Life, was released in 1999. He has also been prominently featured in Jaco Pastorius Big Band albums, as well as many other albums by various top-tier jazz musicians. In 2002 Bona went on a world tour with the Pat Metheny Group as a percussionist/vocalist. In 2005 Bona released his fourth album Tiki, which included a collaboration with John Legend on one track, entitled "Please Don't Stop." He currently holds a professorship of music at New York University.
download:  yandex 4shared mixturecloud
Zmieniony (Niedziela, 28 Kwiecień 2013 23:27)