Weber – Euryanthe (2008)
Weber – Euryanthe (2008)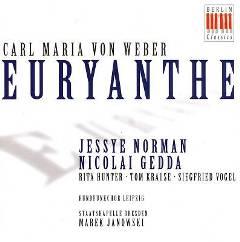 Disc 1
1	Euryanthe: Ouverture			
2	Euryanthe: Akt I, Nr. 1, Introduktion: Dem Frieden Heil! (Chor)			
3	Euryanthe: Akt I, Nr. 1, Ernster Reigen			
4	Euryanthe: Akt I, Nr. 1, Rezitative: Mein Adolar! So fern dem heitern Reigen? (Konig, Adolar, Lysiart)			
5	Euryanthe: Akt I, Nr. 2, Romanze: Unter blueh'nden Mandelbaeumen (Adolar)		
6	Euryanthe: Akt I, Nr. 3, Chor: Heil Euryanth', der Lieblichsten der Schoenen! -Rezitative: Ich trag' es nicht! (Lysiart, Adolar, Konig)			
7	Euryanthe: Akt I, Nr. 4, Terzett mit Chor: Wohlan! Du kennst mein herrlich Eigentum (Lysiart, Adolar, Konig, Mannerchor)			
8	Euryanthe: Akt I, Nr. 5, Kavatine: Gloecklein im Tale (Euryanthe)			
9	Euryanthe: Akt I, Nr. 5, Rezitative: So einsam bangend find' ich dich? (Eglantine, Euryanthe)
10	Euryanthe: Akt I, Nr. 6, Arie: O mein Leid ist unermessen (Eglantine)			
11	Euryanthe: Akt I, Nr. 6, Rezitative: Freundin! Geliebte! An meine Brust (Euryanthe, Eglantine) 
12	Euryanthe: Akt I, Nr. 7 Duett: Unter ist mein Stern gegangen (Euryanthe, Eglantine)	
13	Euryanthe: Akt I, Nr. 8, Rezitative und Arie: Betoerte, die an meine Liebe glaubt		
14	Euryanthe: Akt I, Nr. 9, Finale: Jubeltoene, Heldensoehne (Chor, Euryanthe, Eglantine, Lysiart) 
15	Euryanthe: Akt I, Nr. 9, Finale: Froehliche Klaenge, Taenze, Gesaenge (Euryanthe, Chor, Eglantine, Rudolf, Lysiart)			

Disc 2
1	Euryanthe: Akt II, Nr. 10, Szene und Arie: Wo berg' ich mich?			
2	Euryanthe: Akt II, Nr. 11, Rezitative und Duett: Der Gruft ertronnen, atm' ich wieder (Eglantine, Lysiart)			
3	Euryanthe: Akt II, Nr. 11, Rezitative und Duett: Komm denn, unser Leid zu raechen! (Eglantine, Lysiart)			
4	Euryanthe: Akt II, Nr. 12, Arie: Wehen mir Luefte Ruh' (Adolar)			
5	Euryanthe: Akt II, Nr. 13, Duett: Hin nimm die Seele mein (Euryanthe, Adolar)		
6	Euryanthe: Akt II, Nr. 14, Finale: Leuchtend fuellt die Koenigshallen (Mannerchor, Konig, Euryanthe, Lysiart, Adolar)			
7	Euryanthe: Akt II, Nr. 14, Finale: Lass mich empor zum Lichte wallen (Euryanthe, Konig, Lysiart, Adolar, Mannerchor)			
8	Euryanthe: Akt II, Nr. 14, Finale: Verleih mein Recht mir (Lysiart, Konig, Adolar, Euryanthe, Mannerchor)			

Disc 3
1	Euryanthe: Akt III, Nr. 15, Rezitative und Duett: Hier weilest du? Hier darf ich ruh'n? (Euryanthe, Adolar)			
2	Euryanthe: Akt III, Nr. 15, Rezitative und Duett: Wie liebt ich dich (Adolar, Euryanthe)	
3	Euryanthe: Akt III, Nr. 16, Arioso und Szene: Schirmende Engelschar (Euryanthe, Adolar) 
4	Euryanthe: Akt III, Nr. 17, Szene und Kavatine: So bin ich nun verlassen			
5	Euryanthe: Akt III, Nr. 17, Szene und Kavatine: Hier dicht am Quell (Euryanthe)		
6	Euryanthe: Akt III, Nr. 18, Jagerchor: Die Tale dampfen, die Hoehen glueh'n (Mannerchor) 
7	Euryanthe: Akt III, Nr. 19, Duett mit Chor: Lasst mich hier in Ruh' erblassen (Euryanthe, Konig, Mannerchor)			
8	Euryanthe: Akt III, Nr. 20, Arie mit Chor: Zu ihm! O weilet nicht! (Euryanthe, Mannerchor) 
9	Euryanthe: Akt III, Nr. 21, Szene mit Chor: Pas de cinq (Ballettmusik)			
10	Euryanthe: Akt III, Nr. 21, Szene mit Chor: Der Mai bringt frische Rosen dar (Adolar, Chor) 
11	Euryanthe: Akt III, Nr. 22, Solo mit Chor: Vernichte Kuehn das Werk der Tuecke (Adolar, Chor) 
12	Euryanthe: Akt III, Nr. 23, Hochzeitsmarsch, Szene und Chor: Das Frevlerpaar! Weh diesem Bunde! (Adolar, Eglantine, Lysiart, Chor)			
13	Euryanthe: Akt III, Nr. 24 Duett mit Chor: Trotze nicht! Vermessener! (Lysiart, Adolar, Chor) 
14	Euryanthe: Akt III, Nr. 25, Finale: Lasst ruh'n das Schwert! (Konig, Adolar, Eglantine, Lysiart, Euryanthe, Chor)			
15	Euryanthe: Akt III, Nr. 25, Duett mit Chor: Hin nimm die Seele mein (Euryanthe, Adolar, Chor)

Renate Krahmer (Soprano) - Bertha
Tom Krause (Baritone) - Lysiart
Harald Neukirch (Tenor) - Rudolf
Jessye Norman (Soprano) -  Euryanthe
Siegfried Vogel (Bass) – Konig Ludwig VI
Rita Hunter (Soprano) - Eglantine
Nicolai Gedda (Tenor) - Adolar

Dresden Staatskapelle,  Leipzig Radio Chorus
Marek Janowski – conductor

This is the only Read more Euryanthe , and—on balance—it is a fine one. This is at least its sixth issue in America, and chasing down old Fanfare s has been a revelation. In 10:3 (January 1987), David Johnson wrote a six-page review that is one of the most fascinating pieces I've read in any magazine; I'll get to it later. The occasion was a three-LP EMI digitally remastered issue of a 1975 four-LP Angel set. Johnson found the sound somewhat improved; In 14:2, I thought the first CD issue "makes a much stronger impression" than did the LPs, with each act now complete on one disc. Berlin Classics issued it in 1994, reviewed by James Camner in 18:4. None of us agree about the singing: Johnson found Norman's voice "big and beautiful" but all wrong for the innocent ingénue that is Euryanthe. I found her "triumphant as a fresh, radiant Euryanthe" (I still do), Camner has her "overparted: she cannot manage the climactic notes." We all agreed that Gedda, late in his career, was not a success; Camner wondered what Wunderlich might have done with a part so tailor-made for his voice and abilities. Our biggest disagreements came with the lesser roles: Johnson and I approved, with some reservations. Camner: "The rest of the cast bark their music like dogs in a kennel—a caricature of bad German singing." Orchestra and Chorus are excellent. Only two things need be reported about the current issue: compared to the first EMI CDs, its sound is improved yet again; everything is noticeably clearer and cleaner. Second, the libretto here is in German only; EMI includes a side-by-side English translation.
There are live-performance alternatives: a 1950s outing with a very young Joan Sutherland is wonderful, the whole performance fresh and sparkling. But it omits Euryanthe's biggest aria, and the sound quality is rotten, rotten, rotten. A modern live performance, on the Dynamic label, features a no-name cast that does a fine job. A DVD version of the same performance is colorful and enjoyable, although the villains look, sing, and act better than the heroes; Eglantine and Lysiart's duet of evil is the highlight.
So what about this opera? It is musically glorious from first note to last, with never a dull moment. Both Schumann and Wagner were so impressed that they tried to duplicate it ( Genoveva, Tannhäuser ). The libretto is the catch; it has been continuously (and deservedly) bad-mouthed from day one. Reviewing the Dynamic issue in 27:3, David L. Kirk nails it: "The libretto is so bad . . . it makes Il trovatore Pulitzer Prize material." Kirk, like almost everyone else, blames librettist Helmine von Chezy. But here's where Johnson fascinates: he points out that Chezy was following Weber's exact specifications and creating just what he wanted, although he did let others try and help later on. Weber even rejected (for fear of the censors) a logical plot device that had been in the story for centuries—Shakespeare's Cymbeline , among others—replacing it with one of the most ridiculous ideas of all. I wish I could reprint Johnson's review in its entirety, but six pages for a reissue? No way. Find it if you can.
In sum, I recommend this new issue not only for the finer aspects of the performance and the improved sound, but also because we language-challenged listeners won't be able to follow the plot. Sit back and enjoy the wonderful music. ---FANFARE: James H. North
download: uploaded yandex 4shared mediafire solidfiles mega zalivalka filecloudio anonfiles oboom