Stravinsky: Petrushka - Orpheus (Salonen) [1993]
Stravinsky: Petrushka - Orpheus (Salonen) [1993]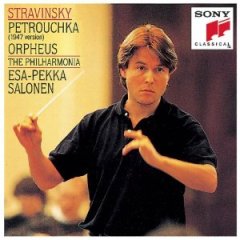 1. Petrouchka - Burlesque in Four Scenes (1947 version) - The Shrove-tide Fair
2. Petrouchka - Burlesque in Four Scenes (1947 version) - Russian Dance
3. Petrouchka - Burlesque in Four Scenes (1947 version) - Petrushka
4. Petrouchka - Burlesque in Four Scenes (1947 version) - The Blackamoor
5. Petrouchka - Burlesque in Four Scenes (1947 version) - Waltz
6. Petrouchka - Burlesque in Four Scenes (1947 version) - The Shrove-tide Fair (towards evening)
7. Petrouchka - Burlesque in Four Scenes (1947 version) - Wet-Nurses' Dance
8. Petrouchka - Burlesque in Four Scenes (1947 version) - Peasant with Bear
9. Petrouchka - Burlesque in Four Scenes (1947 version) - Gypsies and a Rake Vendor
10. Petrouchka - Burlesque in Four Scenes (1947 version) - Dance of the Coachmen
11. Petrouchka - Burlesque in Four Scenes (1947 version) - Masqueraders
12. Petrouchka - Burlesque in Four Scenes (1947 version) - The Scuffle (Blackamoor and Petrushka)
13. Petrouchka - Burlesque in Four Scenes (1947 version) - Death of Petrushka
14. Petrouchka - Burlesque in Four Scenes (1947 version) - Police and the Juggler
15. Petrouchka - Burlesque in Four Scenes (1947 version) - Apparition of Petrushka's Double
16. Orpheus - Ballet in Three Scenes - Orpheus
17. Orpheus - Ballet in Three Scenes - Air de danse
18. Orpheus - Ballet in Three Scenes - Dance of the Angle of Death
19. Orpheus - Ballet in Three Scenes - Interlude
20. Orpheus - Ballet in Three Scenes - Dance of the Furies
21. Orpheus - Ballet in Three Scenes - Air de danse
22. Orpheus - Ballet in Three Scenes - Interlude
23. Orpheus - Ballet in Three Scenes - Air de danse
24. Orpheus - Ballet in Three Scenes - Pas d'action
25. Orpheus - Ballet in Three Scenes - Pas de deux
26. Orpheus - Ballet in Three Scenes - Interlude
27. Orpheus - Ballet in Three Scenes - Pas d'action
28. Orpheus - Ballet in Three Scenes - Orpheus' Apothesis

Philharmonia Orchestra
Esa-Pekka Salonen – conductor

Like the other two masterworks of Igor Stravinsky's early career, The Firebird and The Rite of Spring, Petrushka was written and produced in close collaboration with Serge Diaghilev, producer-director of the Ballet Russes. Stravinsky has written of how he wished to refresh himself after the enormously successful Firebird by composing a Konzertstück (concert piece) for piano and orchestra. Piano vs. orchestra turned out to be a more accurate description, as Stravinsky eventually conceived of the piano representing a puppet endowed with life and contending with trumpet blasts and other violence from the orchestra. He titled it Petrushka after, in his words, "the immortal and unhappy hero of every fair in all countries." When Diaghilev paid a visit to Stravinsky in the summer of 1910, he immediately perceived the dramatic possibilities of the work, and they agreed on a full-length ballet exploring Petrushka's adventures, tragedy and death at the Shrovetide Fair of St. Petersburg. Alexandre Benois, an associate of Diaghilev's and a devotee of Russian puppet theater from his youth, was employed to assist in realizing the scenario. In May 1911, the score was completed and dedicated to Benois, who was also listed as co-author of the scenario.
After a good deal of music in Scene I dedicated to showing the various patrons of the fair (Benois insisted that these be treated as real people, both in the score and in the choreography), Petrushka makes his entrance, eventually loosing the strings that had tied him to his master, the Showman. Scene II shows Petrushka's ill-fated attempts to woo the Ballerina, a fellow puppet. In Scene III, the Ballerina falls in love with another fellow puppet, the Blackamoor, much to Petrushka's dismay. The fair at large returns in Scene IV, setting the stage for Petrushka's death by the hands of the Blackamoor. Though the Showman assures the crowd that Petrushka is not really alive, Petrushka's ghost comes back to mock everyone who was fooled.
Stravinsky's score for Petrushka is brilliant, charming and absorbing, one of the most magical scores in all the classical literature. Stravinsky borrowed folk tunes to illustrate the crowd scenes, used bitonal chords to signify Petrushka's dual existence as puppet and living being, wrote his own seductive melodies, and stitched it all together seamlessly with a genius for dramatization and flair for orchestration that could only come from Stravinsky. The opening of the fourth scene, to take just one example, is astonishing: swirling strings that seem to musically depict light, wind melodies soaring over the strings, and finally a full melody, exuberant and blissful, blossoming on the strings. Petrushka is filled with such moments. In 1947, Stravinsky revised the score with an eye towards concert performance, paring down the instrumentation, changing metronome markings and making other small revisions. Either version is more than adequate to get to know this marvelous work.
Stravinsky's neo-Classical works turn to ancient Greek myth almost as often as they call upon musical styles from earlier centuries. It was perhaps inevitable that he would at some point adopt the tale of Orpheus, which had inspired so many important works from the Renaissance on, as the basis of one of his own compositions. Stravinsky wrote his Orpheus (1947), a ballet, while studying the music of Claudio Monteverdi. The influence of Monteverdi, composer of the first great opera based on the Orpheus myth, is indeed evident in Stravinsky's work. Still, as he always did in his neo-Classical music, Stravinsky integrated his disparate influences into his own artistic personality to produce something wholly original.
Orpheus was composed in collaboration with the choreographer George Balanchine. The two men synchronized their thoughts on music and action precisely, and when the score was complete and choreography began, Stravinsky attended rehearsals to ensure that their original vision would remain intact. Balanchine's Ballet Society premiered Orpheus in New York on April 28, 1948.
Opportunities for melodrama abound in the Orpheus myth; however, much in the manner of Monteverdi's treatement, Stravinsky's Orpheus is distinguished by nobility and restraint. The dynamic level rarely rises above mezzo-piano, and the tempi are similarly moderated. This restraint was partly dictated by the instrumentation; having assigned the role of Orpheus to the harp, Stravinsky carefully ensured that the instrument's delicate sonorities would not be overwhelmed in the texture; even the whooping string chords in the dance of the Furies are palpably tempered. At the same time, the establishment of this slow, soft atmosphere allows Stravinsky to rip the musical fabric to great effect. After a song to tame tormented souls, which has the echoes of a Bach siciliana, Hades relents and allows Eurydice and Orpheus to exit the underworld, accompanied by noble, eloquent string polyphony. A short, sharp crescendo jolts the listener to attention and is followed by a bar of silence, during which Orpheus unbinds his eyes and Eurydice falls dead. Ominous sounds from the strings lead up to the only truly fast and loud music in the score, which accompanies the dismemberment of Orpheus by the Bacchantes. This passage recalls the composer's Rite of Spring in its brutally shaped rhythms, stabbing accented chords, and cruel, off-center downbeats. The closing music, which depicts Apollo raising Orpheus' song heavenward, is reminiscent of the opening, lending an odd sense of peace to the work as it draws to a close. --- Andrew Lindemann Malone, Rovi
download: uploaded yandex 4shared mediafire solidfiles mega zalivalka filecloudio anonfiles oboom
Zmieniony (Niedziela, 18 Maj 2014 15:28)