Richard Strauss – Capriccio (Boehm) [2005]
Richard Strauss – Capriccio (Boehm) [2005]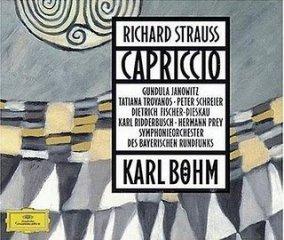 CD1
1. R. Strauss: Capriccio, Op.85 - Introduction	Karl Böhm	6:57
2. R. Strauss: Capriccio, Op.85 / 1. Szene - Bezaubernd ist sie heute wieder	Karl Böhm
3. R. Strauss: Capriccio, Op.85 / 1. Szene - Bei sanfter Musik schläft sich's am besten	Karl Ridderbusch	6:45	
4. R. Strauss: Capriccio, Op.85 / 2. Szene - Der Strom der Tränen trug mich fort	Dietrich Fischer-Dieskau		5:20
5. R. Strauss: Capriccio, Op.85 / 3. Szene - Die Bühne ist fertig	Dietrich Fischer-Dieskau	1:35
6. R. Strauss: Capriccio, Op.85 / 3. Szene - Da ist sie! Ich eile, sie zu begrüssen	Dietrich Fischer-Dieskau		2:53
7. R. Strauss: Capriccio, Op.85 / 4. Szene - Ihr geht. Entließ schon die Macht	Dietrich Fischer-Dieskau		5:06	
8. R. Strauss: Capriccio, Op.85 / 4. Szene - Ein schönes Gedicht!	Gundula Janowitz	0:39
9. R. Strauss: Capriccio, Op.85 / 5. Szene - Lassen Sie ihn bewähren	Gundula Janowitz	0:53
10. R. Strauss: Capriccio, Op.85 / 5. Szene - Meine Prosa verstummt	Gundula Janowitz	3:22
11. R. Strauss: Capriccio, Op.85 / 5. Szene - Hier ist er!	Gundula Janowitz	4:49	
12. R. Strauss: Capriccio, Op.85 / 6. Szene - Wie schön sind die Worte, kaum mehr kenn' ich sie	Karl Ridderbusch	2:09	
13. R. Strauss: Capriccio, Op.85 / 7. Szene - Verraten hab' ich meine Gefühle	Gundula Janowitz	1:45	
14. R. Strauss: Capriccio, Op.85 / 7. Szene - Diese Liebe, plötzlich geboren	Gundula Janowitz	4:49
15. R. Strauss: Capriccio, Op.85 / 7. Szene - Wir werden die Schokolade hier im Salon einnehmen	Gundula Janowitz	2:33	
16. R. Strauss: Capriccio, Op.85 / 8. Szene - Welch' köstliche Begegnung	Dietrich Fischer-Dieskau	3:01	
17. R. Strauss: Capriccio, Op.85 / 9. Szene - Wir kehren zurück in die Welt des Salons	Dietrich Fischer-Dieskau		2:26
18. R. Strauss: Capriccio, Op.85 / 9. Szene - 1. Tanz: Passepied - Was sagt ihr?	Karl Ridderbusch	2:23
19. R. Strauss: Capriccio, Op.85 / 9. Szene - 2. Tanz: Gigue - Ich bin fest entschlossen	Karl Ridderbusch	2:13
20. R. Strauss: Capriccio, Op.85 / 9. Szene - 3. Tanz: Gavotte - Eure Kunst entzückt und begeistert mich	Dietrich Fischer-Dieskau	2:22	
21. R. Strauss: Capriccio, Op.85 / 9. Szene - Fuge - Tanz und Musik stehn im Bann des Rhythmus	Dietrich Fischer-Dieskau	4:21	
22. R. Strauss: Capriccio, Op.85 / 9. Szene - Eine Oper ist ein absurdes Ding	Dietrich Fischer-Dieskau		3:34

CD2
1. R. Strauss: Capriccio, Op.85 / 9. Szene - "Bevor sein Leben erloschen"	Karl Ridderbusch	0:52
2. R. Strauss: Capriccio, Op.85 / 9. Szene - Duett der italienischen Sänger - Addio mio vita	Dietrich Fischer-Dieskau	5:30	
3. R. Strauss: Capriccio, Op.85 / 9. Szene - Das Hudigungsfestspiel, die grandiose 'azione teatrale'	Dietrich Fischer-Dieskau	3:47	
4. R. Strauss: Capriccio, Op.85 / 9. Szene - Er ist heroisch und hochdramatisch	Dietrich Fischer-Dieskau		3:44
5. R. Strauss: Capriccio, Op.85 / 9. Szene - Hola! Ihr Streiter im Apoll!	Karl Ridderbusch	10:16
6. R. Strauss: Capriccio, Op.85 / 9. Szene - La Roche, du bist groß! La Roche, du bist monumental!	Dietrich Fischer-Dieskau	0:32	
7. R. Strauss: Capriccio, Op.85 / 9. Szene - Ihr hörtet die mahnende Stimme	Dietrich Fischer-Dieskau		4:45	
8. R. Strauss: Capriccio, Op.85 / 9. Szene - Das ist mehr als eine Versöhnung	Dietrich Fischer-Dieskau		2:59
9. R. Strauss: Capriccio, Op.85 / 9. Szene - Wählt doch einen Vorwurf, der Konflikt schildert	Dietrich Fischer-Dieskau	4:26
10. R. Strauss: Capriccio, Op.85 / 10. Szene - Auf Wiedersehen, Flamand!	Members of the Bavarian Radio Chorus	2:53	
11. R. Strauss: Capriccio, Op.85 / 11. Szene - Das war ein schöner Lärm	Members of the Bavarian Radio Chorus	4:10
12. R. Strauss: Capriccio, Op.85 / 12. Szene - Herr Direktor ... Wo kommen Sie her?	Karl Böhm	4:13	
13. R. Strauss: Capriccio, Op.85 / Letzte Szene - Andante con moto (Mondschein-Musik)	Wladimir Haag	3:05	
14. R. Strauss: Capriccio, Op.85 / Letzte Szene - Wo ist mein Bruder?	Wladimir Haag	3:06	
15. R. Strauss: Capriccio, Op.85 / Letzte Szene - Kein andres, das mir so im Herzen loht	Wladimir Haag	4:28	
16. R. Strauss: Capriccio, Op.85 / Letzte Szene - Ihre Liebe schlägt mir entgegen	Wladimir Haag	4:01
17. R. Strauss: Capriccio, Op.85 / Letzte Szene - Du Spiegelbild der verliebten Madeleine	Wladimir Haag	5:58

Gundula Janowitz (Soprano)
Tatiana Troyanos (Mezzo Soprano)
Arleen Augér (Soprano)
Anton de Ridder (Tenor)
Peter Schreier (Tenor)
Dietrich Fischer-Dieskau (Baritone)
Hermann Prey (Baritone)
David Thaw (Tenor)
Karl Ridderbusch (Bass)
Karl Kohn (Bass-Baritone)
Bavarian Radio Symphony Orchestra,  Bavarian Radio Chorus
Karl Böhm – conductor

Capriccio (1942), the last opera Strauss completed, in some ways represents the culmination of the composer's work in this genre. Capriccio is sometimes described as a "conversation piece," since the plot revolves around a discussion of the nature of opera and the shifting primacy between text and music. Strauss takes up in this work ideas he had already begun to explore in the prologue to the revised version of Ariadne auf Naxos (1916), which opens with the character of the composer worrying about the reception to his art. In Ariadne the issue is not resolved, because the composer's opera is surrealistically commingled with the efforts of a commedia dell'arte group. In Capriccio, however, the matter receives attention as the composer and the poet explore their work and are challenged to compose an opera about that very discussion; in some ways the opera is a metaphor for operatic composition, a topic with obvious resonance and significance for Strauss.
The singer (perhaps muse) Madeleine must choose whom she favors between between Olivier and Flamand, the opera's embodiment of poetry and music, respectively. However, she can never abandon one for the other, since she needs both. This leaves the dramatic situation at the opening of the opera unresolved though perhaps better understood by the conclusion.
The libretto was written in collaboration with Clemens Krauss, the conductor who was one of Strauss' most loyal champions. Krauss based the libretto on work Strauss had earlier undertaken with Joseph Gregor and, even earlier, with Stefan Zweig. Zweig had begun to plan an opera based on Giambattista Casti's eighteenth century text Prima la musica, poi la parole (First the Music, Then the Words), the basis for Antonio Salieri's 1786 opera of the same title. In adapting the earlier libretto, Krauss maintained an eighteenth century setting and used essentially the same characters as those found in Casti's version.
Capriccio was premiered in Munich on October 28, 1942, to an enthusiastic reception and was subsequently performed in several European opera houses during World War II. It is often viewed as a particularly fitting valedictory to Strauss' work in opera and in fact includes both quotations from operas by other composers (including Gluck's Iphigénie en Aulide) and humorous references to Strauss' own Ariadne and Daphne (1936-1937). Such references are not so much self-indulgent as self-critical, and show the composer's lighter side in the twilight of his career; at the same time, the music is more conversational, the motives and ideas more fleeting in their motion. Right from the start, from the string sextet that serves as the overture, Capriccio is more chamber music than grand opera. In exploring the nature of opera in Capriccio, Strauss relied more upon intimate gestures than upon the splashy grandeur of works like Salome (1904-1905) or Elektra (1906-1908); the result bears the stamp of a composer of great facility in full command of his style. --- James Zychowicz, Rovi
download: uploaded yandex 4shared mediafire solidfiles mega zalivalka filecloudio anonfiles oboom
Zmieniony (Sobota, 17 Maj 2014 19:37)