Giacomo Puccini – Madama Butterfly (Karajan) [1997]
Giacomo Puccini – Madama Butterfly (Karajan) [1997]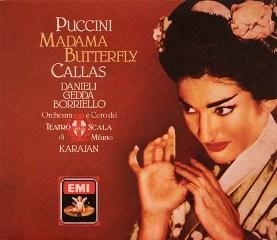 Disc: 1
1. Madama Butterfly (Madame Butterfly), opera: Act One: E Soffitto... E Pareti...
2. Madama Butterfly (Madame Butterfly), opera: Act One: Questa È La Cameriera
3. Madama Butterfly (Madame Butterfly), opera: Act One: Dovunque Al Mondo
4. Madama Butterfly (Madame Butterfly), opera: Act One: Quale Smania Vi Prende!
5. Madama Butterfly (Madame Butterfly), opera: Act One: Quanto Cielo!...Ancora Un Passo Or Via
6. Madama Butterfly (Madame Butterfly), opera: Act One: Gran Ventura
7. Madama Butterfly (Madame Butterfly), opera: Act One: L'imperial Commissario
8. Madama Butterfly (Madame Butterfly), opera: Act One: Vieni, Amor Mio!
9. Madama Butterfly (Madame Butterfly), opera: Act One: Leri Son Salita Tutta Sola
10. Madama Butterfly (Madame Butterfly), opera: Act One: Ed Eccoci In Famiglia
11. Madama Butterfly (Madame Butterfly), opera: Act One: Vieni La Sera
12. Madama Butterfly (Madame Butterfly), opera: Act One: Bimba Dagli Occhi Pieni Di Malia
13. Madama Butterfly (Madame Butterfly), opera: Act One: Vogliatemi Bene, un Bene Piccolino
14. Madama Butterfly (Madame Butterfly), opera: Act Two: E Lzaghi Ed Lzanami
15. Madama Butterfly (Madame Butterfly), opera: Act Two: Un Bel Di Vedremo
16. Madama Butterfly (Madame Butterfly), opera: Act Two: C'è. Entrate
17. Madama Butterfly (Madame Butterfly), opera: Act Two: Non Lo Sapete Insomma

Disc: 2
1. Madama Butterfly (Madame Butterfly), opera: Act Two: A Voi Però Giurerei Fede Costante
2. Madama Butterfly (Madame Butterfly), opera: Act Two: Ora A Noi
3. Madama Butterfly (Madame Butterfly), opera: Act Two: E Questo? E Questo?
4. Madama Butterfly (Madame Butterfly), opera: Act Two: Che Tua Madre Dovrà
5. Madama Butterfly (Madame Butterfly), opera: Act Two: Lo Scendo Al piano
6. Madama Butterfly (Madame Butterfly), opera: Act Two: Vespa! Rospo Maledetto!
7. Madama Butterfly (Madame Butterfly), opera: Act Two: Una Nave Da Guerra
8. Madama Butterfly (Madame Butterfly), opera: Act Two: Scuoti Quella Fronda Di Ciliegio
9. Madama Butterfly (Madame Butterfly), opera: Act Two: Or Vienmi Ad Adornar
10. Madama Butterfly (Madame Butterfly), opera: Act Two: Humming Chorus
11. Madama Butterfly (Madame Butterfly), opera: Act Two: Oh Eh! Oh Eh! Oh Eh!
12. Madama Butterfly (Madame Butterfly), opera: Act Two: Povera Butterfly!
13. Madama Butterfly (Madame Butterfly), opera: Act Two: Lo So Che Alle Sue Pene
14. Madama Butterfly (Madame Butterfly), opera: Act Two: Addio, Fiorito Asil
15. Madama Butterfly (Madame Butterfly), opera: Act Two: Glielo Dirai?
16. Madama Butterfly (Madame Butterfly), opera: Act Two: Che Vuol Da Me?
17. Madama Butterfly (Madame Butterfly), opera: Act Two: Come Una Mosca Prigioniera
18. Madama Butterfly (Madame Butterfly), opera: Act Two: Con Onor Muore

Maria Callas (Soprano)
Renato Ercolani (Tenor)
Mario Carlin (Tenor), 
Lucia Danieli (Mezzo Soprano)
Mario Borriello (Baritone)
Nicolai Gedda (Tenor), 
Luisa Villa (Mezzo Soprano)
Plinio Clabassi (Bass)
Enrico Campi (Bass)

Orchestra E Coro Del Teatro Alla Scala
Herbert von Karajan - director

This recording, dating from 1955, is in the EMI Great Recordings of the Century series. I have to admit, to my shame, that I have not previously encountered this in its entirety although I have heard bits in highlight compilations. Having said that, I have read lots about Callas and the vocal problems she encountered around the time this was made. Trying to put all this previous knowledge to one side I sat and listened.
The mono sound takes a bit of getting used to but I soon became less aware of it. The opera plot revolves round the four main characters: Sharpless, Pinkerton, Butterfly and Suzuki; the first the voice of sense and reason, the second the carefree American serviceman, the third, the disillusioned, ultimately discarded, foreign bride; and the fourth the long-suffering servant who can only look on and give what aid she can.
Pinkerton sung by Nicolai Gedda is a much more sympathetic character than we normally encounter with interpreters of this role; they mostly sound like insensitive cads! Listen to the way he sings after the encounter with Butterfly's uncle, the Bonze. He is full of sympathy and concern, which gives Butterfly all the more reason to think that this is a truly western marriage rather than a Japanese one which is like a contract, and needs to be renewed annually. Gedda is also one of the best tenors in the duet at the end of Act 1. This is not just a big showpiece; this Pinkerton reacts to the situation and seduces his Butterfly vocally. Gedda also gives us a sense of regret - which other singers can miss - in the final aria 'Addio, fiorito asil' and integrates this into the drama. It's a truly remarkable performance.
Sharpless can be a bit of a cardboard character – something of a sounding-board for the other singers - but in the hands of Mario Borriello he is a sensitive man with real feelings. In Borriello's case you detect his disgust at how Pinkerton treats his Japanese bride. He sounds truly taken aback when Butterfly produces the child and becomes angry at Pinkerton's abandonment of this family. This aspect can also be heard when, near the end, he keeps saying to Pinkerton 'I told you so'. Borriello makes much of this character and he comes across as three-dimensional and no mere cipher. The true star of this recording is Maria Callas. She uses her voice in a way that I have seldom heard from other singers in this role. In Act 1 she gives us a very sweet, innocent-sounding Butterfly. After the entrance - in which she soars up to the high D flat - she depicts all the innocence of this child-bride; as she tells Sharpless, she is only 15 years old. Later in the Act she and Pinkerton sing together tenderly. The duet starts quietly, lovingly, and rises to a musical as well as emotional climax of an intensity that I have seldom heard on a recording or live. Suzuki on this recording, Lucia Danieli, matches Callas in the duets and creates a sensitive portrayal of the servant who is caring for her mistress.
In Act 2, there are many passages where I get the impression that she is trying to convince herself as much as Suzuki that Pinkerton will return; for example the exchanges before 'Un bel di. When Sharpless arrives with the letter from Pinkerton she regains the girlish sound from the first Act until she realises that perhaps he is not going to come back, and that is why he has been away for three years. However, when they see an American ship enter the harbour she and Suzuki are almost breathless in anticipation until they see the name, and it is his ship. In this recording the Flower Duet has a forced gaiety about it, almost as if they know it will end badly, but hope against all the odds that it will not. After their all-night vigil waiting for Pinkerton to arrive there is weariness in Callas's voice which underlines the fact she has lost hope of him returning. Later, when she sees Kate Pinkerton in the garden she realises the truth of the situation. Callas sings here with a pathos which truly brought a lump to my throat, something I have not experienced even in the best performance in the opera house – quite a shattering experience. Her final aria, 'Tu, Tu, Piccolo iddio' is filled with total despair and leads to the inevitable conclusion of her taking her own life. This is a committed performance by Callas. Yes, one or two notes do flap about like a flag in a gale, but in a way, this is in keeping with her character's emotional frame of mind. The sheer force of her personality carries you along.
Karajan leads the orchestra to great heights and colours the score with a vibrancy and delicacy of a Japanese silk picture. It is full of clear detail - in spite of the mono sound - which fits with the efforts of the principal singers. I cannot remember a recording of this vintage where this orchestra has played so well. A totally integrated performance from all concerned.
The question - is it worthy to be called a Great Recording of the Century? From my point of view it is one of the greatest interpretations committed to disk. It moved me right through to the final chord which rips at the emotions in a way that very few performances of any opera have done for many a year. EMI are right to keep this masterpiece in the catalogue. -- Arthur Smith, MusicWeb International
download: uploaded yandex 4shared mediafire solidfiles mega filecloudio nornar ziddu
Zmieniony (Niedziela, 23 Marzec 2014 18:33)