Placido Domingo – The Placido Domingo Story (2011)
Placido Domingo – The Placido Domingo Story (2011)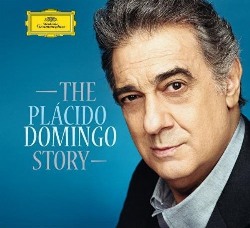 CD1
1 Fedora / Act 2 - Amor ti vieta
2 Oberon / Act 2 - Gebet: "Vater! Hör' mich flehn zu dir!"
3 I Lombardi / Act 2 - Cavatina: "La mia letizia infondere" - "Come poteva un angelo"
4 Les Contes d'Hoffmann / Prologue - Va pour Kleinzach...Il était une fois à la cour
5 Don Carlo / Act 1 - Io l'ho perduta... Io la vidi e il suo sorriso
6 Carmen / Act 2 - La fleur que...Non! Tu ne m'aimes pas
7 Die Meistersinger von Nürnberg / Act 3 - "Morgenlich leuchtend"
8 Samson et Dalila / Act 1 - "Arrêtez, ô mes Frères!"
9 Werther - Act 3 - Toute mon âme est là!
10 Rigoletto / Act 3 - "La donna è mobile"
11 Aida / Act 1 - "Se quel guerrier io fossi!" - "Celeste Aida"
12 Turandot / Act 3 - "Nessun dorma"
13 Pagliacci / Act 1 - "Recitar!" - "Vesti la giubba"
14 Cavalleria rusticana - "O lola ch'ai di latti la cammisa" (Siciliana)

CD2
1 Il Trovatore / Act 3 - "Di quella pira"
2 Lohengrin / Act 3 - "In fernem Land, unnahbar euren Schritten"
3 Luisa Miller - Act 2 - "Quando le sere al placido"
4 Tannhäuser - Paris version / Act 3 - "Hör an, Wolfram! Hör an! - Inbrunst im Herzen"
5 Tosca / Act 1 - "Dammi i colori!" - "Recondita armonia"
6 L'Africaine / Act 4 - Mi batte il cor...O Paradiso
7 Die Frau ohne Schatten, Op.65 / Act 2 - Orchesterzwischenspiel...Falke, Falke...Stille, o weh
8 Il barbiere di Siviglia / Act 1 - No.2 Cavatina: "Largo al factotum"
9 Otello / Act 1 - Esultate!
10 Otello / Act 3 - Dio! mi potevi scagliar tutti i mali / Cassio è là!
11 Idomeneo, re di Creta, K.366 / Act 2 - "Fuor del mar"
12 Edgar - Opera in 3 Acts / Act 2 - Orgia, chimera dall'occhio vitreo
13 I Medici / Act 1 - No, de l'antica Grecia
14 C'è nel tuo sguardo (1893)

CD3
1 "Granada" (Fantasía Espanola)
2 Non ti scordar di me
3 Mi Buenos Aires Querido - Arr. Roberto Pansera
4 El día que me quieras - Arr. Roberto Pansera
5 Requiem - Hosanna
6 Dein ist mein ganzes Herz! (You are my heart's delight) [Das Land des Lächelns / Act 2]
7 El gato montés - Rev. Miguel Roa / Act 1 - Hasta cuando?
8 El gato montés - Rev. Miguel Roa / Act 2 - Senó, q'e no me farte er való
9 La del soto del Parral - Quiero desterrar de tu pecho el temor
10 Panis Angelicus
11 Pepita Jiménez / Act 2 / Tableau 2 - Love moves by night!
12 Quarant'anni
13 Catari, Catari
14 Luisa Fernanda - Nº 10. Romanza de Vidal (Luche la fe por el triunfo...)
15 Falsa moneda - orchestrated by Emilio Aragón
16 La Coscienza
17 La calesera - Agua que río abajo

To celebrate Domingo's 70th birthday, Deutsche Grammophon releases a 3 CD set of his four decades of Deutsche Grammophon and Decca recordings and catalog - two opera CDs of works performed throughout his career plus one CD of Latin American music, Viennese operetta, zarzuela, pop repertoire and religious music.
Includes previously unreleased and rare tracks such as Giordano's "Amor ti vieta" from his first recording (1968) and an unreleased aria from a Decca Don Carlo recording with Karajan and the Vienna Philharmonic from 1975, and a zarzuela track from the still-to-be-released Viva Madrid album that will appear in 2011.
The 152-page color hardcover book (in English, German, French and Spanish) includes a complete full-color discography, a new essay by critic Harvey Sachs, and many rare photos.
Plácido Domingo has appeared in 130 different roles, more than any other tenor in the annals of music, in a repertoire spanning the centuries from Mozart to Verdi, Berlioz to Puccini, and Wagner to Ginastera. He has sung at every important opera house in the world and made well over 100 acclaimed recordings, most of which are full-length operas, often recording the same role more than once. He has been seen in more than 50 opera videos and three feature opera films, and his telecast performance in Puccini's Tosca, filmed at authentic Roman locations, was seen by more than a billion people in 117 countries. Domingo has opened the Met season over 20 times, surpassing the old record set by Caruso. As a conductor he has led opera performances in all the important houses, from the Met to Covent Garden, from the Vienna State Opera to Los Angeles's Music Center. He has also conducted symphonic concerts with such renowned ensembles as the Berliner and Wiener Philharmoniker, Los Angeles Philharmonic, London and Chicago Symphony orchestras, and made numerous recordings as a conductor. Domingo was music director of the Seville World's Fair in 1992 and one of the founders of the Los Angeles Music Center Opera in 1984, remaining its music adviser and principal guest conductor until July 2000, when he became artistic director. In addition, he has been artistic director of Washington Opera since the 1996/97 season. Plácido Domingo was born in 1941 in Madrid to parents who were zarzuela (Spanish ope¬retta) performers and moved to Mexico when he was eight. After studying voice, piano and conducting at the Mexico City Conservatory he made his operatic debut at Monterrey as Alfredo in Verdi's La Traviata and then spent two and a half years with the Israel National Opera, singing 280 performances of twelve different roles. In 1966 he created the title role of Ginastera's Don Rodrigo in the American premiere at New York City Opera.
His Metro¬politan Opera debut came in 1968, as Maurizio in Cilea's Adriana Lecouvreur, and he has subsequently appeared there in more than 600 performances. Domingo also ap¬pears regularly at La Scala, the Vienna State Opera, Covent Garden, Opéra Paris-Bastille, San Francisco Opera, Chicago's Lyric Opera, Washington Opera, Los Angeles Opera, the Liceu in Barcelona, Teatro Colón in Buenos Aires, Teatro Real in Madrid, and at the Bayreuth and Salzburg Festivals. Domingo's repertoire not only includes virtually all the important French and Italian operas but also German roles such as Parsifal, Lohengrin and Tannhäuser, Siegmund in Die Walküre, Walther in Die Meistersinger, Erik in Der fliegende Holländer, The Emperor in Strauss's Die Frau ohne Schatten, Hüon in Weber's Oberon and Florestan in Beethoven's Fidelio. He has created the leading roles in Ginastera's Don Rodrigo, Menotti's Goya and Antón Garcia Abril's Divinas Palabras, and during his 30th anniversary season at the Met he added Herman in Tchaikovsky's Queen of Spades to his repertoire, his 113th role and his first in Russian. In the 2004/05 season he added role 121, singing Alfano's Cyrano de Bergerac for the first time at the Metropolitan, and role 122, recording the complete Tristan und Isolde. Highlights of his 2005/06 season included celebrating the 50th anniversary season of the Washington National Opera by conduct¬ing Verdi's I vespri siciliani and singing five gala evenings. In 2006/07 he sang the Emperor in the world-premiere performance of Tan Dun's The First Emperor at the Met, repeating it in the 2007/08 season during which he also added to his repertoire the role of Oreste in Gluck's Iphigénie en Tauride and conducted Gounod's Roméo et Juliette at the New York house. In that season he also conducted Don Giovanni in Washington, La Bohème and Tosca in Los Angeles, and the world premiere of Howard Shore's opera The Fly at the Théâtre du Chatelet in Paris, which he brought to Los Angeles Opera in 2008. During the 2009/10 season he added to his repertoire the title role of Verdi's Simon Boccanegra - one of the most demanding of all baritone parts - with performances at the Met, Berlin's Staatsoper, La Scala, Covent Garden, and Madrid's Teatro Real. Plácido Domingo was the first classical artist to give a solo concert in New York's Central Park, and his collaboration with his colleagues Luciano Pavarotti and José Carreras, "The Three Tenors", has been heard in concert all over the globe.
His interest in helping young singers led him in 1993 to establish the annual competition "Operalia". Domingo has raised millions of dollars through benefit concerts on behalf of the victims of the 1985 Mexican earthquake, AIDS and such other disasters as the Armenian earthquake, the mudslides of Acapulco, and Hurricane Katrina in New Orleans, where the stage of the Mahalia Jackson Theater for the Performing Arts was named for him. His countless awards and distinctions include the US Medal of Freedom, an honorary Knighthood of the British Empire, Commander of France's Légion d'Honneur, recipient of the Kennedy Center Honors, an honorary doctorate from Oxford University, former Russian President Gorbachev's World Award for Humanitarian Causes, in 2009 the first Birgit Nilsson Prize for musical excellence, and, in 2010, The Latin Recording Academy®'s "Person of the Year" award for his philanthropic and personal achievements. Plácido Domingo has recorded with Deutsche Grammophon for 40 years. His discogra-phy includes not only the operas of Bizet, Donizetti, Giordano, Leoncavallo, Massenet, Mascagni, Mozart, Offenbach, Puccini, Saint-Saëns, Verdi and Wagner, but also French and Italian arias, lieder, tangos and an album of songs and duets based on poems by Pope John Paul II. In 2010, Deutsche Grammophon released Domingo's two new recordings of rarities by Leoncavallo: the vocal-symphonic poem for tenor and orchestra La Nuit de mai and the opera I Medici, in which he sings the leading role created by Verdi's first Otello. 2011 will see the release of a new recording of Giordano's Fedora, in which Domingo co-stars with Angela Gheorghiu. On 21 January 2011 Domingo reaches his 70th birthday. His many career highlights will be celebrated by presenting newly mastered selections from four decades of Deutsche Grammophon and Decca recordings in the Limited Editions The Plácido Domingo Story and 13 complete operas in Plácido Domingo − The Opera Collection. In addition, Viva Madrid, a new anthology of zarzuela music featuring Domingo, will be released internationally. ---Editorial Reviews
download: uploaded 4shared mediafire solidfiles mega filecloudio nornar
Zmieniony (Niedziela, 16 Marzec 2014 12:45)