Mascagni - Lodoletta (Rosekrans) [1990]
Mascagni - Lodoletta (Rosekrans) [1990]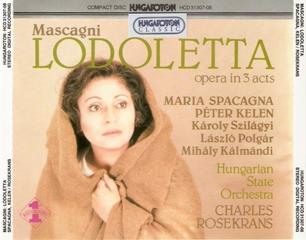 Disc: 1
1. Lodoletta, opera in 3 acts: Act 1: 'Ah! Cercalo, cercalo!'
2. Lodoletta, opera in 3 acts: Act 1: 'Grazie, comari'
3. Lodoletta, opera in 3 acts: Act 1: 'Ferma! Ferma!'
4. Lodoletta, opera in 3 acts: Act 1: 'Piango sulla tua tomba!'
5. Lodoletta, opera in 3 acts: Act 1: 'Dicon che a far denari'
6. Lodoletta, opera in 3 acts: Act 1: 'Serenata delle fate'
7. Lodoletta, opera in 3 acts: Act 1: 'Ah! voi cantate meglio delle fate'
8. Lodoletta, opera in 3 acts: Act 1: 'Lodoletta'
9. Lodoletta, opera in 3 acts: Act 1: 'A voi, bambini'
10. Lodoletta, opera in 3 acts: Act 1: 'Antonio'
11. Lodoletta, opera in 3 acts: Act 1: 'Povero Antonio'
12. Lodoletta, opera in 3 acts: Act 1: 'No, comari'
13. Lodoletta, opera in 3 acts: Act 1: 'È qui'
14. Lodoletta, opera in 3 acts: Act 2: 'Oggi sarai finita'
15. Lodoletta, opera in 3 acts: Act 2: 'All'alba di Novembre'
16. Lodoletta, opera in 3 acts: Act 2: 'Bu! Bu! Bu Malandrini'

Disc: 2
1. Lodoletta, opera in 3 acts: Act 2: 'Che mattinata grigia'
2. Lodoletta, opera in 3 acts: Act 2: 'Ah! Signor Flammen!'
3. Lodoletta, opera in 3 acts: Act 2: 'Perchè? Perchè? Vanard!'
4. Lodoletta, opera in 3 acts: Act 2: 'Nessuno! Respiro!'
5. Lodoletta, opera in 3 acts: Act 3: 'L'anno muore'
6. Lodoletta, opera in 3 acts: Act 3: 'Ah! lasciami!'
7. Lodoletta, opera in 3 acts: Act 3: 'No! No! Non è più Flammen'
8. Lodoletta, opera in 3 acts: Act 3: 'Ah! Il suo nome!'
9. Lodoletta, opera in 3 acts: Act 3: 'E quando mezzanotte scocca'

Zsuzsanna Bazsinka (Soprano)
Andrea Ulbrich (Alto)
Jolán Sánta (Mezzo Soprano),
Péter Kelen (Tenor)
Milhály Kálmándi (Baritone)
Karoly Szilági (Baritone),
Maria Spacagna (Soprano)
László Polgár (Bass)
András Laczó (Tenor)
József Mukk (Tenor)

Hungarian Radio TV Chorus
Hungarian State Orchestra
Hungarian State Opera Chorus
Charles Rosekranz – conductor

With a libretto by Giovacchino Forzano, Mascagni's Lodoletta is through-composed with very few sections that break out of the overall score, aside from a children's serenade, Giannotto's big aria, and a waltz. Mascagni ties things together with recurring melodic fragments, although these do not amount to full-fledged leitmotivs in the Wagnerian sense. Indeed, there are precious few big "tunes" here, although there is an overall sense of melody.
As the opera begins, Dutch villagers (most of the characters have been given Italian names) prepare to celebrate the birthday of a local girl named Lodoletta. Alas, Lodoletta's foster father, Antonio, can't afford to buy the wooden clogs he wants to give her. At this point a group of French political exiles shows up, including a painter named Flammen. He negotiates with Antonio to buy a picture of the Holy Virgin that belongs to Lodoletta (at this point, the exchanges are melodic recitative rather than real duets), but Antonio refuses to sell, so Flammen "rents" the picture to make a copy. Midway through the celebration, Antonio falls from a tree and dies. Lodoletta is orphaned and Flammen, hoping to atone for his debauched life in Paris, takes the girl into his care in his consoling "Song of the Flowers."
In Act II, Lodoletta is falling in love with Flammen while being pursued by a villager named Giannotto (who had a particularly lyrical number in the previous act, and who delivers a fuller, even more ardent aria here). But Giannotto is a baritone and has no hope of winning the heroine's favor. Meanwhile, Flammen is suffering from the villagers' xenophobia, so when Napoleon III grants amnesty to all French exiles, Flammen decides, after some soul-searching, to return to Paris, particularly when Lodoletta urges him to go, fearing that she'll be gossiped about as his mistress.
Act III finds Flammen in his Paris villa, celebrating New Year's Eve in the company of friends, including a great many women. His friends mock his sadness as he wonders what has become of Lodoletta back in Holland. One friend he'd sent back to inquire about her reported that she had disappeared, but others insist that she has run off with some new suitor. Actually, Lodoletta is just now arriving at Flammen's doorstep after a long, exhausting journey, but she feels unworthy to enter the painter's festive house and collapses. At length, in a dramatic verismo aria, Flammen discovers Lodoletta, dead in the snow. ---James Reel, Rovi
download: uploaded yandex 4shared mediafire solidfiles mega filecloudio nornar
Zmieniony (Środa, 12 Luty 2014 17:52)