Christoph Willibald Gluck - Les Pelerins de la Mecque (1991)
Christoph Willibald Gluck - Les Pelerins de la Mecque (1991)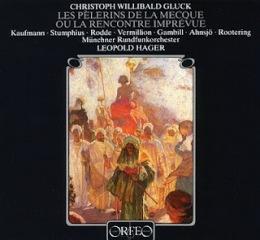 CD 1

1. La rencontre imprévue (or, 'The Pilgrim of Mecca'), opera in 3 acts, Wq. 32: Overture 
2. La rencontre imprévue (or, 'The Pilgrim of Mecca'), opera in 3 acts, Wq. 32: Act 1: No. 1 Air, 'Heureux l'amant qui se dépêtre de Cup 
3. La rencontre imprévue (or, 'The Pilgrim of Mecca'), opera in 3 acts, Wq. 32: Act 1: No. 2 Air, 'Castagno, castagna, pistafanache'/'Le 
4. La rencontre imprévue (or, 'The Pilgrim of Mecca'), opera in 3 acts, Wq. 32: Act 1: No. 3 Air, 'Les hommes, pieusement'/'Eh bien, mon 
5. La rencontre imprévue (or, 'The Pilgrim of Mecca'), opera in 3 acts, Wq. 32: Act 1: No. 4 Air, 'D'une céleste transport mon âme'/'Adi 	
6. La rencontre imprévue (or, 'The Pilgrim of Mecca'), opera in 3 acts, Wq. 32: Act 1: No. 5 Air, 'Il fait entendre sa sonnette'/'Voilà, 	
7. La rencontre imprévue (or, 'The Pilgrim of Mecca'), opera in 3 acts, Wq. 32: Act 1: No. 6 Air, 'Castagno, castagna'/'Osmin, c'est toi 	
8. La rencontre imprévue (or, 'The Pilgrim of Mecca'), opera in 3 acts, Wq. 32: Act 1: No. 7 Air, 'Je chérirai, jusqu'au tréspas'/'Rezia 	
9. La rencontre imprévue (or, 'The Pilgrim of Mecca'), opera in 3 acts, Wq. 32: Act 1: No. 8 Air, 'Bel inconnu, qu'ici lamour amène'/'Et 
10. La rencontre imprévue (or, 'The Pilgrim of Mecca'), opera in 3 acts, Wq. 32: Act 1: No. 9 Trio, 'Je suis touché des bontés de la dame 		play
11. La rencontre imprévue (or, 'The Pilgrim of Mecca'), opera in 3 acts, Wq. 32: Act 2: 'Qu'en dites-vous, mon maître?' 	
12. La rencontre imprévue (or, 'The Pilgrim of Mecca'), opera in 3 acts, Wq. 32: Act 2: No. 10 Air, 'J'ai fait un rêve des plus doux'/'Co 	
13. La rencontre imprévue (or, 'The Pilgrim of Mecca'), opera in 3 acts, Wq. 32: Act 2: No. 11 Air, 'Vous ressemblez à la rose naissante' 	
14. La rencontre imprévue (or, 'The Pilgrim of Mecca'), opera in 3 acts, Wq. 32: Act 2: No. 12 Air, 'A ma maîtresse j'avais promis, Seign 	
15. La rencontre imprévue (or, 'The Pilgrim of Mecca'), opera in 3 acts, Wq. 32: Act 2: No. 13 Air, 'Je cherche à vous faire'/'Votre fide 	
16. La rencontre imprévue (or, 'The Pilgrim of Mecca'), opera in 3 acts, Wq. 32: Act 2: No. 14 Air, 'Jusqu'au moment qui m'ôtera le jour' 	
17. La rencontre imprévue (or, 'The Pilgrim of Mecca'), opera in 3 acts, Wq. 32: Act 2: No. 15 Air, 'J'ai perdu mon étalage'/'Ca alors. V 
18. La rencontre imprévue (or, 'The Pilgrim of Mecca'), opera in 3 acts, Wq. 32: Act 2: No. 16 Duo, 'Oh, oh, oh, miracolo, miracolo!' 	
19. La rencontre imprévue (or, 'The Pilgrim of Mecca'), opera in 3 acts, Wq. 32: Act 2: No. 17 Duo, 'Que vois-je! o ciel! c'est l'âme de

CD 2

1. La rencontre imprévue (or, 'The Pilgrim of Mecca'), opera in 3 acts, Wq. 32: Act 2: No. 18 Air, 'Sans l'espérance du retour'/'Dis-moi 
2. La rencontre imprévue (or, 'The Pilgrim of Mecca'), opera in 3 acts, Wq. 32: Act 2: No. 19 Air, 'Sans l'âme noire et mercenaire'/'Vou 	
3. La rencontre imprévue (or, 'The Pilgrim of Mecca'), opera in 3 acts, Wq. 32: Act 2: No. 20 Airette, 'Ah, quil est doux de se revoir'/ 	
4. La rencontre imprévue (or, 'The Pilgrim of Mecca'), opera in 3 acts, Wq. 32: Act 2: No. 21 Air, 'Venez, venez, troupe brillante' 
5. La rencontre imprévue (or, 'The Pilgrim of Mecca'), opera in 3 acts, Wq. 32: Act 2: No. 22 Finale, Sextour, 'Ah je suis en transe' 	
6. La rencontre imprévue (or, 'The Pilgrim of Mecca'), opera in 3 acts, Wq. 32: Act 3: 'Quoi, vous voulez déjà partir' 	
7. La rencontre imprévue (or, 'The Pilgrim of Mecca'), opera in 3 acts, Wq. 32: Act 3: No. 23 Air, 'Mahomet notre grand prophète'/'Assez 	
8. La rencontre imprévue (or, 'The Pilgrim of Mecca'), opera in 3 acts, Wq. 32: Act 3: No. 24 Air, 'D'Une telle lâcheté'/'Soyez-en sûr, 	
9. La rencontre imprévue (or, 'The Pilgrim of Mecca'), opera in 3 acts, Wq. 32: Act 3: No. 25 Air, 'Maître de coceurs, achève ton ouvrag 			play
10. La rencontre imprévue (or, 'The Pilgrim of Mecca'), opera in 3 acts, Wq. 32: Act 3: No. 27 Trio, 'Ho, ho! Monsieur Vertigo!'/'Allons, 
11. La rencontre imprévue (or, 'The Pilgrim of Mecca'), opera in 3 acts, Wq. 32: Act 3: No. 28 Trio, 'Est-ce un Adagio?'/'C'est bien ains 	
12. La rencontre imprévue (or, 'The Pilgrim of Mecca'), opera in 3 acts, Wq. 32: Act 3: No. 29 Air, 'Des combats j'ai peint l'horreur'/'T 	
13. La rencontre imprévue (or, 'The Pilgrim of Mecca'), opera in 3 acts, Wq. 32: Act 3: No. 30 Air, 'C'est un torrent impétueux'/'Quelle 	
14. La rencontre imprévue (or, 'The Pilgrim of Mecca'), opera in 3 acts, Wq. 32: Act 3: No. 31 Air, 'Un ruisselet bien clair'/'Un vrai mi 	
15. La rencontre imprévue (or, 'The Pilgrim of Mecca'), opera in 3 acts, Wq. 32: Act 3: No. 32 Duo, 'Qu'il est doux de partager ses chaîn 	
16. La rencontre imprévue (or, 'The Pilgrim of Mecca'), opera in 3 acts, Wq. 32: Act 3: No. 33 Ensemble, 'Après un tel outrage'/'Ah, Rezi 
17. La rencontre imprévue (or, 'The Pilgrim of Mecca'), opera in 3 acts, Wq. 32: Act 3: No. 34 Finale, 'Cessons de répandre des larmes'

Ali - Robert Gambill
Osmin - Claes Hakan Ahnsjo
Le Calender - Jan-Hendrik Rootering
Vertigo - Malcolm Walker
The Sultan - Ulrich Ress
Rezia - Julie Kaufmann
Balkis - Iris Vermillion
Dardané - Annegeer Stumphius
Le chef - Paolo Orecchia

Münchner Rundfunkorchester
Leopold Hager - conductor, 1991

"Les Pelerins de la Mecque" (also known by the title "La Rencontre Imprevue", or "The Unexpected Meeting") dates from Gluck's years in Vienna in the 1760s. Oddly enough, it is an example of the French genre of `opera comique', since there was a craze for this style of music at the Habsburg court. Composers like Gretry, Philidor and Monsigny had a European-wide success in the years leading up to the French Revolution with their `operas comiques' in the late eighteenth century, but their works are almost totally neglected today. There exists a rough and ready but very enthusiastic recording of Gretry's most famous work "Richard Coeur de Lion" on the Nuova Era label, but very little else is out on disc so this work by Gluck is a rare opportunity to hear an opera of this type, and a very successful one it is too. "Opera comique" shared with Gluck's reform tragedies the feeling that a new, simpler and more direct style of music should replace the complexities and alleged artificiality of late Baroque opera (it's no great surprise that the founding father of the genre was Jean-Jacques Rousseau, the philosopher of `back-to-Nature', who also fancied himself as a composer and later advised Gluck on the revision of his reform opera, "Alceste"). "Les Pelerins" is in fact a string of short arias (some less than a minute long), ensembles and a ballet sequence all linked by spoken dialogue. Everything is fast moving and sprightly, especially in this fleetfooted performance, and nothing outstays its welcome.
The plot, set in Cairo, concerns the attempts of Prince Ali to rescue his beloved Rezia from the harem of the Sultan of Egypt. This might sound familiar to many readers, and so it should, since a revival of "Les Pelerins" in Vienna in 1780, prompted the young Mozart to write his oriental Singspiel, "Die Entfuehrung aus dem Serail". In fact, the two operas had so much in common that the younger composer was accused by some of plagiarism, a charge that Gluck himself went out of his way to refute, showing warm appreciation for the new work. Naturally, Mozart's score is more sophisticated, but Gluck's possibly has more of an `oriental' atmosphere throughout, beginning with the busy overture and its clashing "Turkish" percussion.
The work also has great variety, as I suggested above. The music of the lovers is on a more exalted level than that of the rest of the cast, even achieving great pathos in Ali's exquisite aria "Tout ce que j'aime est au tombeau". But they are surrounded by a crowd of comic characters, from Ali's Leperello-like servant Osmin, to an eccentric French painter called Monsieur Vertigo, who sings what sounds like a parody of the pastoral moments from Gluck's serious operas. There is also a pious fraud called the Calender who reels off one the fastest, wildest drinking songs I've ever heard, almost a match for Don Giovanni's "Finche del vino". Gluck's orchestration is light and summery, with delicate woodwind writing.
This piece inspired yet another great composer to write an opera of his own. Haydn later used the same libretto, translated into Italian, for his comedy, "L'Incontro Improvviso", making certain changes to avoid clashing with the `hit numbers' of Gluck's score. It contains a delightful series of arias, recitatives and ensembles, beginning with a wonderfully unPC chorus in praise of alcohol and tobacco. Antal Dorati's recording of this opera (on Philips) made in the 1970s with an excellent cast is well worth seeking out (though it may be difficult to find) for Haydn's joyous score deserves to be better known. So does Gluck's for that matter!
download: uploaded anonfiles yandex 4shared solidfiles mediafire mega filecloudio
Zmieniony (Czwartek, 28 Listopad 2013 11:24)