Luke Howard & Nadje Noordhuis - Ten Sails (2015)
Luke Howard & Nadje Noordhuis - Ten Sails (2015)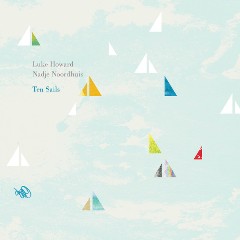 1 	Bluebird 	02:45
2 	Mess Hall 	03:14
3 	First Harvest 	05:21
4 	Signs from the Sea 	02:17
5 	Mina-no-ie 	02:57
6 	North House 	03:32
7 	Mercy Dance 	03:26
8 	Oversky 	04:39
9 	Ten Sails 	03:19
10 	Interlace 	04:19

Luke Howard - piano, harmonium
Nadje Noordhuis - trumpet, flugelhorn
Daniel Farrugia - percussion 

Ten exquisite miniatures written by Australian pianist/composer Luke Howard and Brooklyn-based trumpeter Nadje Noordhuis, recorded in a Berlin apartment in the summer of 2014. ---bandcamp.com
"Ten Sails" is the debut record from acclaimed Australian pianist/composer Luke Howard and Brooklyn-based trumpeter Nadje Noordhuis.
Recorded in a Berlin apartment in the summer of 2014, the record comprises ten exquisite minatures written by both peripatetic composers. Combining cinematic sweep, transportive emotion, and rich melodic grandeur, Australian-born trumpeter/composer Nadje Noordhuis possesses one of the most unforgettably lyrical voices in modern music. Her deeply-felt, clarion tone and evocative compositional gift meld classical rigor, jazz expression, and world music accents into a sound that is distinctively her own.
Noordhuis was one of ten semi-finalists in the 2007 Thelonious Monk International Jazz Trumpet Competition and was selected as a Carnegie Hall Young Artist to undertake a weeklong residency with trumpet great Dave Douglas in 2010. Recent gigs include a week at New York's Village Vanguard with Rudy Royston's 303, performances at jazz festivals in Europe, Canada and Brazil with Grammynominated Darcy James Argue's Secret Society, and regular appearances with her quintet at the historic 55 Bar in Greenwich Village. Luke studied classical piano as a child before graduating with honours from the Victorian College of the Arts. Twice a finalist in the Montreux Jazz Festival Solo Piano Competition, he has shared the stage and recording studio with many musicians in his career, including Ben Frost, the Grigoryan Brothers, and Lior.
Luke's debut solo record 'Sun, Cloud' was launched to a sold out audience at the Melbourne Recital Centre in 2013. In 2015, Luke opened for Benjamin Clementine on the Royal Albert Hall stage of The Great Escape festival in Brighton, UK. 2014 also saw the release of the remix album 'Night, Cloud', and 'Two & One', a photo book with accompanying music. ---jbhifi.com.au
download (mp3 @320 kbs):