Delibes – Coppelia (Bonynge) [1986]
Delibes – Coppelia (Bonynge) [1986]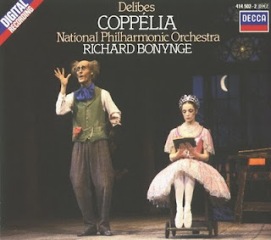 1. Coppélia - Tableau 1 - Prélude - Mazurka	4:37
2. Coppélia - Tableau 1 - No. 1 Valse	1:59
3. Coppélia - Tableau 1 - No. 2 Scène (Swanilda et Frantz)	4:15
4. Coppélia - Tableau 1 - No. 3 Mazurka	  4:10
5. Coppélia - Tableau 1 - No. 4 Scène (Préparatifs de fête)	1:58
6. Coppélia - Tableau 1 - No. 5 Ballade de l'épi		2:45
7. Coppélia - Tableau 1 - No. 6 Thème slave varié	6:50
8. Coppélia - Tableau 1 - Czardas (Danse hongroise) - Sortie	4:10
9. Coppélia - Tableau 1 - No. 8 Final	5:11
10. Coppélia - Tableau 2 - Entr'acte - Valse	1:30
11. Coppélia - Tableau 2 - No. 9 Scène (L'atelier de Coppélius)	1:54
12. Coppélia - Tableau 2 - No. 10 Scène	  2:48
13. Coppélia - Tableau 2 - No.11 Musique des automates – scène  3:01
14. Coppélia - Tableau 2 - No. 12 Scène		2:38
15. Coppélia - Tableau 2 - No. 13 Chanson à boire - Scène	3:43
16. Coppélia - Tableau 2 - No.14 Scène et Valse de la Poupée	4:05	
17. Coppélia - Tableau 2 - No. 15 Scène		3:46
18. Coppélia - Tableau 2 - No. 16 Boléro		1:34
19. Coppélia - Tableau 2 - No. 17 Gigue		1:14
20. Coppélia - Tableau 2 - No. 18 Scène (Final)	2:22
21. Coppélia - Tableau 3 - No. 19 Marche de la cloche	2:54
22. Coppélia - Tableau 3 - No. 20 Fête de la cloche (Divertissement)  0:43
23. Coppélia - Tableau 3 - No. 20 Fête de la cloche: 1) Valse des heures	3:11	
24. Coppélia - Tableau 3 - No. 20 Fête de la cloche: 2) L'aurore		2:29	
25. Coppélia - Tableau 3 - No. 20 Fête de la cloche: 3) La prière		2:46	
26. Coppélia - Tableau 3 - No. 20 Fête de la cloche: 4) Le travail (La fileuse)	1:30	
27. Coppélia - Tableau 3 - No. 20 Fête de la cloche: 5) L'hymen (Noce villageoise)	1:39
28. Coppélia - Tableau 3 - No. 20 Fête de la cloche: 6) La discorde et la guerre	2:29	
29. Coppélia - Tableau 3 - No. 20 Fête de la cloche: 7a) La paix		4:08
30. Coppélia - Tableau 3 - No. 20 Fête de la cloche: 7b) Danse de fête	1:26
31. Coppélia - Tableau 3 - No. 20 Fête de la cloche: 8) Galop final	2:43

National Philharmonic Orchestra
Richard Bonynge – conductor

Coppélia is a sentimental comic ballet with original choreography by Arthur Saint-Léon to a ballet libretto by Saint-Léon and Charles Nuitter and music by Léo Delibes. It was based upon two macabre stories by E. T. A. Hoffmann, Der Sandmann (The Sandman), and Die Puppe (The Doll). The ballet premiered on 25 May 1870 at the Théâtre Impérial de l´Opéra, with the 16-year-old Giuseppina Bozzacchi in the principal role of Swanhilde. Its first flush of success was interrupted by the Franco-Prussian War and the siege of Paris - which also led to the early death of Giuseppina Bozzacchi, on her 17th birthday - but eventually it became the most-performed ballet at the Opera Garnier.
The team of Saint-Léon and Nuittier had a previous success with the ballet La Source (1860), for which Délibes had composed the music jointly with Ludwig Minkus.
The story of Coppélia concerns a mysterious and faintly diabolical inventor, Doctor Coppélius who has made a life-size dancing doll. It is so lifelike that Frantz, a village swain, is infatuated with it, and sets aside his true heart's desire, Swanhilde, who in Act II shows him his folly by dressing as the doll and pretending to come to life. The festive wedding-day divertissements in the village square that occupy Act III are often deleted in modern danced versions, though one of the entrées was the first czardas presented on a ballet stage.
download:  uploaded anonfiles yandex 4shared solidfiles mediafire mega filecloudio ziddu
Zmieniony (Piątek, 25 Październik 2013 23:41)