Cecilia Bartoli – Mozart Portraits (1994)
Cecilia Bartoli – Mozart Portraits (1994)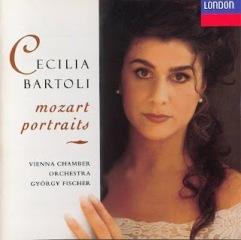 Così fan tutte
1.Temerari!... come scoglio
2.Ei parte...Per pietà,ben mio
3.In uomini, in soldati

Le nozze di Figaro
4.E Susanna non vien!'... Dove sono i bei momenti
5.Giunse alfin il momento... Al desio

Don Giovanni
6.Batti, batti, oh bel Masetto
7.In quali eccessi.. Mi tradi quell'alma ingrata

David penitente, K469
8.Lungi le cure ingrate

9. Exultate Jubilate

Cecilia Bartoli – soprano
Vienna Chamber Orchestra 
Gyorgy Fischer – conductor

For more than two decades, Cecilia Bartoli has undeniably been one of the leading artists in the field of classical music. All over the world, her new operatic roles, her concert programs and recording projects – in exclusivity with Decca - are expected with great eagerness and curiosity. The exceptional amount of 6 million CDs sold, more than 200 weeks ranking in the international pop charts, numerous Golden Discs, 4 Grammys (USA), 7 Echos and a Bambi (Germany), two Classical Brit Awards (UK), the Victoire de la Musique (France) and many other prestigious awards reflect the immense success of her solo albums "Vivaldi", "Gluck", "Salieri" and "Opera proibita" and that she is firmly established as today's "best selling classical artist".
Thus, Cecilia Bartoli brings Classical Music close to the hearts of millions of people throughout the world. Apart from that, she is proud that through their popularity, her projects have caused a wide-spread re-evaluation and rediscovery of the neglected composers and forgotten repertoire which she puts up for discussion.
It is not surprising that Herbert von Karajan, Daniel Barenboim and Nikolaus Harnoncourt were among the first conductors Cecilia Bartoli worked with. They noticed her talent at a very early stage when she had barely completed her vocal studies with her parents in her home-town Rome. Since then, many further conductors, pianists and orchestras of highest renown have been her regular partners. In recent years, her work has begun to focus on collaborations with the most significant period instrument orchestras (Akademie für Alte Musik, Les Arts Florissants, Concentus Musicus Wien, Freiburger Barockorchester, Il Giardino Armonico, Kammerorchester Basel, Les Musiciens du Louvre, Orchestra of the Age of Enlightenment, Orchestra La Scintilla). Projects with orchestras where Cecilia Bartoli assumes the overall artistic responsibility have become increasingly important to her and were crowned by the jointly developed and performed programmes with the Vienna Philharmonic Orchestra.
Cecilia Bartoli regularly sings in the most important concert halls in Europe, the United States and Japan. Her stage appearances include prestigious opera houses and festivals such as the Metropolitan Opera in New York, the Royal Opera House Covent Garden in London, La Scala in Milan, the Bavarian State Opera in Munich, the Salzburg Festival and the Zürich Opera House, where she has presented many of her operatic roles for the first time. Most recently, her roles have included Rossini's Fiorilla in "Il Turco in Italia" at Covent Garden and two Handelian heroines, Cleopatra (in "Giulio Cesare" with Marc Minkowski) and Semele (with William Christie) in Zurich.
In 2007/08 Cecilia Bartoli devotes her time to the early 19th century - the era of Italian Romanticism and Belcanto - and especially the legendary singer Maria Malibran. Her 200th birthday on 24th March 2008 was marked by a historical day in Malibran's birthplace Paris: Cecilia Bartoli sang 3 concerts in one day as the centre-piece of a Malibran-Marathon at Salle Pleyel – collaborating with Lang Lang, Vadim Repin, Adam Fischer and Myung-Whun Chung – while the City of Paris showed her Barcelona Concert on a big screen outside the Hôtel de Ville, where Cecilia Bartoli's mobile Malibran Museum was stationed to honour that special day. Further bicentenary events were the CD "Maria", the DVD "The Barcelona Concert/Malibran Rediscovered", extensive concert tours as well as operatic appearances as Cenerentola, Sonnambula and Halevy's Clari – in a Malibran-opera which had not been performed since 1829.
Cecilia Bartoli has been endowed with the Italian Knighthood and is an "Accademico effettivo" of Santa Cecilia, Rome, a French "Chevalier des Arts et des Lettres" and an "Honorary Member" of the Royal Academy of Music, London. ---amazon.com
download:   uploaded ziddu hostuje 4shared divshare mediafire
Zmieniony (Poniedziałek, 04 Luty 2013 16:11)