Hector Berlioz - Béatrice et Bénedict (1981)
Hector Berlioz - Béatrice et Bénedict (1981)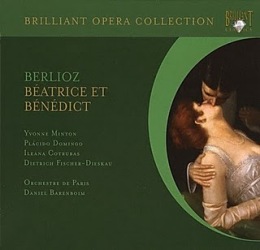 CD1
1. Ouvertüre
2. Il y eu la guerre
3. Chor1: Le More est en fuite. Victoire! ( Le peuple sicilien )
4. Pour Signor Léonato, gouverneur de la ville de Messine
5. Chor2: Le More est en fuite. Victoire! ( Le peuple sicilien )
6. Le More est en fuite - Danse nationale: Siclienne
7. Je vais le voir - Il me revient fid#le
8. Avec l'impétousité qui convient
9. Comment le dédain pourrait-il mourir? - Bénédict, ne partez pas!
10. Un jeu partout, et Béatrice quitte la scéne
11. Me marier? Dieu me pardonne! - Par le ciel!
12. Don Pedro n'a rien perdu de la scéne
13. Mourez, tendres époux
14. Les chanteurs chantent, les cuisiniers cuisinent
15. Ah, je vais l'aimer														CD1
16. Pendant que les messieurs poussent l'intrigue aux dépens de Bénédict
17. Vous soupirez, madame? - Nuit paisible et sereine!

CD2
1. Pour la menu peuple de Messine
2. Entr'acte: Sicilienne
3. Pour quelques-uns, la victoire
4. Le vin de Syracuse
5. Ce n'est pas assez d'un couplet
6. Le vin... le vin... le vin de Syracuse
7. Tel Baccus et sa troupe vacillante
8. Dieu! Que viens - je d'entendre?
9. Qu'as-tu donc, Béatrice?
10. Je vais d'un coeur aimant
11. Perdues dans leur songe, elles ont oublié l'heure qui passe
12. Viens! Viens, de l'hyménée												CD1
13. Béatrice ne sait plus depuis combien de temps elle rêve
14. Dieu qui guidas nos bras
15. Par stratagéme, Béatrice et Bénédict ont découvert leur amour
16. Ici l'on voit Bénédict
17. Et ce n'est pas Bénédict qui dira le contraire
18. L'amour est un flambeau

Béatrice - Yvone Minton
Bénedict - Plácido Domingo
Héro - Ileana Cotrubas
Ursule - Nadine Denize
Don Pedro - John Macurdy
Claudio - Roger Soyer
Somarone - Dietrich Fischer-Dieskau

Choeur de L'Orchestre de Paris
Orchestre de Paris
Daniel Barenboim - conductor, 1981

Béatrice et Bénédict (Beatrice and Benedick) is an opera in two acts by Hector Berlioz. The French libretto was written by Berlioz himself, based closely on Shakespeare's Much Ado About Nothing. It was first performed at the Theater der Stadt, Baden-Baden on 9 August 1862.
Berlioz completed the score between the completion and production of his magnum opus, the monumental opera Les Troyens. Shortly after its successful premiere in Baden, Berlioz conducted the first two performances of a German version in Weimar, where he was "overwhelmed by all sorts of kind attention," as he recorded in his memoirs.
Béatrice et Bénédict was first seen in France at the Opéra-Comique in 1890; it was again seen at that theatre in 2010. Although rather infrequently performed and not part of the standard operatic repertoire, other recent productions have included Amsterdam and Welsh National Opera tour in 2001, Santa Fe Opera in 2004, Strasbourg in 2005, Lyric Opera of Chicago in 2007 and Houston Grand Opera in 2008.
Synopsis
    Time: The 16th century.
    Place: Messina, Sicily.

Act 1
Don Pedro, prince of Aragon, is visiting Messina after a successful military victory over the Moors, which is celebrated by all of Sicily. He is joined by two friends and fellow soldiers, Claudio and Bénédict. They are greeted by Léonato, governor of Messina, together with his daughter, Héro, and niece, Béatrice.
Héro awaits the return of her fiancé, Claudio. Béatrice inquires about and scorns Bénédict. They trade insults and tease each other. Bénédict swears to his friends that he will never marry. Later, Claudio and Pedro scheme to trick Bénédict into marrying Béatrice. Knowing that he is listening, Léonato assures Pedro that Béatrice loves Bénédict. Upon hearing this, Bénédict resolves that Béatrice's love must not go unrequited, and so he decides to pursue her. Meanwhile, elsewhere, Héro and her attendant, Ursula, manage to play a similar trick on Béatrice who now believes that Bénédict is secretly in love with her.
Act 2
To celebrate the pending wedding of Claudio and Héro, Léonato hosts a masquerade party. A local music teacher, Somarone, leads the group in song and everybody enjoys themselves except Béatrice who realizes that she has fallen in love with Bénédict. As she turns to leave she is met by Bénédict, prompting an exchange in which they both attempt to conceal their love for each other. A notary solemnizes the marriage and, as arranged by Léonato, asks a second couple to come forward. Bénédict summons the courage to declare his love to Béatrice and the two sign the wedding contract along with Héro and Claudio.
download:  uploaded anonfiles mega 4shared mixturecloud yandex
Zmieniony (Niedziela, 25 Sierpień 2013 20:22)