C.P.E. Bach - Hamburg Sinfonias 1-6 (1996)
C.P.E. Bach - Hamburg Sinfonias 1-6 (1996)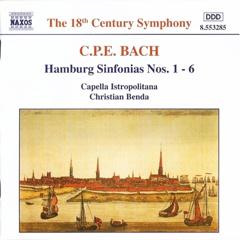 Sinfonia In G Major, Wq. 182, No. 1 
1 	Allegro Di Molto 	3:41
2 	Poco Adagio 	3:23
3 	Presto 	4:09
Sinfonia In B Flat Major, Wq. 182, No. 2 
4 	Allegro Di Molto 	3:32
5 	Poco Adagio 	3:18
6 	Presto 	5:12
Sinfonia In C Major, Wq. 182, No. 3 
7 	Allegro Assai 	2:55
8 	Adagio 	3:12
9 	Allegretto 	5:34
Sinfonia In A Major, Wq. 182, No. 4 
10 	Allegro Ma Non Troppo 	4:20
11 	Largo Ed Innocentamente 	3:55
12 	Allegro Assai 	4:28
Sinfonia In B Minor, Wq. 182, No. 5 
13 	Allegretto 	4:29
14 	Larghetto 	2:24
15 	Presto 	4:07
Sinfonia In E Major, Wq. 182, No. 6 
16 	Allegro Di Molto 	2:25
17 	Poco Andante 	3:33
18 	Allegro Spirituoso 	3:43

Capella Istropolitana
Christian Benda – conductor

CPE Bach wrote a set of six string symphonies, Wq. 182, for Baron van Swieten
— diplomat, Court Librarian in Vienna.

Even though C. P. E. Bach was highly influential and counted among his admirers Haydn and Beethoven (not too slouchy!), his symphonies represent a kind of musical dead end. No composer after him followed his lead in producing what he thought of as music of "affect," but which I would rather think of as music of wit. But Bach's wit is not the genial, tongue-in-cheek wit of a Haydn; it's more the wit of the Metaphysical poets. Bach's language is one of strange and unexpected harmonies and melodic turns. In fact, as music critics have pointed out, he is the most adventurous composer harmonically before Schubert.
And Bach's strangest, most striking music comes in these Hamburg Symphonies and the four so-called Orchestral Symphonies Wq 183. Unlike the later symphonies, however, the Wq 182 symphonies are scored not for winds and strings but for strings alone. In a way, this seems to enhance the lightening-quick play of wit, and I admire both sets almost equally.
In this Naxos recording, everything seems to go right. The orchestra is highly responsive, zipping along with glee or exploring the melancholy music of Bach's slow movements with equal success. Christian Benda, a descendant of the 18th-century Czech composer Jiri Benda, is a fine conductor who understands the music of this period well. Add to the package a clear, resonant recording, and this is a find for lovers of the pre-Classical era. ---amazon.com
download (mp3 @320 kbs):
yandex 4shared mega mediafire uloz.to cloudmailru