Joao Esteves – Mass • Motet • Christmas Responsories (1997)
Joao Esteves – Mass • Motet • Christmas Responsories (1997)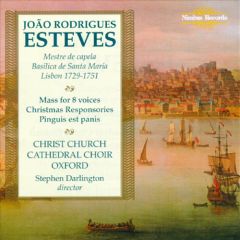 Mass For 8 Voices [26:51]
1. Kyrie
2. Gloria
3. Credo
4. Sanctus
5. Agnus Dei

6. Pinguis est panis, motet for 2 voices and bc [4:26]

Christmas Responsories
7. Hodie nobis caelorum Rex [5:17] 
8. Hodie nobis de caelo [3:20] 
9. Quem vidistis pastores dicite [4:57] 
10. O magnum mysterium [4:30] 
11. Beata Dei genitrix [3:35] 
12. Sancta et immaculata [5:58] 
13. Beata viscera Mariae virginis [3:26] 
14. Verbum caro factum est [5:34]

Andrew Carwood (tenor)
Mike McCarthy (bass)
David Goode, Philip Millward (organ)
Christ Church Cathedral Choir
Stephen Darlington – conductor

Rec. 25-27 November 1996, Dorchester Abbey, Oxfordshire, UK.

João Rodrigues Esteves was a Portuguese composer of the early eighteenth century and a key practitioner of Latin sacred composition whose surviving works number about 100. All of his manuscripts are located in Portuguese libraries, the majority of them in the Lisbon Cathedral archive. All that is known about Esteves is found in the marginalia of these manuscripts; the first mention of him dates from 1719, when he was sent to Rome under the aegis of King João V to study with composer Giuseppe Ottavio Pitoni. He was back in Portugal by 1726, but it wasn't until 1729 that he was installed as master of music in the Basilica de Santa Maria, a chapel attached to the main body of Lisbon Cathedral. Some manuscripts were sent by Esteves from Rome to Lisbon, and a few others are located in Evora and in the ducal palace of Vila Viçosa.
After Domenico Scarlatti and Carlos Seixas, Esteves was the most important composer in Portugal in the first half of the eighteenth century. He learned his lessons with Pitoni well and his Latin Church music easily equals, or exceeds, the quality of known work by his master. Although in later works it appears that Esteves began to bow to the pressure of virtuosic requirements and the popularity of operatic vocal writing, for the vast majority of his output Esteves stubbornly held onto the stile antico as practiced in the century before his own. Among Esteves' most notable compositions are a Miserere in 12 voices, eight Responsories for the Christmas season in eight voices and violin, and a treatise on continuo realization, Regras de acompanhar (1719), his only purely instrumental work.
Although it appears that Esteves' work managed to survive the catastrophic earthquake, fire, and tsunami that claimed 30,000 to 60,000 lives and leveled Lisbon to the ground on November 1, 1755, it seems the composer himself might not have, as there is no mention of him after 1751 in any known manuscripts or public records. ---Uncle Dave Lewis, Rovi
download:  uploaded anonfiles yandex 4shared solidfiles mediafire mega filecloudio divshare
Zmieniony (Środa, 06 Listopad 2013 16:24)