Great Conductors Of The 20th Century Vol.19 - Otto Klemperer
Great Conductors Of The 20th Century Vol.19 - Otto Klemperer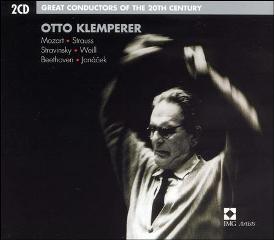 CD1
Mozart - Symphony No. 38, "Prague" In D, K504 (25:56)
1.1 	I. Adagio - Allegro 		
1.2 	II. Andante 		
1.3 	III. Presto 
Till Eulenspiegels Lustige Streiche, Op.28 (14:37)
1.4 	Richard Strauss – 	Nach Alter Schelmenweise In Rondoform 
Stravinsky - Pulcinella - Suite (Version 1947) (24:18)
1.5 	I. Sinfonia (Ouverture). Allegro Moderato 		
1.6 	II. Serenata. Larchetto 		
1.7 	III. A) Scherzino B) Allegro C) Andantino 		
1.8 	IV. Tarantella 		
1.9 	V. Toccata. Allegro 		
1.10 	VI. Gavotta (Con Due Variazioni), Allegro Moderato, Variazione I. Allegretto, Variazione II. Allegro Più Tosto Moderato 		
1.11 	VII. Vivo (Duetto) 		
1.12 	VIII. A) Minuetto. Molto Moderato 		
1.13 	VIII. B) Finale. Allegro Assai 	
Kurt Weill - Kleine Dreigroschenmusik - Excerpts (9:33)
1.14 	Die Moritat Von Mackie Messer 		
1.15 	Die Ballade Vom Angenehmen Leben 		
1.16 	Tango-Ballade 		
1.17 	Kanonen-Song 		

CD2
Mozart - Symphony No. 25 In G Minor, K183 (17:38)
2.1 	I. Allegro Con Brio 		
2.2 	II. Andante 		
2.3 	III. Menuetto - Trio 		
2.4 	IV. Allegro 
Beethoven - Symphony No. 2 In D Major, Op. 36 (34:56)
2.5 	I. Adagio Molto - Allegro Con Brio 		
2.6 	II. Larghetto 		
2.7 	III. Scherzo. Allegro 		
2.8 	IV. Allegro Molto 	
Leos Janacek - Sinfonietta (23:35)
2.9 	I. Fanfares. Allegretto - Allegro - Maestoso 		
2.10 	II. Andante - Allegretto - Maestoso 		
2.11 	III. Moderato 		
2.12 	IV. Allegretto 		
2.13 	V. Andante Con Moto – Maestoso

Rudolf Köckert, Willi Buchner – Violin (tracks: 1.5 to 1.13)
Josef Merz – Cello (tracks: 1.5 to 1.13)
Oskar Riedl – Viola (tracks: 1.5 to 1.13)
Franz Höger - Double Bass (tracks: 1.5 to 1.13)
Orchester Der Berliner Staatsoper (tracks: 1.14 to 1.17) 
RIAS-Symphonie-Orchester Berlin (tracks: 1.1 to 1.3, 2.1 to 2.4) 
Radio-Symphonie-Orchester Berlin (tracks: 2.5 to 2.8)
Symphonieorchester Des Bayerischen Rundfunks (tracks: 1.5 to 1.13) 
WDR Sinfonie Orchester Köln (tracks: 1.4, 2.9 to 2.13)

Otto Klemperer – conductor

German conductor Otto Klemperer attended the Hoch Conservatorium in Frankfurt-am-Main, studied violin and piano at the Klindworth-Scharwenka and Stern Conservatories in Berlin, and composition with the German composer Pfitzner. He made his début in Berlin in 1905, where he conducted fifty performances of Offenbach's Orpheus in the Underworld, not a work that would now be identified with Klemperer's serious and profoundly personal approach to music.
Shortly afterwards, he visited Gustav Mahler in Vienna and impressed the composer by playing a scherzo from a Mahler symphony by memory at the piano. With Mahler's personal recommendation, Klemperer was appointed choirmaster and conductor at the German Opera in Prague. He held this post for three years, during which he returned to Vienna to assist in rehearsals for Mahler's later symphonies. Again with Mahler's help, he became conductor at the Hamburg Opera in 1910. There followed a succession of appointments in Barmen (1913), Strasbourg (1914-1916), Cologne (1916-1924) and Wiesbaden (1924-1927) and visits to Barcelona, Rome, the U.S.S.R., and the U.S. between 1920 and 1936.
In 1927, he was engaged as director of the Kroll Opera House in Berlin, where he remained until 1931 when political pressures and financial difficulties forced its closure. In addition to better-known operas, Klemperer introduced new works which ran counter to the Nazis' idealized view of German culture, such as Schoenberg's Die glückliche Hand and Erwartung; Hindemith's two operas, Cardillac and Neues von Tag; and Janacek's From the House of the Dead. Indeed, Klemperer was then noted more for his interest in contemporary music than for his interpretations of the mainstream Classical and Romantic repertory on which, in later life, he concentrated almost entirely.
After a highly successful series of London concerts in 1929, Klemperer returned to Germany in 1931 to conduct the Berlin State Opera. As a Jew, he was in danger of persecution and, though honored with a gold medal for his "outstanding contribution to German culture," a German newspaper of the time sourly commented "[h]is whole outlook ran counter to German thought and feeling." Klemperer was dismissed in 1933 and fled with his family first to Austria and later to Switzerland. While there, he was appointed conductor of the Los Angeles Philharmonic Orchestra and lived in California from 1935 to 1939 during which he also conducted the New York Philharmonic and Philadelphia Symphony Orchestra. In 1937, he helped to reorganize the Pittsburgh Symphony Orchestra, though refused to become its conductor. Following a brain tumor that left him partially paralyzed, his career faltered. In 1940, Klemperer became a U.S. citizen, but his sufferings were increased by a manic depressive state characterized by recurring cycles of exhilaration and depression. In 1951, an accident at the Montreal airport forced Klemperer to conduct from a chair. To prove himself competent, he hired an orchestra to perform a concert of works of his own choice at Carnegie Hall. It was a success but, after an argument with American immigration authorities, Klemperer returned to Europe where he continued conducting in Italy, Sweden, Switzerland, and France. The peak of Klemperer's career came in 1959 with the Philharmonia Orchestra, based in London. When attempts were made to disband the orchestra in 1964, its members appointed him president, and the orchestra was reconstituted. As the New Philharmonia, the group reached new heights in the Beethoven cycles during the early 1960s. In the same period he conducted at Covent Garden Opera House. ---Roy Brewer, Rovi
download: